Covalent Integrates with Avalanche, Increasing Availability of Data on the Platform
Rapidly growing DeFi ecosystem on Avalanche is now fully indexed and available through Covalent APIs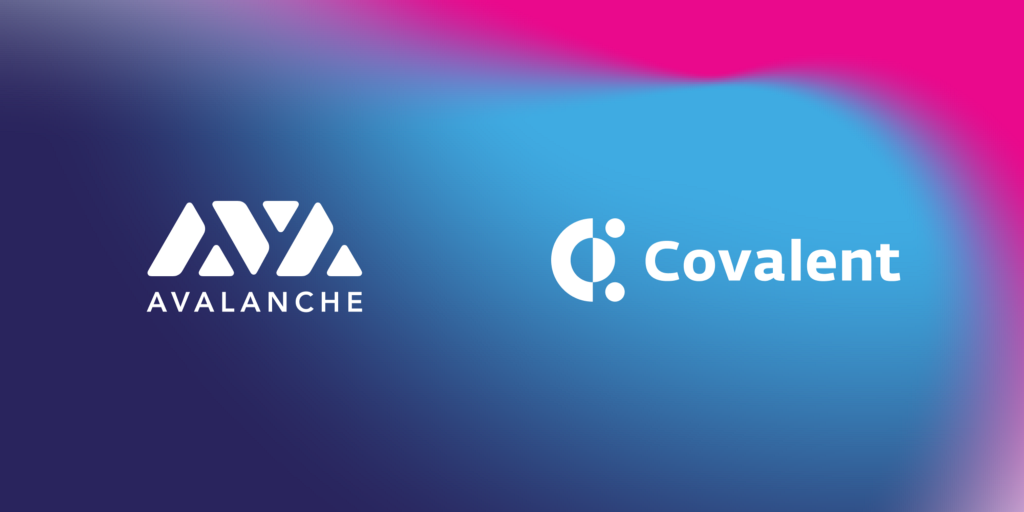 Covalent, a leading provider of indexing solutions for blockchains, has integrated with Avalanche, expanding the availability of data on the platform and simplifying the experience for developers who need reliable, high-quality data.
Covalent provides a unified API to bring full transparency and visibility to assets across all blockchain networks. Its dataset supports 25B+ transactions, 30,000+ price feeds, and 200,000+ smart contracts for querying.
With the integration already completed, the rapidly growing DeFi ecosystem on Avalanche is fully indexed and available through Covalent's APIs.
Smart contract activity on the platform has boomed since the launch of the Avalanche-Ethereum Bridge (AEB) on February 8. In that time, smart contract transactions have increased by 1064% to over 633,000, and unique wallets increased by 1,768% to top 40,000.
"Avalanche is building an excellent platform with developers at the heart of it. This integration with Covalent significantly enhances the developer toolkit on Avalanche. The breadth and depth of Avalanche data now available will no doubt lead to even more powerful applications being built across the network," says Ganesh Swami, CEO of Covalent.
Covalent will soon be launching a campaign for developers building with Avalanche. To stay updated on that campaign, as well as ways to use Covalent's data, please visit the Covalent Website and Twitter.
https://medium.com/media/b8a596544f943e3618682869c7e2f97a/href
About Covalent
Covalent leverages big-data technologies to create meaning from hundreds of billions of data points, delivering actionable insights to investors and allowing developers to allocate resources to higher-utility goals within their organization. Instead of pain-stakingly sourcing data from a small handful of chains, Covalent aggregates information from across dozens of sources including nodes, chains and data feeds. The Covalent API then sources end users with individualized data by wallet, including current and historical investment performance across all types of digital assets. Most importantly, Covalent returns this data in a rapid and consistent manner, incorporating all relevant data within one API interface.
About Avalanche
Avalanche is an open-source platform for launching decentralized applications and enterprise blockchain deployments in one interoperable, highly scalable ecosystem. Avalanche is able to process 4,500+ transactions/second and instantly confirm transactions. Ethereum developers can quickly build on Avalanche as Solidity works out-of-the-box.
Website | Whitepapers | Twitter | Discord | GitHub | Documentation | Forum | Avalanche-X | Telegram | Facebook | LinkedIn | Reddit | YouTube

---
Covalent Integrates with Avalanche, Increasing Availability of Data on the Platform was originally published in Avalanche on Medium, where people are continuing the conversation by highlighting and responding to this story.