Crabada brings Play-To-Earn Idle Game to Avalanche
This integration takes the Avalanche community on a unique gaming adventure.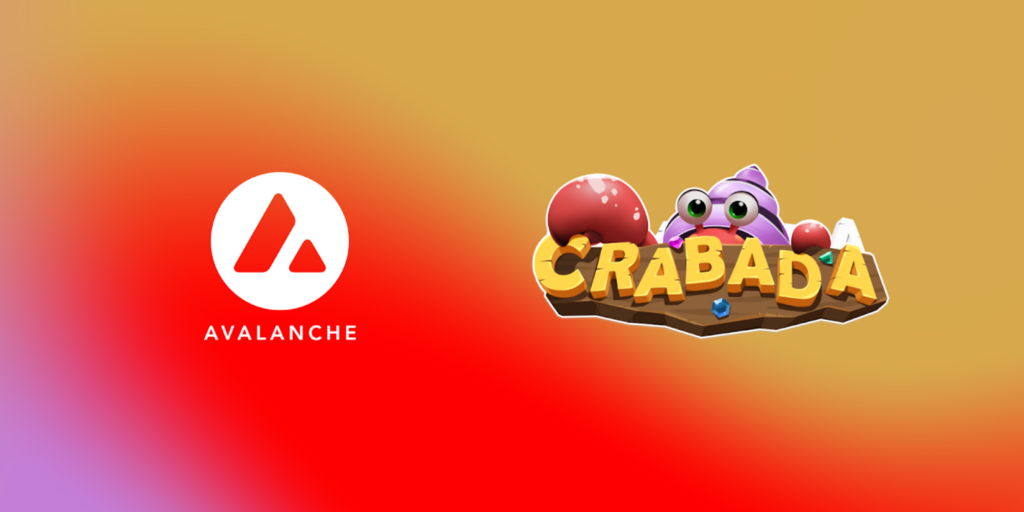 Crabada, a play-and-earn NFT game, is set to launch natively on Avalanche in November. This launch will allow anyone to play and earn crypto, and bring a host of new gaming experiences to Avalanche.
The Avalanche Foundation made a strategic investment in Crabada, as the project will bring a unique idle game to Avalanche. Crabada's early focus will be on bootstrapping the platform's growth, alongside its unique PvP (Player Versus Player)-infused idle gameplay.
"As a part of the Avalanche ecosystem, the Crabada team is eagerly looking forward to rapid growth and development alongside Avalanche's thriving infrastructure and blooming community to reach its fullest potential." — OxTender, Crabada's Co-Founder and CEO.
''Avalanche's gaming ecosystem will get an amazing boost of energy with Crabada's launch. The Crabada team features a strong, diverse team with a clear vision in bringing a successful, fun idle game to Web 3.'' — Jay Kurahasi-Sofue, Vice President of Marketing at Ava Labs.
Key Features of Crabada
Crabada is an exciting play-and-earn NFT game based in a world filled with fierce fighting hermit-crabs called Crabada (the NFTs). Players rediscover the prosperous ancient Kingdom of Crabada while earning rewards through mining, looting, breeding, battling, exploring, crafting, and more. Crabada, being an idle game, means that users will be able to play it anytime and anywhere with minimal disruption to their everyday life.
Idle Game Release (Nov 2021)
Crabada's Idle Game consists of Mining Expeditions and Looting Missions: In these game modes, players send a team of three Crabadas to mine for treasure, or to steal treasure from other players. Completion of each Expedition or Mission will earn the player rewards in Crabada's native CRA and TUS token.
Breeding and Marketplace (Nov 2021)
The Crabada are descendants of powerful warriors, from different factions of a past era, each with unique strengths and abilities which are inherited through breeding. The Crabada Marketplace will support Crabada breeding activities, and decentralized trading of the Crabada for both avid players and collectors alike.
Battle Game Release (Q1 2022)
Crabada will be available on mobile platforms in Q1 2022 with the release of a new and immersive Battle Game mode, where new PvE (Player Versus Environment) and PvP (Player Versus Player) modes are introduced. Players can watch exciting battles unfold as their Crabada casts unique skills in claw-to-claw combat. Players will have to strategize for the best lineup and synergy between their Crabada, factions and skills.
Upcoming Events
Crabada has tons of exciting news, announcements, and events coming up over the next few weeks leading up to their idle game launch, so hang tight and keep up-to-date via their social channels!
https://medium.com/media/b8a596544f943e3618682869c7e2f97a/href
About Crabada
Welcome to the world of Crabada. Rediscover the prosperous ancient Hermit-Crab Kingdom once ruled by Crustaco, King of the Crabada. Recruit loyal followers to your cause. Harvest precious resources from mines, and breed new warriors for your army. Loot enemies or humble miners unaware, claiming your rightful share of their riches.
Will you be the one to take the place as King of the Crabada? Or will you sow the seeds of discord across the land? The world is your oyster. Soon, they will tremble when they hear your name.
Website | Telegram (Discussion) | Telegram (Announcements) | Discord | Twitter | Whitepaper | Medium
About Avalanche
Avalanche is the fastest smart contracts platform in the blockchain industry, as measured by time-to-finality, and has the most validators securing its activity of any proof-of-stake protocol. Avalanche is blazingly fast, low cost, and green. Any smart contract-enabled application can outperform its competition by deploying on Avalanche. Don't believe it? Try Avalanche today.
Website | Whitepapers | Twitter | Discord | GitHub | Documentation | Forum | Avalanche-X | Telegram | Facebook | LinkedIn | Reddit | YouTube |
---
Crabada brings Play-To-Earn Idle Game to Avalanche was originally published in Avalanche on Medium, where people are continuing the conversation by highlighting and responding to this story.