CurateDAO Launches Decentralized, Pinterest-Like Data Curations Powered by Incentives on Avalanche
Curators are rewarded tokens for assembling diverse lists benefitting users.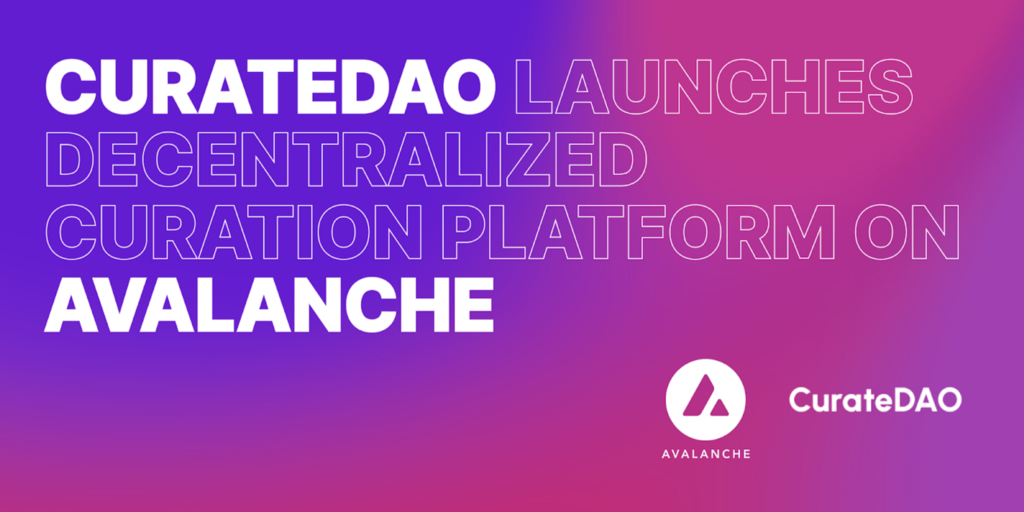 CurateDAO has launched their "curate-to-earn" protocol on Avalanche. The protocol's users assemble Pinterest-like boards and receive rewards in AVAX tokens when other users find boards useful. Boards are decentralized and use a smart contract to pass the revenue that boards earn to content creators and curators.
Already, CurateDAO offers a wide range of curated lists: high-quality Web3 apps, security vulnerabilities, codes for NYC bathrooms, secret speakeasies, lists of metaverse governance books, job boards, futuristic sneakers, and much more.
CurateDAO has launched on the Avalanche C-Chain, with plans to move to a Subnet to accommodate growth. Blizzard the Avalanche Fund has made a strategic investment in CurateDAO.
"CurateDAO is most useful when the best content is surfaced by users," said Michael Fischer, Founder of CurateDAO and recent PhD graduate from Stanford in computer science. "This requires a user experience similar to what we see in a Web2 application. Avalanche has low transaction fees and high throughput and was a natural choice for CurateDAO."
Fundamentally, CurateDAO is a community-created curation protocol that rewards curators and data scouts for high quality contributions. Here's how it works:
A curator mints a curation and defines the guidelines for what information should exist in the curation. Anyone can be a curator.
Scouts find information for the curation using its guidelines. Scouts stake a small amount of money, which they get back if their curation is accepted.
The curator decides which elements are accepted into the curation. If the curator makes bad decisions, scouts should no longer contribute to that curation.
The curation earns money over time either through advertisements, affiliate links, paid subscriptions, or benefactors. The revenue generated is split pro-rata by scouts and curator based on contributions.
CurateDAO improves the Web2 data curation model in key ways. For one, to attract high-quality data, CurateDAO passes revenue and ownership of the curation to the people that did the work to build the curation. Contributors earn recurring AVAX payments as the curation becomes popular.
The relationship between data, voting, and tokens made Avalanche the natural choice for the protocol's underlying blockchain. Using a blockchain creates new obstacles, such as transaction fees and throughput requirements. Avalanche has the uptime, security, low transaction fees, and sub-second finality for CurateDAO to run smoothly.
On a mission level, CurateDAO aims to change the extractive Web2 model and instead incentivize value-added behavior defined by a community. Each of the curations on CurateDAO can be thought of as a DAO. Each curation has a purpose and rule set that community members follow when adding content.
Explore CurateDAO on Avalanche. Check out the curated lists of music, products, Avalanche apps, and more. Maybe you'd like to add to an existing curation, or to start a new one.
This post is based on materials provided by CurateDAO. For more information, visit CurateDAO's website. Also, please read this important notice.
About CurateDAO
CurateDAO is a new protocol that uses a prediction market to curate large datasets. At a high level it is a new type of database for end-user facing web3 apps. The next wave of web3 apps will be more user facing and require a database. CurateDAO is easy for developers to set up and helps them to build web3 apps more quickly.
Website | Whitepapers | Twitter
About Avalanche
Avalanche is the fastest smart contracts platform in the blockchain industry, as measured by time-to-finality, and has the most validators securing its activity of any proof-of-stake protocol. Avalanche is blazingly fast, low cost, and green. Any smart contract-enabled application can outperform its competition on Avalanche.
Website | Whitepapers | Twitter | Discord | GitHub | Documentation | Forum | Avalanche-X | Telegram | Facebook | LinkedIn | Reddit | YouTube
---
CurateDAO Launches Decentralized, Pinterest-Like Data Curations Powered by Incentives on Avalanche was originally published in Avalanche on Medium, where people are continuing the conversation by highlighting and responding to this story.