Defy Trends Brings Analytics Platform Using 1M+ Data Sources Including On-Chain Metrics and Social…
Defy Trends Brings Analytics Platform Using 1M+ Data Sources Including On-Chain Metrics and Social Sentiment to Avalanche
The integration provides an all-in-one information hub — where members can gain tokens by interacting with the data platform, learning about crypto (learn-to-earn), and submitting their own original research.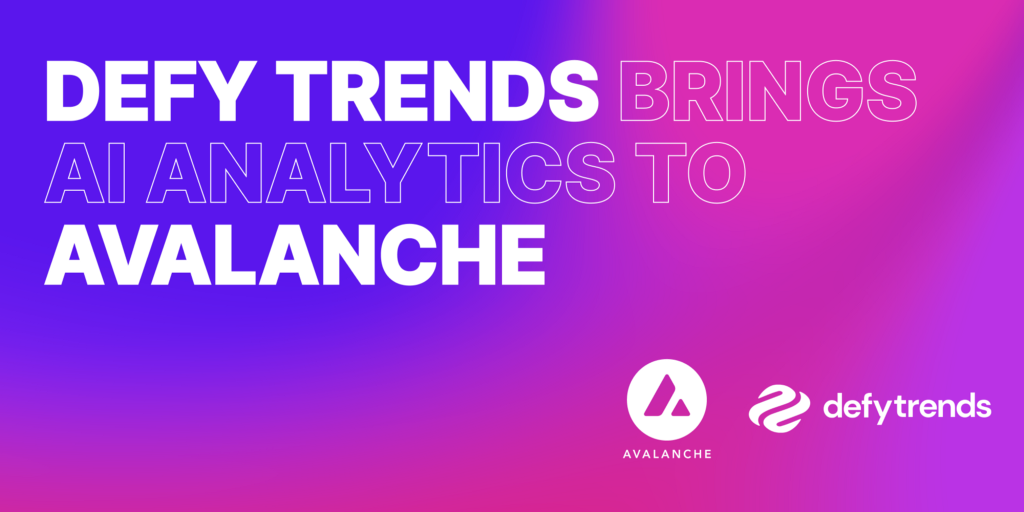 Defy Trends, an AI-powered analytics platform using 1M+ sources of data, will be expanding to Avalanche. The platform utilizes on-chain data and a wide range of off-chain sources, even scraping social media channels like Twitter, Telegram, Discord, Reddit, and TikTok to gauge sentiment. Defy Trends aims to help traders and investors make sharper data backed cryptocurrency and NFT investment decisions.
Defy Trends is now registering beta users. The project will fully launch at the end of Q2 2022.
"The Defy Trends team is excited to announce the integration of our token on the Avalanche network," says Imge Su Cetin, CEO of Defy Trends. "Avalanche is the fastest smart contract platform in the blockchain industry, providing not only speed but low fees to its users. This is attractive for our users, as our audience is mainstream crypto adopters who are looking for tools that can be used in a simplified way, at low cost"
The platform, based in Miami and led by an all-woman founding team, presents data to users in digestible, accessible and actionable ways. For instance, it provides a Defy Trends Score of 1–100, which can be used to compare coins. A learn-to-earn component uses the data sources for educational materials and rewards users for learning about subjects like NFT and DeFi.
The Avalanche Foundation has awarded Defy Trends a grant. The platform will be providing social sentiment analysis to Ava Labs and their services to the community. In addition, Defy Trends will be creating avalanche specific learning materials to on-board millions of users into the avalanche ecosystem and support its mission of inclusivity.
Defy Trends will also be launching a token: $DEFY. Users who submit research to the platform will receive $DEFY tokens. These tokens can be used for membership discounts, governance, staking, and getting special access to events, partnerships, and NFT drops.
Defy Trends offers individual and enterprise plans. The team is now developing a sustainability index that will score coins based on environmental impact.
Visit the Defy Trends website for more information.
If you would like to meet the founder, Imge Su Cetin, stop by her workshop on "How to Use On-chain and Off-chain data to make Data Backed Investment Decisions" on March 24th, 2022 at the Avalanche Summit.
https://medium.com/media/b8a596544f943e3618682869c7e2f97a/href
About Defy Trends
Defy Trends provides advanced analytics and actionable insights for cryptocurrencies and NFTs. Created by a female-led team of data scientists and global markets experts, Defy Trends brings together crypto, NFT trading and research operations. A comprehensive dashboard provides real-time data analytics to help investors and enterprise institutions act quickly and confidently with analytic tools, research and education. The goal is to empower everyday individual investors as well as institutions ranging from exchanges and marketplaces to research firms. Defy Trends is committed to making crypto accessible to all. Dare to Defy.
Website | Twitter | Telegram | LinkedIn | Instagram | Medium
About Avalanche
Avalanche is the fastest smart contracts platform in the blockchain industry, as measured by time-to-finality. Avalanche is blazingly fast, low cost, and eco-friendly. Any smart contract-enabled application can outperform its competition by deploying on Avalanche. Don't believe it? Try an app on Avalanche today.
Website | Whitepapers | Twitter | Discord | GitHub | Documentation | Forum | Avalanche-X | Telegram | Facebook | LinkedIn | Reddit | YouTube
---
Defy Trends Brings Analytics Platform Using 1M+ Data Sources Including On-Chain Metrics and Social… was originally published in Avalanche on Medium, where people are continuing the conversation by highlighting and responding to this story.