DEFYCA Aims to Bring $1.6T Private Debt Market On-Chain with Avalanche
DEFYCA plans to launch in March, bringing real, securitized yield to DeFi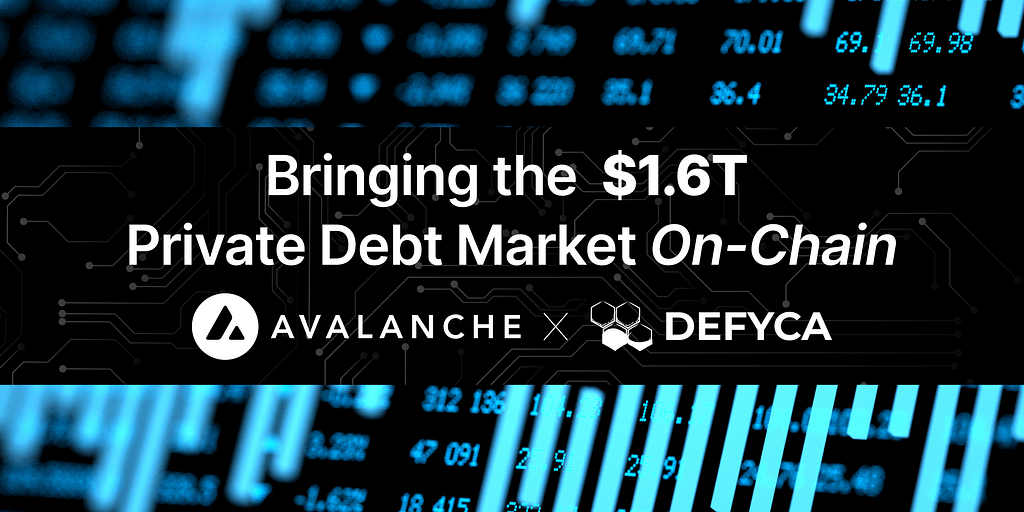 DEFYCA, a Luxembourg-based digital securities platform, will soon launch a protocol on the Avalanche public blockchain that enables market participants and DeFi protocols to access real, securitized yield from the often opaque private debt market typically reserved for institutional investors.
According to data published by Broadridge, private debt funds now look after a record $1.6 trillion in AUM (assets under management).
DEFYCA has developed a protocol to bring traditional debt securities and loan portfolios on-chain as tokenized assets. By bridging decentralized and institutional finance, DEFYCA aims to solve the volatility challenges within on-chain finance and enable higher velocity of trading activity in traditional markets.
On the DEFYCA protocol, tokenized assets are issued, securitized, and structured into liquid pools, which can be traded instantly and without the friction inherent in traditional trading of these assets. Price discovery, liability matching, settlement, and payment flows are executed automatically through smart contracts, resulting in a significant reduction in both investment costs and time for the issuer. It also offers participants the opportunity to earn tangible secured returns on stablecoins.
The Avalanche public blockchain will be a core component for the launch of DEFYCA platform, operating as its treasury chain and enabling participants to access liquidity across multiple blockchains with low fees and near-instant transaction finality stemming from Avalanche's breakthrough consensus protocol.
"The promise of DEFYCA is to create a new phase in the evolution and democratization of the private credit markets," says Alex Garmash, Co-founder of DEFYCA. "Our protocol will prove that Web3 can open an accessible and frictionless trading venue, where all investors can trade, and funds can raise capital using innovative tokenized securities."
"Moving real world assets and off-chain collateral on-chain is critical to the evolution of DeFi, and making the risk profile of these applications more robust," says Morgan Krupetsky, Director of Business Development, Institutions at Ava Labs. "Avalanche has a clear lead in bringing both sides of the market to the table, and platforms like DEFYCA can play a key role in accelerating adoption."
DEFYCA plans to launch its testnet application in early March. Following a successful deployment and beta testing, its team will formally launch on Avalanche Mainnet.
To stay up-to-date with DEFYCA and its roll-out, please visit DEFYCA's website
About DEFYCA
DEFYCA is the first protocol to bring the off-chain credit market onto the blockchain, enabling traditional and crypto investors to invest in stable real-world assets (RWA), such as traditional debt securities and loan portfolios in their tokenized forms.
About Avalanche
Avalanche is a smart contracts platform built to scale infinitely and finalize transactions in under a second. Its novel consensus protocol, Subnet infrastructure, and HyperSDK toolkit enable businesses to easily launch powerful, custom blockchain solutions. Build anything you want, any way you want, on the eco-friendly blockchain designed for both Web3 devs and businesses.
Website | Whitepapers | Twitter | Discord | GitHub | Documentation | Forum | Telegram | Facebook | LinkedIn | Reddit | YouTube
---
DEFYCA Aims to Bring $1.6T Private Debt Market On-Chain with Avalanche was originally published in Avalanche on Medium, where people are continuing the conversation by highlighting and responding to this story.