Developer Spotlight: Jomari Peterson Says His Biggest dApp is Yet to Come
"As a dev, you want to be prepared not only for where things are, but where they're going."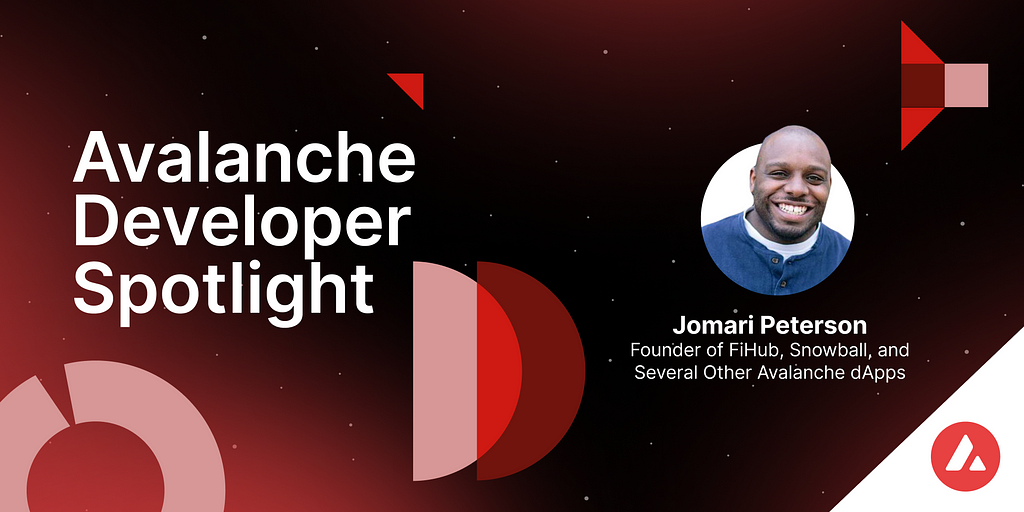 Developer Jomari Peterson has been building the future on Avalanche since its early days. He tends to juggle projects, like a lending platform, an auto-compounder, and a privacy-preserving protocol (to name a few), but Jomari believes his next dApp could be his biggest yet — and take DeFi to the mainstream with it.
Jomari first tried Avalanche after hearing about Pangolin. "I saw that it was proof-of-stake and was incredibly fast," he said. "I said 'oh snap, this is exactly what I've wanted to build on. This might just be the place for me.'"
Reflecting back from today, after countless hours developing on Avalanche, he knows his first instinct was right.
"As a dev, you want to be prepared not only for where things are, but where they're going," he said. "With Avalanche, you can be a first mover and launch a Rust or WASM VM to leverage the tooling from the platform. Whatever your tooling purposes, you can bring them to Avalanche and maximize your efficiency and effectiveness. That's very valuable for developers."
In Jomari's experience, Avalanche can flex to his preferences and evolve as the goals of a project adapt to the long-term development of Web3. Couple that toolkit with Avalanche's reliability, "academic rigor" underpinning the network, the ability of Ava Labs to "execute and support with marketing," and you've got a hotbed for innovation.
"The tooling on Avalanche provides developers a robustness of opportunity," he said. "It allows you to execute your vision faster, and on a chain with faster transaction speed and finality."
Jomari seems to have a knack for skating to where the Web3 puck is going. These days, he's developing two new projects.
The first is RITHM, a DAO helping users create and curate algorithmic art, including generative and AI art. Avalanche is the DAO's home. DAO membership dues go toward purchasing NFTs and furthering the tech of the DAO's forthcoming NFT-minting dApp. Jomari has a vision for the DAO, including potentially launching a "collaborative" Subnet down the road.
His second impending dApp is FiHub.
FiHub will help people navigate "the DeFi system through action-based, active discovery and learning." Jomari said this forthcoming dApp will have a comprehensive dashboard, from which users can manage, track, and learn about digital assets. Education will be ongoing, as there will be real-time notifications, some triggered by on-chain data. He plans for users to earn rewards for participating in and learning about DeFi, including through algorithmically curated content.
His goal for FiHub: a friendly DeFi environment, one that might help appeal to the hundreds of millions of Web3 users that currently stick to CeFi.
Avalanche is helping Jomari build his vision of the future, and Jomari is helping write the future of Avalanche — which he believes is just beginning.
"The reason that I build in this space is so that I can affect change," he said. "I believe that on Avalanche we're building out the tools for the future. I think we're just on the cusp of building the things that will empower the masses."
For more on Jomari, start with his Twitter.
About Avalanche
Avalanche is a smart contracts platform that scales infinitely and regularly finalizes transactions in less than one second. Its novel consensus protocol, Subnet infrastructure, and HyperSDK toolkit enable Web3 developers to easily launch powerful, custom blockchain solutions. Build anything you want, any way you want, on the eco-friendly blockchain designed for Web3 devs.
Website | Whitepapers | Twitter | Discord | GitHub | Documentation | Telegram | Facebook | LinkedIn | Reddit | YouTube
---
Developer Spotlight: Jomari Peterson Says His Biggest dApp is Yet to Come was originally published in Avalanche on Medium, where people are continuing the conversation by highlighting and responding to this story.