DOS Labs Launches Subnet Built for an Alliance of Gaming Studios
DOS Labs Subnet Enables a Seamless Gaming Experience with No Gas Fees and High Speed Transactions.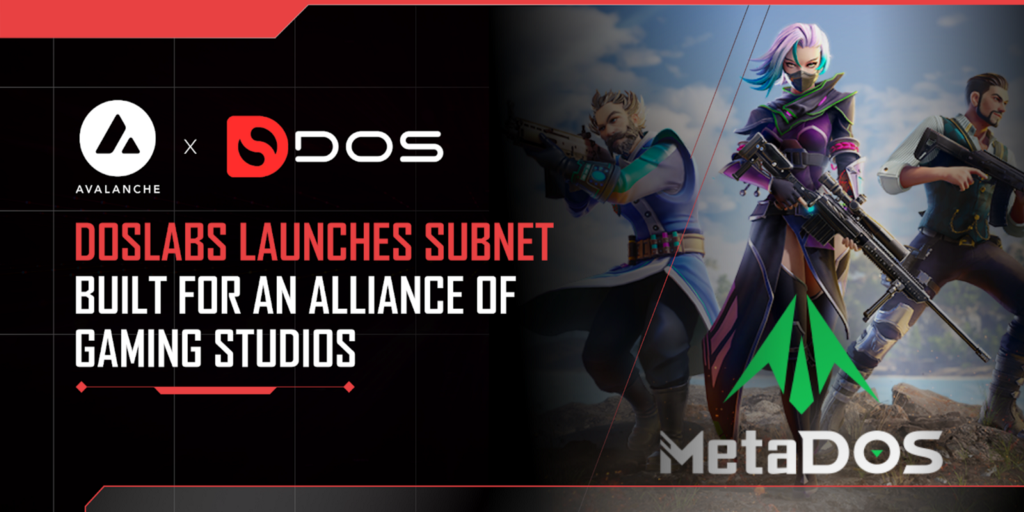 DOS Labs, a gaming studio with over 400k daily active players and a large network of Web3 game developers, has launched its Avalanche Subnet today.
On this Subnet, DOS Labs is forming a rich ecosystem for both players and game developers. The DOS Labs Subnet will support an exchange, asset management tools, and far more. For instance, DOS Subnet will provide game developers with SDKs (Unity, Unreal, and others) to quickly and affordably integrate Web3 features into games, lowering the barrier to Web3 game creation.
A team of gaming studios has already started building the next generation of Web3 games on this Subnet. DOS Labs has formed a Vietnam Game Developer Association with help from 11 studios and publishers. The alliance includes Heroes & Empires, Suga, Imba Games and many other notable game studios, all commiting to bringing games to DOS Subnet.
The alliance's forthcoming games will all be represented by unique characters and backstories in DOS Labs' upcoming Battle Royale game, MetaDOS.
Take an early look at MetaDOS:
MetaDOS is a free, innovative Battle Royale game aiming to launch on the Subnet this June. MetaDOS players will battle with up to 200 players per match. Additionally, MetaDOS brings the "Time-as-currency concept" into a Battle Royale game. Each player will have a certain amount of Time when joining the game. As they run out, they are eliminated. Players will have to fight and loot Time inside the game to become the last one standing and earn rewards.
Anh Le, co-founder of DOS Labs said this about why they chose Avalanche:
"Providing the best experience for onboarding Web2 players to Web3 gaming is our first mission. Currently, it takes over 20 steps for a player to be able to play an NFT game, and we aim to reduce them into 3 steps. We strongly believe in the long-term potential of the Avalanche network and DOS Subnet, where all game developers and players can benefit by utilizing our ecosystem. MetaDOS and Heroes & Empires will be the first movers on DOS Subnet".
Ed Chang, head of gaming at Ava Labs, commented:
"This Subnet represents an opportunity for DOS Labs and the Vietnam Game Developer Association to build an entire gaming platform, with new revenue streams and partnership opportunities that don't exist elsewhere."
Provided for informational purposes only, without representation, warranty or guarantee of any kind. None of this is as an endorsement by the Avalanche Foundation Limited, Ava Labs, Inc. or any of their respective subsidiaries or affiliates, nor is any of this investment or financial advice. Please review this Notice and conduct your own research to properly evaluate the risks and benefits of any project.
About DOS Chain
DOS Labs is the company behind the first 200-player esports battle royale game, MetaDOS. And now they are building an ecosystem for their users with DOS Chain in partnership with Ava Labs and LayerZero Labs by leveraging their Subnet technology. DOS envisions a seamless user experience with a barrier to entry to encourage Web2 gaming studios to embrace blockchain-based game design. The DOS Subnet is also the first blockchain built by veteran game developers, for gamers.
About Avalanche
Avalanche is the fastest, most reliable smart contracts platform in the world. Its revolutionary consensus protocol and novel Subnets enable Web3 developers to easily launch highly-scalable solutions. Deploy on the EVM, or use your own custom VM. Build anything you want, any way you want, on the eco-friendly blockchain designed for Web3 devs.
Website | Whitepapers | Twitter | Discord | GitHub | Documentation | Forum | Telegram | Facebook | LinkedIn | Reddit | YouTube
---
DOS Labs Launches Subnet Built for an Alliance of Gaming Studios was originally published in Avalanche on Medium, where people are continuing the conversation by highlighting and responding to this story.