Introducing Core: The New Operating System for Web3 Users
Core Browser Extension & Mobile Wallet are purpose built for Avalanche, Subnets, and the next generation of Web3.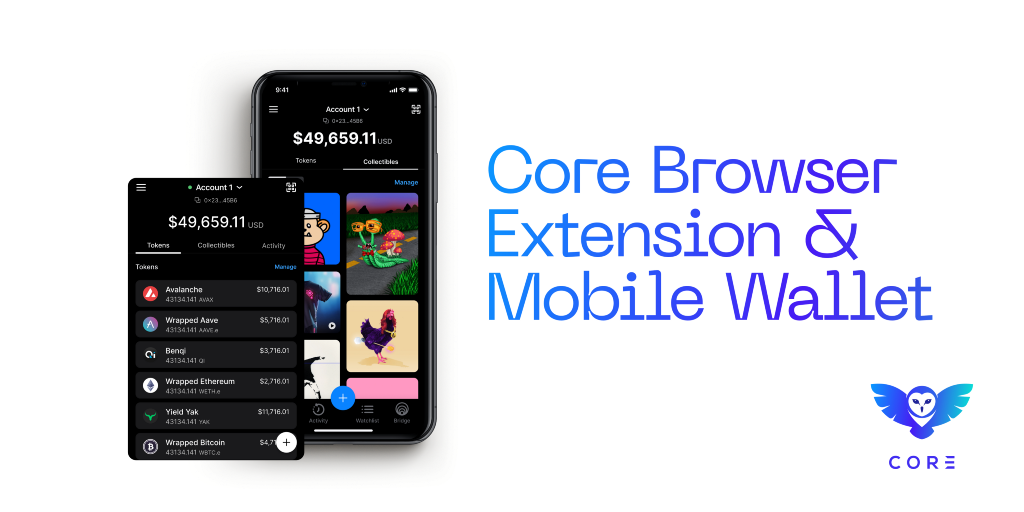 Ava Labs will soon begin a two-phased launch of Core, a free, non-custodial wallet engineered specifically for applications on Avalanche, including subnets and the next generation of Web3 projects. With both mobile and browser extension applications, Core will expand the high-powered, streamlined tools built to help users keep pace with the Avalanche public blockchain and the growth of apps on it.
The first phase, launching the Core browser extension, is expected to arrive in late March. The second phase, launching the Core mobile application, is expected to follow in early Q2.
To-date, users across the Avalanche ecosystem have accessed Web3 applications using agnostic, Ethereum-compatible Wallets like MetaMask. This was sufficient in the early days of Avalanche, as users primarily joined the community and frequently moved between complementary networks.
Today, however, Avalanche has a significant number of "power users" who want a Wallet experience that is optimized to harness the speed of Avalanche, and extended functionality that is coming with the dawn of application-specific chains empowered by Subnet technology.
"Core is not just a wallet. It's a curated, Web3 operating system that combines secure wallet architecture with technology not found in any other wallet. It is the culmination of extensive user and product research to understand how we can facilitate mass-adoption of Web3 systems and applications with a smooth, user-friendly experience that has never been seen before," said Nick Mussallem, Head of Product at Ava Labs.
Headlining the innovations built into Core is native bridging functionality, which enables users to directly access the Avalanche Bridge. This is a first-of-its-kind feature for a browser extension wallet.
The Avalanche Bridge is the most popular Ethereum-connected bridge by Total Value Locked ("TVL"), exceeding $6B as of March 22. Since launch in July 2021, it has facilitated the usage of more than $43B in assets between Avalanche and Ethereum.
Additional feature highlights across both the browser extension and mobile wallet experiences include:
Ledger-enabled — compatible with industry-leading hardware wallet
Portfolio & Collectibles Pages — dashboards for seeing all fungible and non-fungible tokens in a unified display without having to add token addresses or switch networks
Swap — swap between hundreds of tokens directly from the wallet (powered by ParaSwap)
Buy — buy AVAX directly from the wallet (powered by MoonPay)
Address Book — create contacts to save frequently used addresses
Account Switcher — create and manage multiple addresses using the same recovery phrase
The Core browser extension was audited by Halborn and Least Authority.
Note: Access and use of Core is subject to its terms and policies. Please review this Important Notice.
About Ava Labs
Ava Labs makes it simple to launch decentralized applications on Avalanche, the fastest smart contracts platform in the blockchain industry. We are empowering people to easily and freely digitize all the world's assets on one open, programmable blockchain platform.
Ava Labs was founded by Cornell computer scientists who brought on talent from Wall Street to execute their vision. The company has received funding from Andreessen Horowitz, Initialized Capital, and Polychain Capital, with angel investments from Balaji Srinivasan and Naval Ravikant.
---
Introducing Core: The New Operating System for Web3 Users was originally published in Avalanche on Medium, where people are continuing the conversation by highlighting and responding to this story.