Introducing HyperSDK: A Foundation for the Fastest Blockchains of the Future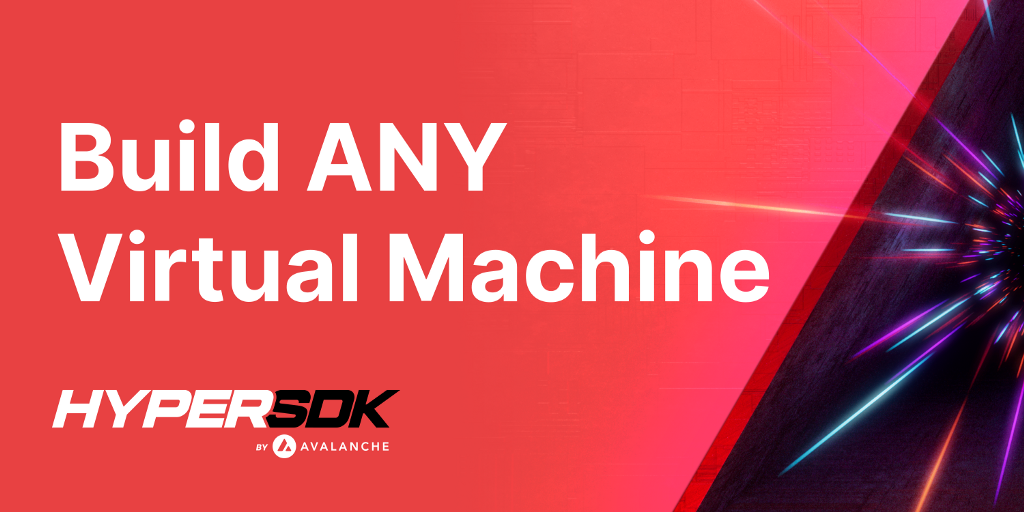 Introducing HyperSDK, the first framework for building high performance Virtual Machines from scratch on Avalanche, providing developers a foundation to build the fastest blockchains in the world, out-of-the-box.
Creating custom Virtual Machines (VMs) is one of the most powerful ways to build on Avalanche. HyperSDK is designed to simplify and accelerate custom VM development, making it safer and easier to launch your own optimized blockchain.
By abstracting away common runtime complexities, HyperSDK provides industry-leading performance and empowers builders to focus on customizations that matter to them. For example, an operator can launch an on-chain video game with the flexibility of fine tuning the architecture for better gameplay, knowing that HyperSDK will execute their transactions quickly and efficiently behind-the-scenes.
HyperSDK is structured so that developers can plug-into a lightning fast execution environment without writing massive amounts of code from scratch, reducing the time it takes to build your own blockchain runtime from many months to just a few days.
For a detailed outline of all of HyperSDK's features and performance optimizations, visit the GitHub Repo.
HyperVMs and HyperChains
Blockchains built with HyperSDK are called HyperChains and can be adapted for any function the developer wishes. From NFT marketplaces to DeFi protocols, HyperSDK ushers in a new era for Avalanche builders to express their full creativity. A demo of the first HyperVM, IndexVM, can be found here.
Though still raw and evolving, HyperSDK represents the next step in empowering crypto-native developers with open source blockchain technology. With this launch, builders can collaborate on and experiment with building the next generation of high-performance, interconnected, optimized blockchains.
Build With Us
HyperSDK is a major milestone in the Avalanche vision of creating a seamlessly interconnected web of highly optimized blockchains. But this is just the beginning. The infrastructure for the decentralized economy is being built everyday by passionate open-source developers across the planet.
No matter if you are an engineer, tinkerer or just an enthusiast, we hope you will join us in this exciting journey to build the future of custom Virtual Machines and unlock the performance necessary to tokenize the world.
The HyperSDK public devnet will launch publicly in the near future with native Avalanche Warp Messaging support. Developers that want to participate can prepare by joining the HyperSDK Discord, Builders Discussion and GitHub Repo.
For details about upcoming community calls hosted by Ava Labs Head of Engineering Patrick O'Grady, follow Avalanche on Twitter. For questions about how to create your own blockchain on Avalanche, contact the AvaStudios team.
Disclaimer: HyperSDK is considered an ALPHA software and is not yet safe to use in production. The framework is under active development and may change over the coming months as its modules are optimized and audited.
About Avalanche
Avalanche is the fastest, most reliable smart contracts platform in the world. Its revolutionary consensus protocol and novel Subnets enable Web3 developers to easily launch highly-scalable solutions. Deploy on the EVM, or use your own custom VM. Build anything you want, any way you want, on the eco-friendly blockchain designed for Web3 devs.
Website | Whitepapers | Twitter | Discord | GitHub | Documentation | Telegram | Facebook | LinkedIn | Reddit | YouTube
---
Introducing HyperSDK: A Foundation for the Fastest Blockchains of the Future was originally published in Avalanche on Medium, where people are continuing the conversation by highlighting and responding to this story.