Introducing the New Avalanche Website
Making Avalanche more accessible to everyone.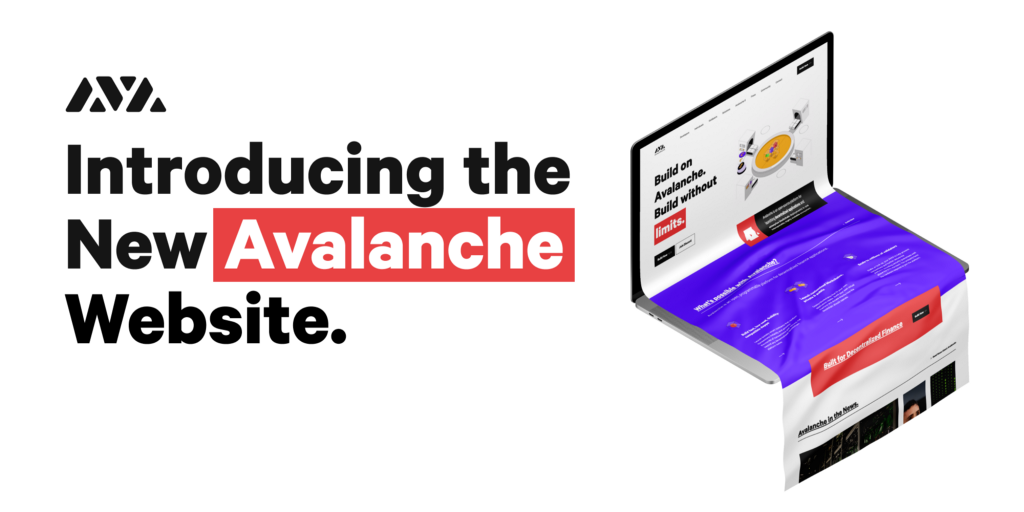 The crypto and blockchain space moves fast. Really fast.
But as we're seeing with each new application and asset launching on Avalanche, the technology and community somehow are moving even faster.
Just like the tech underlying Avalanche's breakthroughs in performance, the new Avalanche website was built with scalability in mind. Every page showcases essential information focusing on three major user segments: developers, validators, and individuals, and will continue to evolve alongside the platform.
Let's take a quick look at the new face of Avalanche: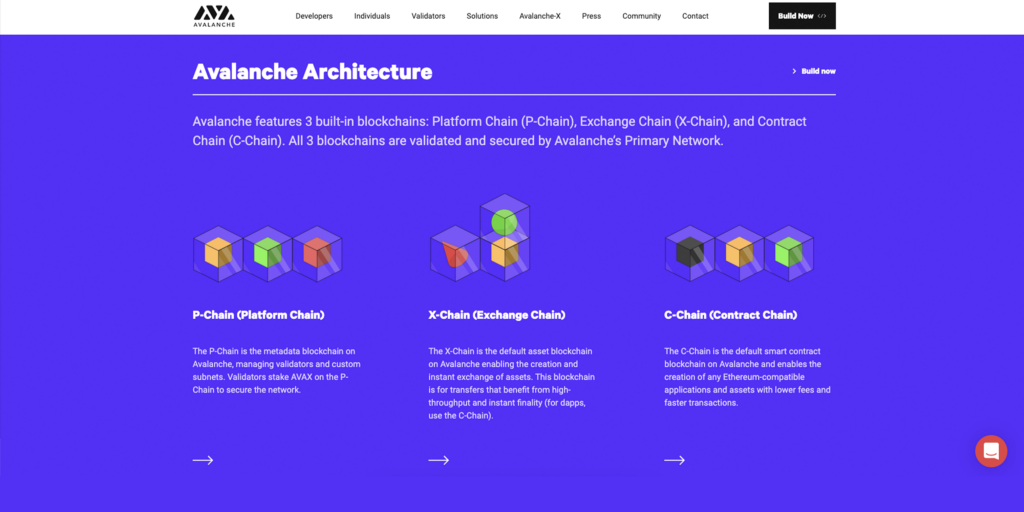 Empowering Developers to Build Highly Scalable DeFi Apps
Blockchain developers are constantly inundated with reasons to build. Avalanche is the first decentralized smart contracts platform built for the scale of global finance, with near-instant transaction finality–with full compatibility with Solidity.
From enterprise to Web3 developers, the website shows exactly how to build without limits with easy access to competitor research, comprehensive tutorials, developer tools, and more.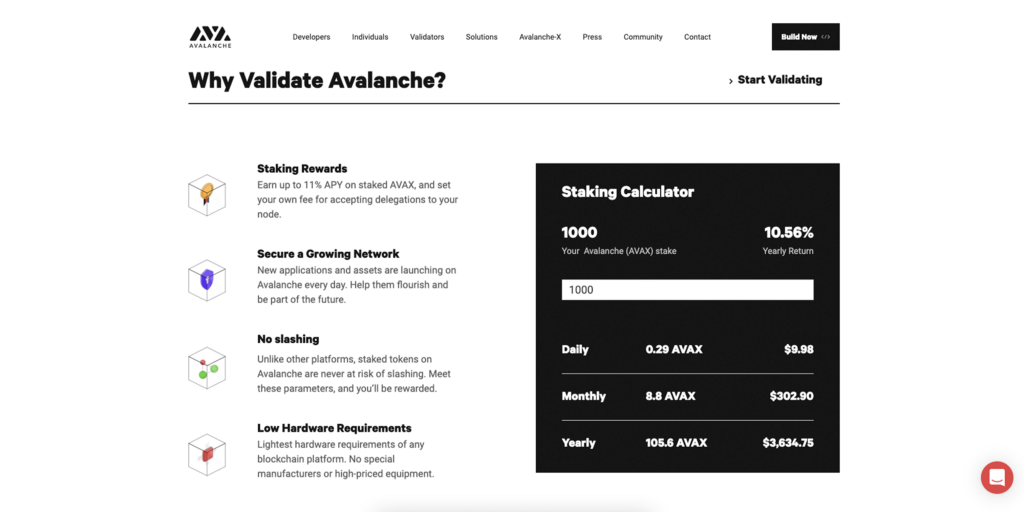 Earn AVAX and Keep Avalanche Secure
Avalanche is kept secure by proof-of-stake mechanisms, allowing for anyone with minimum computer requirements to validate the platform.
Validators can easily see how to stake AVAX and how much they will earn by staking AVAX.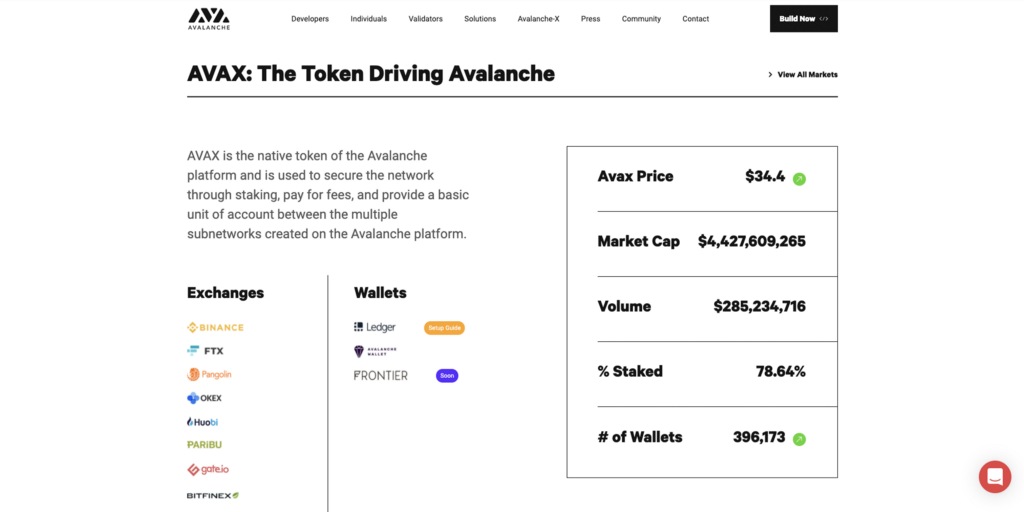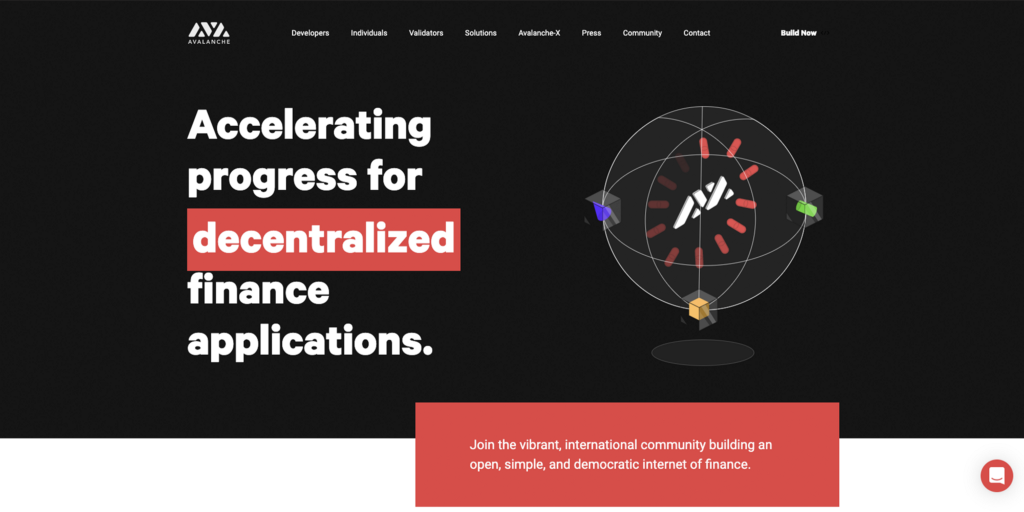 Giving Anyone a Quick, Comprehensive Snapshot of Avalanche
Have complete visibility on what's going on with Avalanche and its budding ecosystem. As someone looking for more information on Avalanche, here are some of the answers you'll find:
What apps and tools are running on Avalanche?
What types of solutions can I build on Avalanche?
What's the latest news and updates for Avalanche?
Where is AVAX available for trading?
Does my native language have an associated Avalanche community?
We're ecstatic for this next step forward for Avalanche and hope to hear all of your thoughts and feedback around the new website experience. More additions to the website will be coming in the near term. In the meantime, please feel free to drop any and all feedback using the Avalanche contact page.
About Avalanche
Avalanche is an open-source platform for launching decentralized applications and enterprise blockchain deployments in one interoperable, highly scalable ecosystem. Avalanche is the first decentralized smart contracts platform built for the scale of global finance, with near-instant transaction finality. Ethereum developers can quickly build on Avalanche as Solidity works out-of-the-box.
Website | Whitepapers | Twitter | Discord | GitHub | Documentation | Forum | Avalanche-X | Telegram | Clubhouse | Facebook | LinkedIn | Reddit | YouTube

---
Introducing the New Avalanche Website was originally published in Avalanche on Medium, where people are continuing the conversation by highlighting and responding to this story.