Jason M Peterson Launches NFT of Kanye West Mural on Avalanche.
The Yeah Probably Nothing series will offer fans the opportunity to exclusively own his art as NFTs, independently verifiable on Avalanche.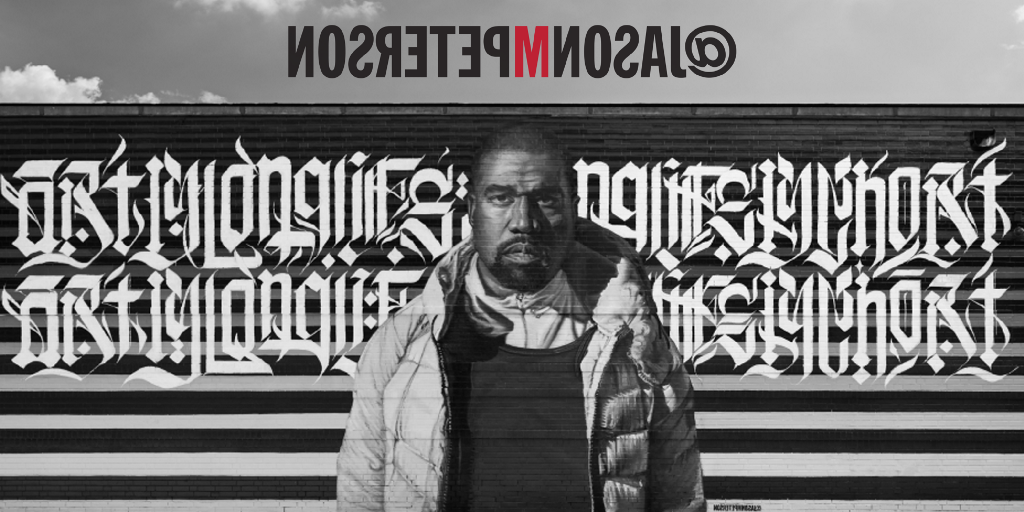 Jason M Peterson, a renowned visual artist based in Chicago, launches a 1-of-1 non-fungible token (NFT) of his recently completed mural of Kanye West in the West Loop of Chicago. The NFT, 41°53'07.9"N 87°39'04.9"W, will mint on the Avalanche public blockchain (AVAX) and represents ownership of the mural. The mural has become a destination for music fans across the globe, and the West Loop attracts 55M+ visitors annually coming to the Windy City.
On Monday, October 11, at 1pm ET the live auction for the NFT begins at YeahProbablyNothing.com. Digital art collectors can place their bids throughout the duration of the auction; the bidding will close on Friday, October 22 at 1pm ET. Yeah Probably Nothing was developed by Peterson, Kalao, and Ava Labs. Following this auction of the Kanye West Mural, Peterson will also launch a set of NFT packs featuring some of his best photographs from his illustrious career.
NFTs are unique, one-of-a-kind assets whose ownership and authenticity can be independently verified on the blockchain hosting that asset. Prior to NFTs, there was no way to create and freely trade collectibles or art without the risk of counterfeits or reliably compensating artists for their creations in perpetuity.
The Mural NFT is a live mural of a photograph taken by Peterson featuring global hip-hop superstar Kayne West and is located in Chicago, Illinois on North Sangamon Street & West Lake Street. The typography featured on the mural was created by Tubzilla. The owner of the NFT will be forever linked to the NFT via a QR code located on the physical mural. Any visitor will be able to identify the owner at any time, with their authenticity and record verifiable by a smart contract on the Avalanche blockchain. If the ownership changes hands, the information tied to the QR code will update.
The owner of the Yeah Probably Nothing Mural NFT has the unique opportunity to be forever linked to this iconic piece of artwork.
By launching on Avalanche, the NFT will be secured by a highly decentralized, environmentally friendly blockchain platform with network transaction fees much lower than the high prices NFT purchasers have become accustomed to paying.
"Contemporary artists are constantly seeking new ways to challenge the status quo of art and its medium. NFTs brought in an innovative, new medium to the art world, allowing artists to fully control the distribution of their art as well as experiment with new ideas. I wanted to create a digital and physical experience that paid homage to the City of Chicago by creating a mural of Kanye West alongside other Chicago artists." — Jason M Peterson
Here's how to place a bid on the auction:
https://medium.com/media/02ea79c823d9c5a1e1f329a774ee74d8/href
Here's how to claim the NFT:
https://medium.com/media/05b46b347b8f12ea521acd2a59fd068c/href
NFTs have skyrocketed in popularity and public interest this year. In the first half of 2021, NFT sales surpassed $2.5 billion, a massive increase over the $14M in sales over the first half of 2020, according to DappRadar. Major, global organizations have embraced NFTs, including Nike, the NBA, the NFL, Topps, and Warner Music Group.
Persons interested in the Yeah Probably Nothing NFT series should visit https://YeahProbablyNothing.com.
https://medium.com/media/b8a596544f943e3618682869c7e2f97a/href
About Avalanche
Avalanche is the fastest smart contracts platform in the blockchain industry, as measured by time-to-finality, and has the most validators securing its activity of any proof-of-stake protocol. Avalanche is blazingly fast, low cost, and eco-friendly. Any smart contract-enabled application can outperform its competition by deploying on Avalanche. Don't believe it? Try an app on Avalanche today.
Website | Whitepapers | Twitter | Discord | GitHub | Documentation | Forum | Avalanche-X | Telegram | Clubhouse | Facebook | LinkedIn | Reddit | YouTube

---
Jason M Peterson Launches NFT of Kanye West Mural on Avalanche. was originally published in Avalanche on Medium, where people are continuing the conversation by highlighting and responding to this story.