Kyber Network Joins Avalanche Rush Program with $5M Allocation
Kyber to launch on Avalanche network to enhance DeFi liquidity offerings.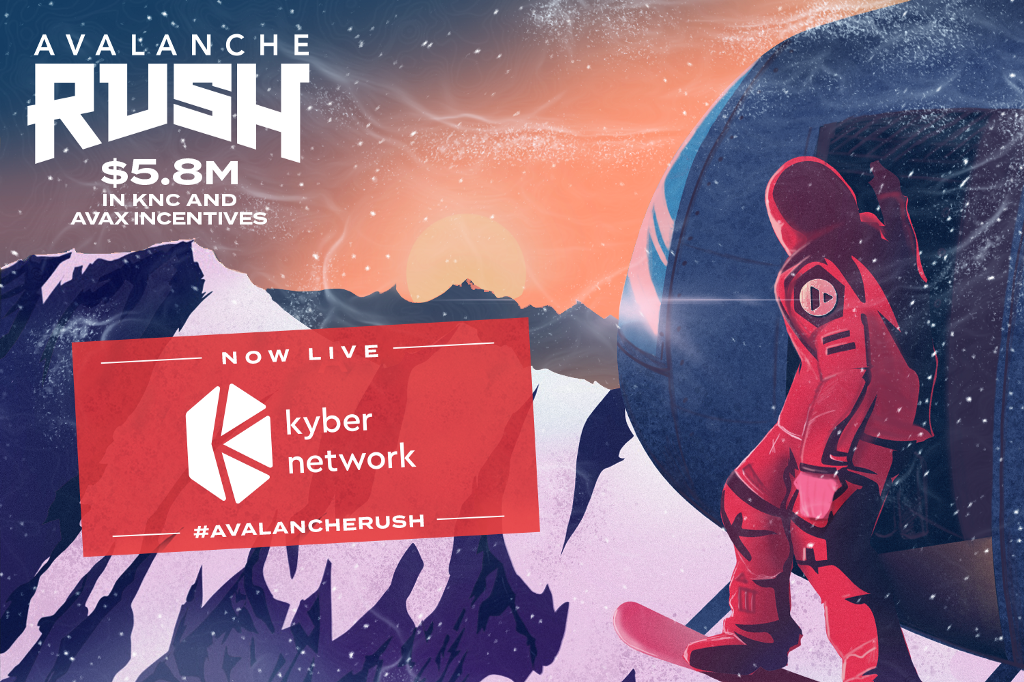 The Avalanche Foundation has announced that Kyber Network, a DeFi liquidity hub, will join the recently launched Avalanche Rush program. The Kyber Dynamic Market Maker (DMM) is the first DMM protocol to launch on Avalanche, enabling liquidity providers to maximize their capital by achieving high capital efficiency for any token pair, while allowing traders to enjoy minimal slippage.
The Avalanche Foundation and Kyber have each allocated a total of $5M of liquidity mining incentives over a 2-month period distributed across 7 liquidity pools. These will take the form of $3M AVAX and $2M KNC. The incentives will roll out in 2 phases, with an exact date announced soon.
"Kyber is excited to provide the infrastructure necessary for enhanced liquidity and seamless token swaps on Avalanche — an increasingly popular network for all things DeFi. We look forward to collaborating with the Avalanche community to grow the ecosystem together." — Loi Luu, CEO and Co-Founder, Kyber Network
"Enhancing liquidity opportunities is a key factor in growing the DeFi ecosystem and welcoming new participants into the community," said Emin Gün Sirer, Director at the Avalanche Foundation. "We support Kyber's vision to deliver a sustainable liquidity infrastructure and welcome their protocol to establish a more valuable ecosystem on Avalanche."
Any project on Avalanche is also welcome to reach out and propose more joint liquidity mining campaigns with Kyber based on this general framework.
About Kyber Network
Kyber Network aims to deliver a sustainable liquidity infrastructure for DeFi. As a liquidity hub, Kyber connects liquidity from various protocols and sources to provide the best rates to takers such as Dapps, aggregators, DeFi platforms, and retail users.
Anyone can contribute liquidity to Kyber Network and Dapps can integrate different protocols depending on their liquidity needs. Using Kyber, developers can build innovative applications, including instant token swap services, ERC20 payment flows, and financial DApps — helping to build a world where any token is usable anywhere.
Kyber is powering more than 100 integrated projects and has facilitated over US$6 billion worth of transactions since its inception.
About Avalanche
Avalanche is the fastest smart contracts platform in the blockchain industry, as measured by time-to-finality, and has the most validators securing its activity of any proof-of-stake protocol. Avalanche is blazingly fast, low cost, and green. Any smart contract-enabled application can outperform its competition by deploying on Avalanche. Don't believe it? Try Avalanche today.
About Avalanche Rush
Avalanche Rush is an incentive mining grant and airdrop program with up to $180M in AVAX tokens from the Avalanche Foundation that seeks to deploy decentralized finance applications on the Avalanche platform. The program objective is to empower new and existing DeFi traders with easy-to-use, fast, and cost-effective applications.

---
Kyber Network Joins Avalanche Rush Program with $5M Allocation was originally published in Avalanche on Medium, where people are continuing the conversation by highlighting and responding to this story.