Learn-and-Earn StackUp Campaign Now Live for Web3 Devs
New and veteran developers can now get up to speed with developing on Avalanche via learning quests on StackUp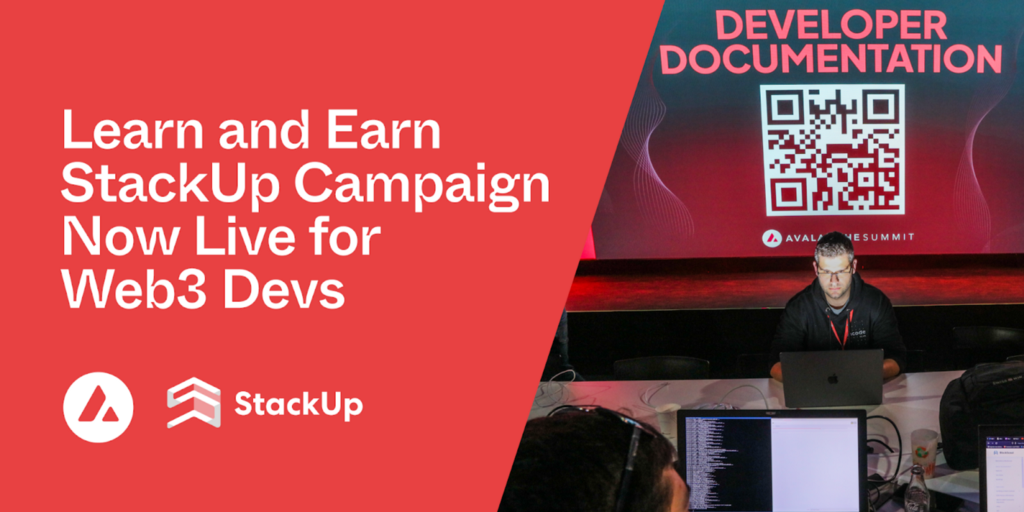 StackUp, a learn-and-earn platform, has launched an Avalanche developer course. The new course targets both new and seasoned developers, providing a short masterclass on the ins and outs of building on Avalanche. And for completing the campaign's quests, devs can earn prizes from a $30,000 pool.
StackUp enables developers to level up, grow, and connect with a global dev community — all while being rewarded for their time. The StackUp platform is easy to use and carefully built to walk devs through the Avalanche course with increasing complexity.
During the course, devs will learn about many topics via 11 quests:
Intro to the Avalanche Ecosystem
Intro to Subnets
AvalancheGo APIs
Create EVM Subnet on Local Network
AvalancheJs
Hello World
ERC20 Token Smart Contracts
ERC721 Token Smart Contracts
Game Frontend
NFT Marketplace Smart Contracts
NFT Marketplace Frontend
New developers will learn the overall architecture and best practices for building on Avalanche. On the other hand, seasoned developers will learn about specific topics on how best to use the tools that Avalanche has to take their project(s) to the next level. At the end of the course, developers will have a firm grasp of the Avalanche platform and how best to build the next generation of dApps.
For the early participants, each completed quest will have a reward. But hurry, the $30,000 total prize pool for completed quests is only available until December 16th, or until the pool runs out.
To get started:
Click on Sign Up using the referral code: AVAX
Fill out your information and accept the Terms
Once signed in, choose the Avalanche campaign
From there, navigate to the first quest to get started on the Avalanche course
If stuck during a quest, please navigate to the #quest-help channel (https://discord.com/channels/895564164783808523/896973102922223678) on the StackUp Discord for assistance.
To learn more directly from the Avalanche community, please join the Avalanche Discord (https://chat.avax.network/).
About Avalanche
Avalanche is the fastest smart contracts platform in the blockchain industry, as measured by time-to-finality, and has the most validators securing its activity of any proof-of-stake protocol. Avalanche is blazingly fast, low cost, and green. Any smart contract-enabled application can outperform its competition by deploying on Avalanche. Don't believe it? Try Avalanche today.
Website | Whitepapers | Twitter | Discord | GitHub | Documentation | Telegram | Facebook | LinkedIn | Reddit | YouTube
---
Learn-and-Earn StackUp Campaign Now Live for Web3 Devs was originally published in Avalanche on Medium, where people are continuing the conversation by highlighting and responding to this story.