Millions of Shopify Merchants Can Now Use Avalanche NFTs through Venly
The e-commerce giant now lets its merchants design, mint, and sell Avalanche NFTs.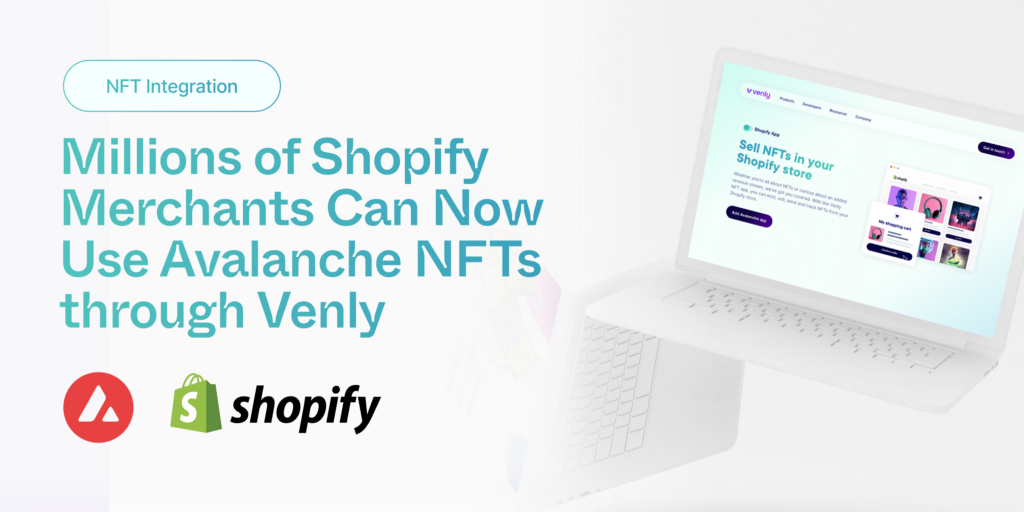 Avalanche NFTs are now available to millions of Shopify ($SHOP) merchants through Venly Shopify NFT, a merchant app. Merchants can easily design, mint, and sell NFTs in just a few clicks, diversifying their stores offerings to customers. Buying and selling NFTs for customers will be as seamless as the merchant's existing experience, as Avalanche is able to finalize near-instantly and at a low cost.
Now, eco-friendly Avalanche NFTs are available to Shopify's millions of merchants, a trailblazing e-commerce giant that generates $1B+ in total revenue per quarter (Source). This year alone, online retail ecommerce sales reached $5.4 billion, with year-over-year growth projected at ~5% until 2025 (Source). .
Venly Shopify NFT Makes Buying and Selling NFTs Easy
With the app, Shopify merchants with minimal technical knowledge can design and sell Avalanche NFTs with little effort.
The app also creates a simple experience for Shopify buyers. There's no need for a pre-existing digital wallet to buy an Avalanche NFT. After an NFT purchase from Shopify, buyers get an email with a link to a new wallet. This wallet holds the NFT and can be sent to any other wallet, such as Core.
"With Shopify's vision to make commerce better and our goal of making blockchain simpler, we offer businesses an accessible point of entry to both," said Tim Dierckxsens, CEO & Cofounder of Venly. "The Venly Shopify NFT App provides users with the exciting opportunity to engage in Web3 eCommerce regardless of their technical expertise. Being a blockchain that is very fast, low cost, and eco-friendly, Avalanche was an obvious choice for us to provide businesses an excellent NFT sales solution."
"We're happy to welcome Venly to the Shopify App Store to help merchants build new and creative commerce experiences through Avalanche NFTs," said Christina Lomazzo, Blockchain Ecosystem Lead, Shopify. "Our growing blockchain ecosystem demonstrates our commitment to supporting merchants as they sell NFTs directly through their storefronts, helping to further grow participation in Web3 and expand what's possible in commerce."
"The Venly Shopify NFT app gives millions of Shopify merchants the ability to quickly level up their digital stores with the speed and eco-friendliness of Avalanche NFTs," said John Nahas, VP of Business Development at Ava Labs. "The integration makes it easy to navigate Avalanche NFT sales from initial design all the way through final distribution. The app powered by Avalanche marks a step forward for Web3 UX — and NFT enjoyers all over the world."
How the Venly Shopify NFT App Works
From end to end, the Venly Shopify NFT app works like this:
Merchants create NFTs, which are automatically turned into products.
Merchants display these NFTs in-store.
Purchases process automatically, and NFTs are minted and sent to buyers.
Merchants track the minting and distribution status.
Customers get an email to access their wallet, containing their new NFT.
The app is live and available to millions of Shopify merchants, with many integrations available like Coinbase Commerce to provide buyers the option to purchase NFTs with crypto You can get started here.
This post is based on materials provided by Venly. For more information, visit Venly's website. Also, please read this important notice.
About Venly
Venly is a blockchain technology provider offering wallets, marketplace and NFT tools to businesses. Venly is on a mission to onboard the next billion users to Web3. To do this, Venly offers a comprehensive technology stack to bring brands, apps, and platforms into Web3. Trusted by many industry leaders and over 3 Million end users, Venly's solutions provide a familiar Web2 experience to make blockchain easier for both users and developers alike.
Website | LinkedIn | Twitter | Discord | Spotify
About Avalanche
Avalanche is the fastest, most reliable smart contracts platform in the world. Its revolutionary consensus protocol and novel Subnets enable Web3 developers to easily launch highly-scalable solutions. Deploy on the EVM, or use your own custom VM. Build anything you want, any way you want, on the eco-friendly blockchain designed for Web3 devs.
Website | Whitepapers | Twitter | Discord | GitHub | Documentation | Forum | Telegram | Facebook | LinkedIn | Reddit | YouTube
---
Millions of Shopify Merchants Can Now Use Avalanche NFTs through Venly was originally published in Avalanche on Medium, where people are continuing the conversation by highlighting and responding to this story.