MoneyDance Recap: Day 2 with Republic, FTX, Chainlink, Fireblocks, and More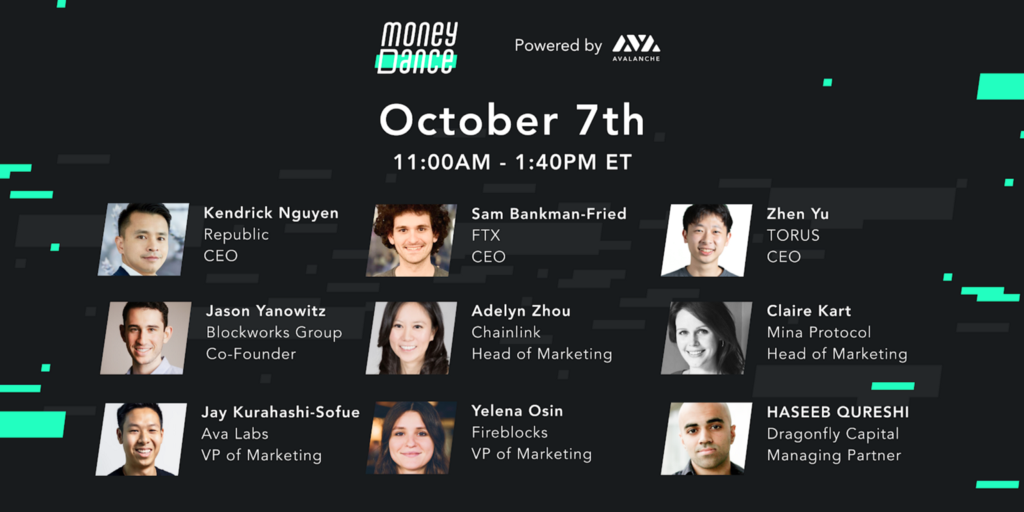 Last Wednesday, October 7, we went live with the second day of Avalanche's MoneyDance Summit. Just as the first day covered a wide range of topics and trends impacting decentralized finance (DeFi) users around the world, this program dove into DeFi's upside, improvements to usability, and growing a decentralized brand.
Here's a brief overview of each segment, with a few highlights and hyperlink to their talk:
How private equity is ripe for an infrastructure overhaul that will drive global retail adoption on blockchain networks like Avalanche
The technical and regulatory challenges that have held back retail participation in the private equity markets
New forms of investing achieved through the fractionalization of assets
Building for DeFi's Upside
Sam Bankman-Fried, CEO of FTX; CEO of Alameda Research
What's the upside left in DeFi
What considerations projects should consider when building for next week and the next few years
Why networks like Avalanche that have carefully considered their role from the beginning are key to achieving DeFi's upside
Challenges of key management in crypto
Why getting users to try apps is still the hardest challenge in crypto
How Torus is cutting down on-boarding times on networks by leveraging existing authentication rails
Panel: How to Grow a Decentralized Brand to Mainstream
Jason Yanowitz, Co-founder of Blockworks Group
Adelyn Zhou, Head of Marketing at Chainlink
Jay Kurahashi-Sofue, VP of Marketing at Ava Labs
Yelena Osin, VP of Marketing at Fireblocks
Claire Kart, Head of Marketing at Mina Protocol
The challenges of marketing crypto as a whole, and then convincing users that your product is the best for them
How do you handle so many different audiences and segments?
Nuances of communicating across multiple, disparate communications platforms and channels
Crypto Has Always Been About DeFi (Soon to be Uploaded)
‍‍Haseeb Qureshi, Managing Partner at Dragonfly Capital
Thanks to everyone who attended another successful day of MoneyDance. We'll see you all back here next Wednesday, October 21st as we dive deeper with:
Sergej Kunz, CEO of 1Inch Exchange
Mona El Isa, Founder of Avantgarde Finance
John Wu, President at Ava Labs
Luke Mulks, Director of Business Development at Brave
Elizabeth Stark, CEO of Lightning Labs
And more!
Not yet registered for MoneyDance updates or the Hackathon?
Registrations for the summit and hackathon are free for everyone thanks to sponsorships from Avalanche, Polyient Games, Biconomy, and Quantstamp, and our Ecosystem Partners NGC Ventures, TRG Capital, Amplifi Capital, Lemniscap, and RenGen. Leading academic Partners include Cornell Blockchain, Seoul National University VMO Lab, and Anáhuac University.
For more information and to sign-up, go to www.MoneyDance.io.
https://medium.com/media/b8a596544f943e3618682869c7e2f97a/href
About Avalanche
Avalanche is an open-source platform for launching decentralized finance applications and enterprise blockchain deployments in one interoperable, highly scalable ecosystem. Developers who build on Avalanche can easily create powerful, reliable, and secure applications and custom blockchain networks with complex rulesets or build on existing private or public subnets.
Website | Whitepapers | Twitter | Discord | GitHub | Documentation | Explorer | Avalanche-X | Telegram | Facebook | LinkedIn | Reddit | YouTube

---
MoneyDance Recap: Day 2 with Republic, FTX, Chainlink, Fireblocks, and More was originally published in Ava Labs on Medium, where people are continuing the conversation by highlighting and responding to this story.