MoneyDance Recap: Day 4 with Genesis, Securitize, Brave, Lightning Labs, and More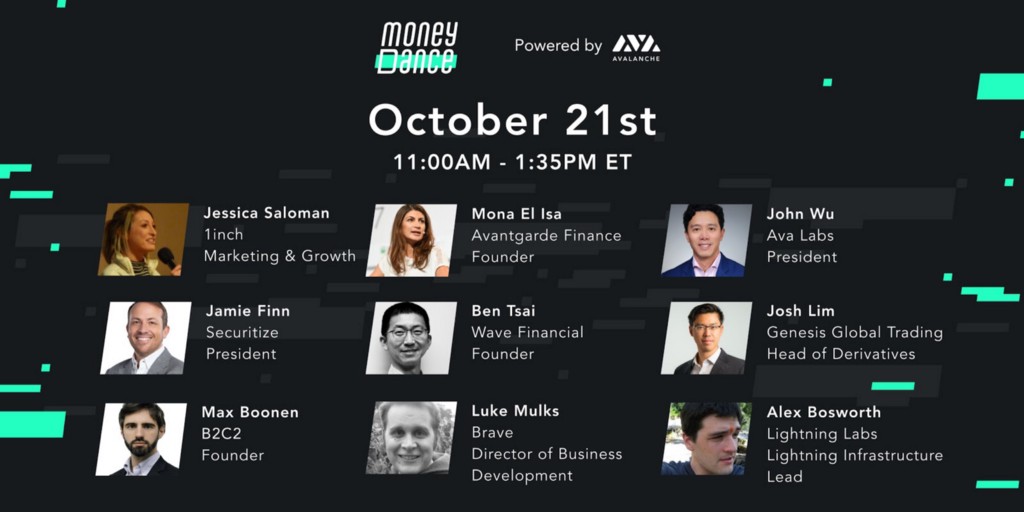 On Wednesday, October 21, Avalanche hosted the fourth day of the MoneyDance Summit, featuring experts across both decentralized and institutional finance.
As before, we've edited each segment down to a video on YouTube, so we'll have a full library of content to access and revisit throughout the program and refer back to even after MoneyDance concludes.
Here's a brief overview of each segment, with a few highlights and a hyperlink to their video:
The history of 1inch and its team
How the Automatic Market Maker revolution came about
How 1inch fits into the broader DeFi and fintech ecosystems
Why Tetris is the perfect analogy for Melon and improving user experience across DeFi and crypto finance
The challenges facing investment managers today, including costs, complications, and inefficiencies
How Avantegarde is removing friction from these workflows to allow investors and investment managers to focus on sourcing the best investment opportunities
When Will Institutional and Decentralized Finance Converge?
‍John Wu, President at Ava Labs
Jamie Finn, President at Securitize
Ben Tsai, Founder of Wave Financial
Josh Lim, Head of Derivatives at Genesis Global Trading
Max Boonen, Founder of B2C2
How asset issuers from traditional finance are exploring blockchains, including Avalanche, to expand distribution and liquidity
Geographic differences in tokenization efforts, regulation, and investment
Why recent bitcoin allocations by listed corporations like Square and MicroStrategy haven't had as much of an impact as it likely would've in 2017, and how these firms are engaging with emerging prime brokerage services
The challenges of measuring and appropriately pricing risk within DeFi, as technology and regulatory uncertainty complicate risk management
Products within DeFi that remind the panelists of traditional assets
Predictions for 2021
How the internet has gone from open sharing of information to centralized through core gatekeepers
The challenge of delivering privacy-centric solutions to mainstream audiences and relaying the benefits to businesses
Role of Web 3.0 in reversing this course, and restoring an open, user-guided internet
Key considerations in mapping out a blueprint for building on a global network like Bitcoin
An update on Lightning's progress thus far, and what remains to be built
Thank you again to all of our speakers and attendees who joined Wednesday's program. We'll see you all back here on Monday, November 2nd as we dive deeper with:
Antonio Juliano, CEO at dYdX
Alexey Bashlykov, CTO at Zerion
Andrew Cronk, Chief Product Officer at Figment
And more guests yet to be announced
Not yet registered for MoneyDance updates or the Hackathon?
There's still time to join nearly 200 participants now competing in the hackathon for $37,000 in prizes and one of the five spots at the final Demo Day to pitch leading VCs and investors.
Registrations for the summit and hackathon are free for everyone thanks to sponsorships from Avalanche, Polyient Games, Biconomy, and Quantstamp, and our Ecosystem Partners NGC Ventures, TRG Capital, Amplifi Capital, Lemniscap, and RenGen. Leading academic Partners include Cornell Blockchain, Seoul National University VMO Lab, and Anáhuac University.
For more information and to sign-up, go to www.MoneyDance.io.
About Avalanche
Avalanche is an open-source platform for launching decentralized finance applications and enterprise blockchain deployments in one interoperable, highly scalable ecosystem. Developers who build on Avalanche can easily create powerful, reliable, and secure applications and custom blockchain networks with complex rulesets or build on existing private or public subnets.
Website | Whitepapers | Twitter | Discord | GitHub | Documentation | Explorer | Avalanche-X | Telegram | Facebook | LinkedIn | Reddit | YouTube

---
MoneyDance Recap: Day 4 with Genesis, Securitize, Brave, Lightning Labs, and More was originally published in Ava Labs on Medium, where people are continuing the conversation by highlighting and responding to this story.