MyStandard Brings Employment App with Token Incentives to Avalanche
The integration provides a decentralized platform for employers and job seekers to link, giving control and data sovereignty back to users.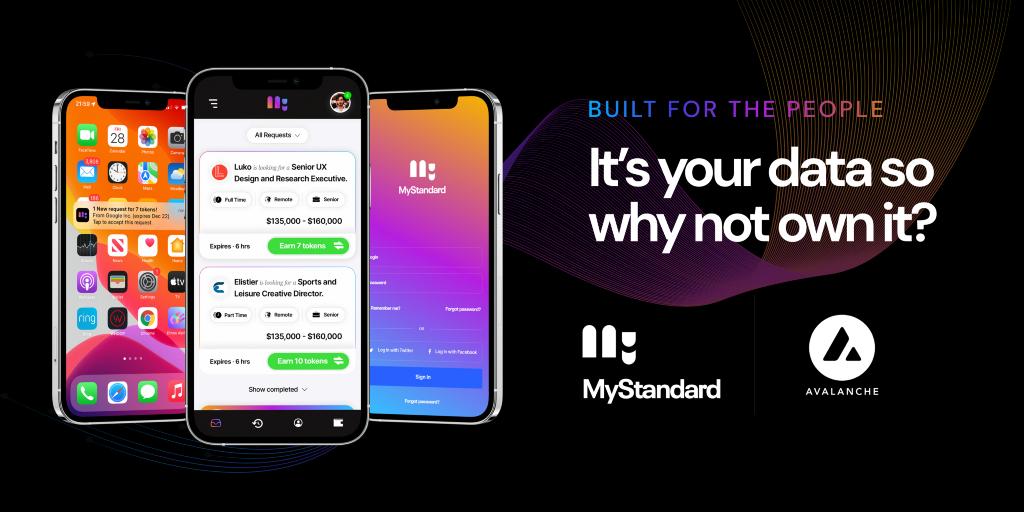 MyStandard, an employment app that aims to empower users to profit from their data, has come out of stealth and announced plans to launch on Avalanche in Q2 2022. MyStandard has created a two-sided employment marketplace where organizations looking for new talent can purchase data directly from users. Critically, users retain full control over how much data they share and whom they share it with. The dapp will benefit from Avalanche's ease of use, low transaction fees, decentralization, and industry-leading speed. The Avalanche Foundation has made a strategic investment in MyStandard.
Unlike web2 platforms, MyStandard links employers and job seekers in a manner that aims to respect privacy and data sovereignty. Employers can search MyStandard's user database using filters, then make an offer to purchase the data of users who meet their needs. Users remain anonymous until they agree to share their data through their smartphone app. If the employer opts to move the interview process forward, the candidate will receive MyStandard tokens. The organization will receive an immediate indication of the candidate's interest, as well as access to the shared data through IPFS.
"To achieve a worldwide data permissioning and payment platform that needs to be able to scale to the size of the entire job market, MyStandard chose to work with, and receive an investment from Avalanche, a best-in-class layer one blockchain," said Adam Zec, MyStandard's CEO and co-founder.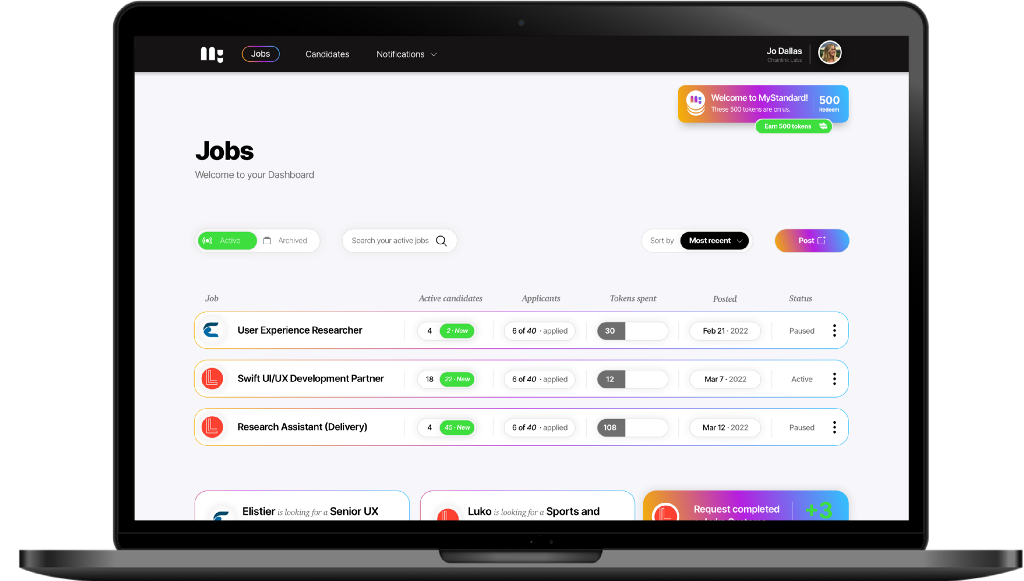 Due to Avalanche's sub-second time to finality, job candidates will receive their MyStandard tokens without delay. Avalanche's low transaction fees means that more tokens will end up in the wallets of users.
MyStandard will be released in stages. Now, in the early stages, the app will be a mechanism for storing professional data. Additionally, the waitlist to join MyStandard just opened and can be accessed now. Once on the waitlist, you can join MyStandard's Mighty Networks community, where users can connect with one another. Here, users can learn more about how MyStandard helps people own, share, and monetize their data.
Over the next few months, MyStandard plans to bring new organizations on to the platform, giving users new employment opportunities they might never have known about otherwise, as well as the ability to monetize their data.
To learn more about MyStandard, visit the newly launched website.
About MyStandard
MyStandard is the first employment and talent acquisition service built on web3 technology and designed from the ground up to give users ownership and control of their data. Users get full control over what data they share and whom they share it with and organizations on the platform get access to new candidates who are encouraged to respond quickly. Join our waitlist to be among the first to join and get important updates.
About Avalanche
Avalanche is the fastest smart contracts platform in the blockchain industry, as measured by time-to-finality. Avalanche is blazingly fast, low cost, and eco-friendly. Any smart contract-enabled application can outperform its competition by deploying on Avalanche. Don't believe it? Try an app on Avalanche today.
Website | Whitepapers | Twitter | Discord | GitHub | Documentation | Forum | Avalanche-X | Telegram | Facebook | LinkedIn | Reddit | YouTube
---
MyStandard Brings Employment App with Token Incentives to Avalanche was originally published in Avalanche on Medium, where people are continuing the conversation by highlighting and responding to this story.