Nexo Enhances Multi-chain Offering with Avalanche (AVAX) Listing
Crypto lender Nexo integrates Avalanche's AVAX, offering instant swaps and tax-efficient AVAX-backed credit lines.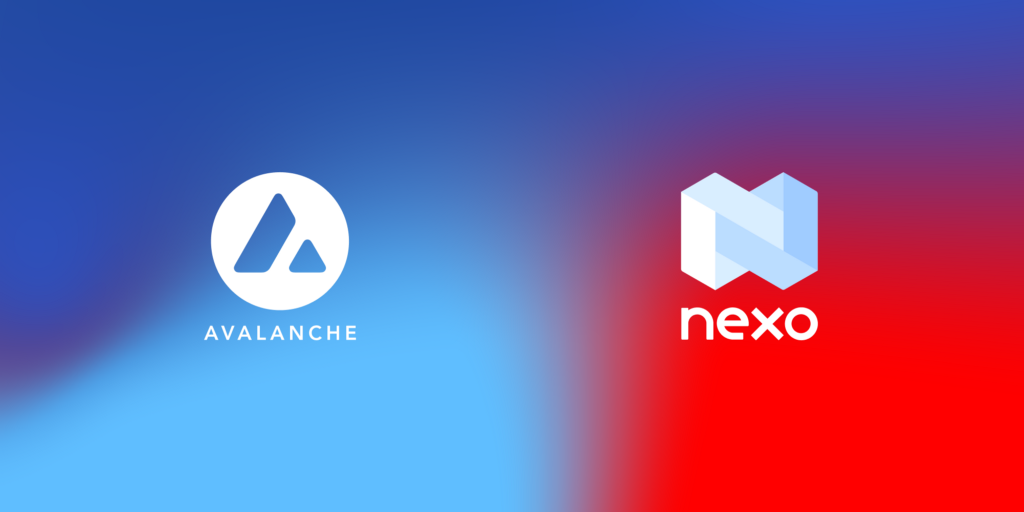 Avalanche public blockchain's native token, AVAX, is now live on Nexo, a pioneer of crypto-backed credit. Nexo users can now buy, swap, grow their AVAX holdings, and borrow against AVAX all in one place.
Nexo has strived to bring comprehensive financial services to the world of digital assets since 2018. The platform is becoming an increasingly efficient gateway to DeFi, allowing its growing user base of DeFi enthusiasts looking to gain more exposure to the Avalanche ecosystem, and to purchase AVAX directly on the Nexo platform. It is within the same user-friendly platform that Nexo users can lend out and borrow against their AVAX.
We believe that Avalanche has what it takes to help build the infrastructure needed to support all kinds of digital and tokenized assets. By integrating AVAX, Nexo is providing liquidity that will ultimately increase developer appetite in the Avalanche ecosystem and lead to its prosperity, " commented Antoni Trenchev, Co-founder and Managing Partner of Nexo.
In order for networks to interact with each other, it is imperative that this space embraces the enormous benefits of a multi-chain world to explore the possibilities of many protocols working together to create increased scalability and functionality. Nexo is partnering with Avalanche because it has not only built one of the fastest, most customizable DeFi ecosystems, but it is also developing a bridge to Ethereum thanks to its compatibility with the Solidity programming language, which will allow network participants to seamlessly connect and make transfers between the two chains.
Leveraging the best of the team's decades-long FinTech experience with the power of blockchain technology, Nexo empowers millions of people to harness the value of their crypto assets and shape a new, better, and inclusive financial system. Nexo's platform now offers access to the native currencies of 25 blockchain projects, making them easily available to close to 3 million people in more than 200 jurisdictions.
Nexo stands to benefit from the widespread adoption of cryptocurrencies and this includes governments, companies, institutional investors and individuals who can easily, securely, and uninterruptedly transact with each other.
For more information on Nexo and the listing please visit its website.
https://medium.com/media/b8a596544f943e3618682869c7e2f97a/href
About Nexo
Nexo is the world's leading regulated digital assets institution. The company's mission is to maximize the value and utility of cryptocurrencies by offering tax-efficient Instant Crypto Credit Lines™, a high-yield Earn Crypto Interest suite, an instant Exchange service, and sophisticated trading and OTC capabilities, while providing the top-tier custodial insurance and military-grade security of the Nexo Wallet. Nexo has processed $50+ billion for 2,500,000+ users across more than 200 jurisdictions.
Website | Twitter | Telegram | Facebook | LinkedIn | Reddit | YouTube | Instagram | Blockfolio
About Avalanche
Avalanche is an open-source platform for launching decentralized applications and enterprise blockchain deployments in one interoperable, highly scalable ecosystem. Avalanche is able to process 4,500+ transactions/second and instantly confirm transactions. Ethereum developers can quickly build on Avalanche as Solidity works out-of-the-box.
Website | Whitepapers | Twitter | Discord | GitHub | Documentation | Forum | Avalanche-X | Telegram | Facebook | LinkedIn | Reddit | YouTube
---
Nexo Enhances Multi-chain Offering with Avalanche (AVAX) Listing was originally published in Avalanche on Medium, where people are continuing the conversation by highlighting and responding to this story.