OpenSea Launches Support for Avalanche, Expanding  Access to Avalanche NFTs
OpenSea Launches Support for Avalanche, Expanding Access to Avalanche NFTs
Flagship NFT marketplace joins leading venues across the Avalanche NFT community.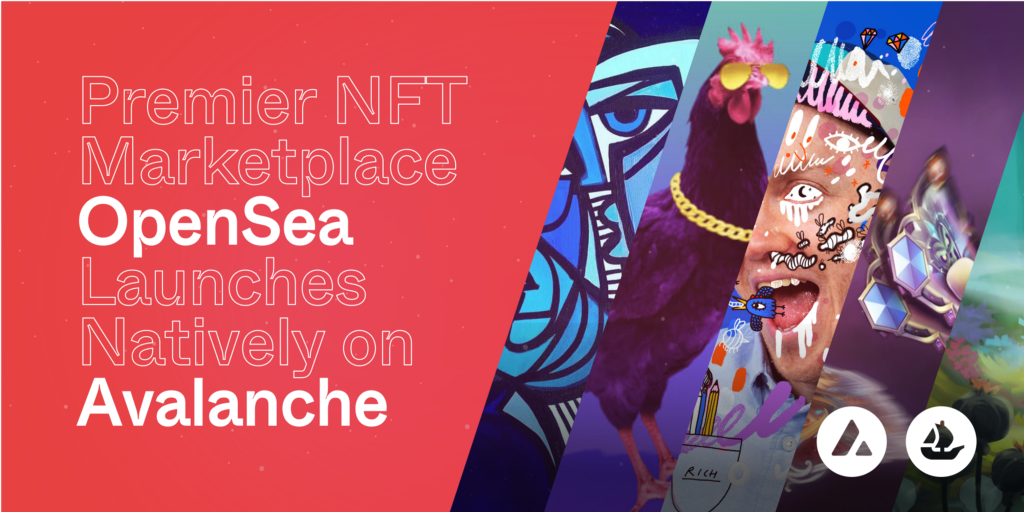 OpenSea, a leading peer-to-peer marketplace for NFTs, has launched natively on Avalanche. It joins leading marketplaces like Joepegs, Kalao, Campfire, and NFTrade as high-quality venues offering the Avalanche community a home to display, list, and trade NFTs.
OpenSea's goal is to help creators, collectors and collaborators engage with NFTs across more chains, and provide the best selection possible.
On Avalanche, OpenSea uses will benefit from the fastest time to finality for NFT trades — regularly settling transactions in under a second — and consistently low transaction fees as a result of Avalanche's success in horizontally scaling with Subnets.
OpenSea users who have yet to explore Avalanche now also have access to its robust NFT community, which has seen total NFT volume increase by 180% from Q2 2022. At launch, 10+ Avalanche native projects are set to be featured on OpenSea with more to come.
"Avalanche's NFT community has a unique identity and passion for experimenting with both the art and applications of NFTs, and creators here are still just scratching the surface," said Dominic Carbonaro, Business Development Lead, NFTs and Arts at Ava Labs. "We're excited to welcome the OpenSea community to Avalanche, and expand the reach of Avalanche NFTs into new territory."
Sail the OpenSea
To get started with Avalanche NFTs on OpenSea, visit the Avalanche Landing page to see featured collections and navigate to an expanded list of projects.
For further questions, please visit the OpenSea support center.
About Avalanche
Avalanche is the fastest smart contracts platform in the blockchain industry, as measured by time-to-finality, and has the most validators securing its activity of any proof-of-stake protocol. Avalanche is blazingly fast, low cost, and green. Any smart contract-enabled application can outperform its competition by deploying on Avalanche. Don't believe it? Try Avalanche today.
Website | Whitepapers | Twitter | Discord | GitHub | Documentation | Telegram | Facebook | LinkedIn | Reddit | YouTube
About OpenSea
OpenSea is the world's leading peer-to-peer marketplace for NFTs. We're on a mission to help the world's creators, collectors and collaborators own and shape their relationships directly. We're building the world's most trusted and inclusive NFT marketplace with the best selection — making minting, purchasing and selling NFTs frictionless and friendly, and offering unmatched selection and multi-chain options for creators and collectors of all kinds. Headquartered in New York, the OpenSea leadership team comes from Google, Palantir, Uber, Stanford and Berkeley. Investors include a16z, Paradigm, Coatue, YCombinator, Founders Fund, Coinbase Ventures, 1Confirmation, and Blockchain Capital.
---
OpenSea Launches Support for Avalanche, Expanding 
Access to Avalanche NFTs was originally published in Avalanche on Medium, where people are continuing the conversation by highlighting and responding to this story.