ParaSwap Brings DEX Aggregation to the Avalanche Rush Program
Avalanche Rush expands to implement DEX aggregation for new and native Avalanche DeFi applications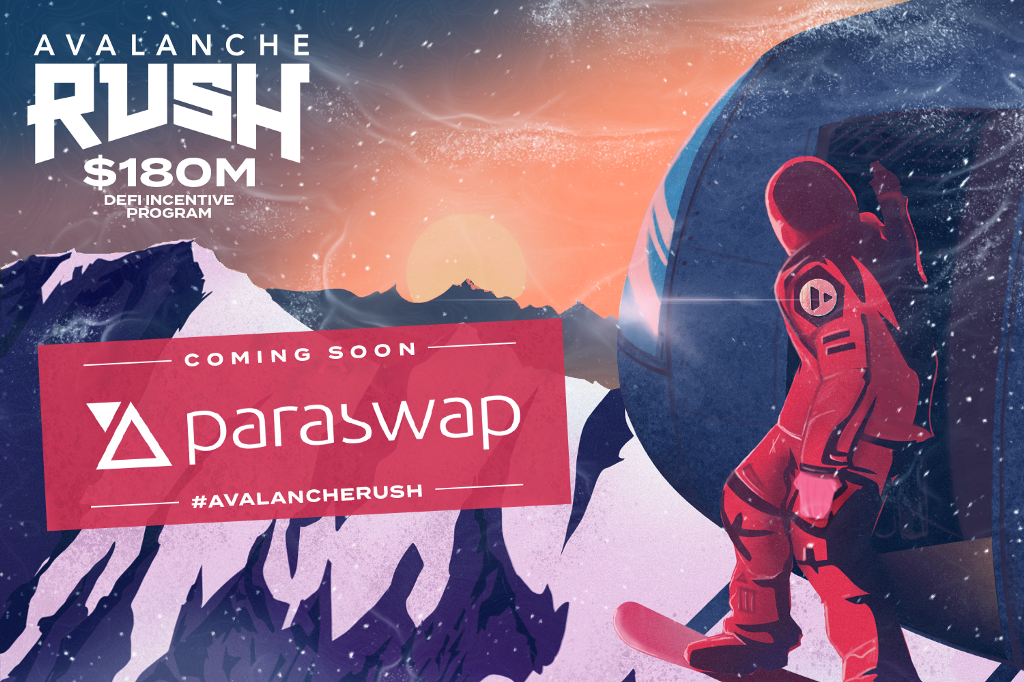 The Avalanche Foundation has announced that decentralized exchange (DEX) aggregator, ParaSwap, will join the Avalanche Rush program. Introducing ParaSwap to the Avalanche ecosystem and integrating with DEXs on the Avalanche network will provide users the best exchange rates, leveraging its cutting-edge aggregation technology.
ParaSwap's refined pathing analysis scours dozens of DEXs, including splitting orders into several exchanges or looking for alternative swapping routes to deliver the best options with less slippage for DeFi traders.
"We're thrilled to bring our DEX aggregation technology to Avalanche's growing community, giving members the best price options across the platform's DeFi applications," said Mounir Benchemled at ParaSwap. "Now is a pivotal moment for DeFi, and we're looking forward to seeing what we'll accomplish as a community."
"DEX aggregators are increasingly important for traders searching for the best rates across decentralized exchanges in real-time," said Emin Gün Sirer, Director at the Avalanche Foundation. "Working with ParaSwap to integrate their aggregation technology furthers our dedication to delivering the best experience for DeFi users across the ecosystem."
ParaSwap will analyze the prices on native exchanges, such as Pangolin, Trader Joe and newly launching applications, Curve and Sushi, on the Avalanche platform. This technology will provide users with improved access to the best prices across all offerings, increasing efficiency in markets and lowering costs.
The specific launch date for ParaSwap on Avalanche will be coming soon.
https://medium.com/media/b8a596544f943e3618682869c7e2f97a/href
About Avalanche
Avalanche is the fastest smart contracts platform in the blockchain industry, as measured by time-to-finality, and has the most validators securing its activity of any proof-of-stake protocol. Avalanche is blazingly fast, low cost, and green. Any smart contract-enabled application can outperform its competition by deploying on Avalanche. Don't believe it? Try Avalanche today.
About Avalanche Rush
Avalanche Rush is an incentive mining grant and airdrop program with up to $180M in AVAX tokens from the Avalanche Foundation that seeks to deploy decentralized finance applications on the Avalanche platform. The program objective is to empower new and existing DeFi traders with easy-to-use, fast, and cost-effective applications.
About ParaSwap
ParaSwap is the go-to liquidity aggregator to beat the market price at every single swap. An API-first service with a user-friendly interface, ParaSwap has built ParaSwapPool, the first on-chain OTC DEX where professional market makers provide competitive & MEV resistant trades reaching zero-slippage and low gas costs.

---
ParaSwap Brings DEX Aggregation to the Avalanche Rush Program was originally published in Avalanche on Medium, where people are continuing the conversation by highlighting and responding to this story.