Penguin Finance (PeFi) Joins Avalanche Rush Program with $2.5M in Incentives
Native Avalanche DeFi protocol joins the program, "Penguin Rush" is here!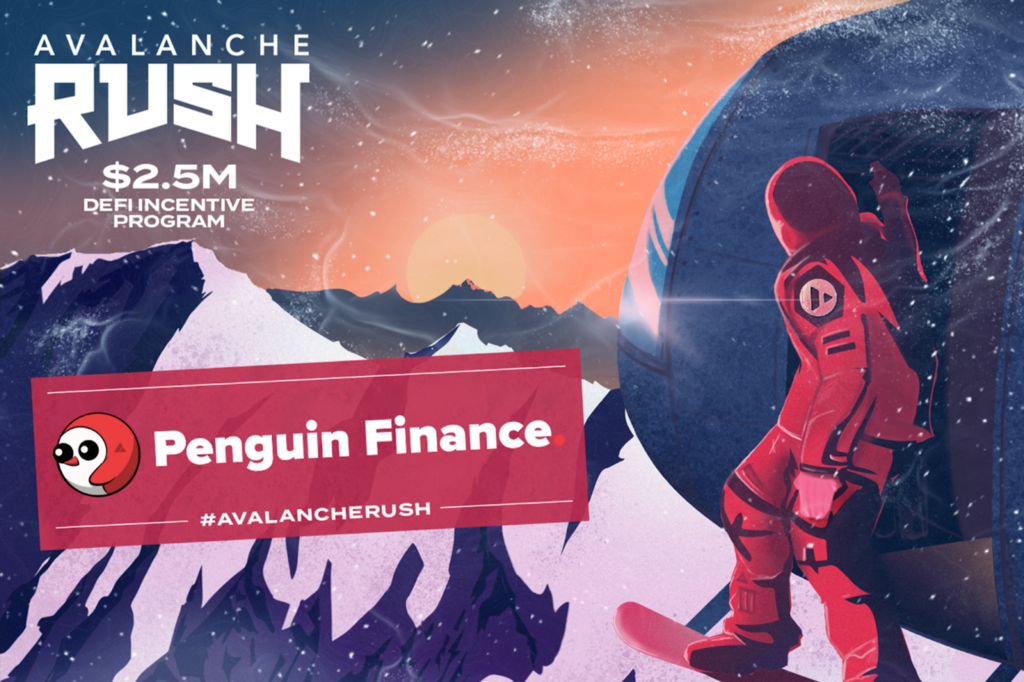 Penguin Finance has officially joined the Avalanche Rush Program. PeFi, a multi-faceted yield aggregator, play-to-earn, launchpad, and NFT platform native to the Avalanche public blockchain, will soon receive $2.5 million in AVAX for their unique layer 2 yield-farming "Igloos" and Penguin Emperor game (an exclusive king of the hill style dApp).
Launched in April, PeFi was one of the first native DeFi projects on Avalanche and grew its community rapidly through its unique marketing, branding and design. The platform offers the first layer 2 yield farm on Avalanche, which is uniquely prepared to receive AVAX incentives given that multiple token rewards are distributed on each pool. Gamers and DeFi enthusiasts will also soon have access to PeFi's ''play to earn'' games, such as the Penguin Emperor and Penguin Arena, with the upcoming deployment on Avalanche.
During the program, users can receive Rush rewards by participating in selected liquidity pools (earning up to 5 different tokens simultaneously) and betting on special "Avalanche Emperor" rounds on the Penguin Emperor dApp.
As part of the Avalanche Rush Program, the Avalanche Foundation is working closely with top projects, including Aave, Curve, Sushi, Stake DAO and BENQI for farming, mining, lending and now gaming experiences.
The specific date for PeFi's Avalanche Rush deployment will be coming in Q4 2021. For more information on PeFi, please visit its Website and Twitter.
https://medium.com/media/b8a596544f943e3618682869c7e2f97a/href
About Penguin Finance
Penguin Finance is a platform powered by Avalanche, building an innovative set of decentralized applications, financial products, and documentation for technologically savvy individuals and those with absolutely no knowledge of cryptocurrency.
PeFi is bridging the gap between DeFi and mass adoption by offering ultra-low fees, an intuitive UX design, and the best documentation/tutorials. PeFi is made for penguins by penguins.
Website | Twitter | Discord | Telegram | Reddit | Docs | Github |
About Avalanche
Avalanche is the fastest smart contracts platform in the blockchain industry, as measured by time-to-finality, and has the most validators securing its activity of any proof-of-stake protocol. Avalanche is blazingly fast, low cost, and green. Any smart contract-enabled application can outperform its competition by deploying on Avalanche. Don't believe it? Try Avalanche today.
Website | Whitepapers | Twitter | Discord | GitHub | Documentation | Forum | Avalanche-X | Telegram | Facebook | LinkedIn | Reddit | YouTube | Important Notice
About Avalanche Rush
Avalanche Rush, the largest DeFi incentive program in history, brings more digital assets and applications to the rapidly growing DeFi ecosystem on Avalanche. The program has launched with blue-chip DeFi applications like Aave, Curve, Sushi, and Stake DAO, and cornerstone applications native to Avalanche like Pangolin, BENQi, and Avalaunch.

---
Penguin Finance (PeFi) Joins Avalanche Rush Program with $2.5M in Incentives was originally published in Avalanche on Medium, where people are continuing the conversation by highlighting and responding to this story.