Pinata Launches Limited Time Subscription Offer for Avalanche Users
This partnership enables Avalanche artists to streamline their process and make it easier for them to focus on what they do best: creating.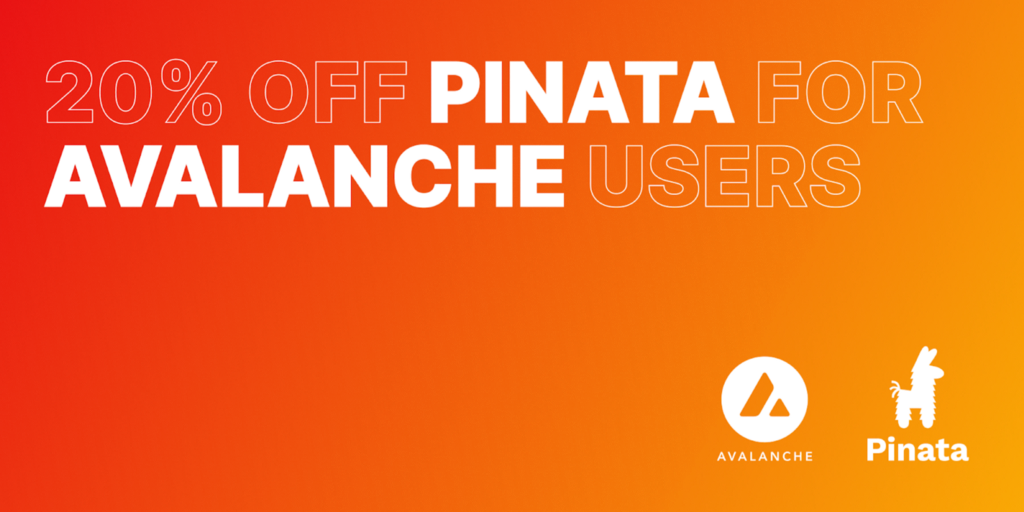 Pinata, a leading multimedia storage platform for web3, is offering Avalanche users a 20% discount on its enterprise and custom plans for an annual subscription. The enterprise plans include premium features such as unlimited storage, 100 GB of bandwidth per month, your own dedicated gateway, and submarining. The limited time offer will be live for 3 months, starting January 25, 2022.
Why might you need a dedicated gateway?
If creators want to store and serve on IPFS as fast as possible, a dedicated gateway is the optimal solution. Dedicated gateways eliminate rate-limiting which is common with public IPFS gateways, and increases speeds when fetching content from IPFS.
Why you might need submarining
Submarining is a new feature in the Pinata app that allows users to make an IPFS file upload private from the public IPFS network. This capability allows users to attach data to an NFT and control who can view it.
"We are excited to be partnering with Avalanche and their vibrant ecosystem of builders. We can't wait to see what people build with Pinata and Avalanche together,"- Kyle Tut, CEO
Success story from Party Animals, an NFT project built on Avalanche
"Pinata saved us from having to manage storage of our artwork. The best part is: Pinata is using IPFS and storing the images in a decentralized and censorship resistant manner!"
– Party Animals
Visit pinata.cloud/avalanche to request a custom plan, and get started on Pinata today!
https://medium.com/media/b8a596544f943e3618682869c7e2f97a/href
About Pinata
Pinata is the leading multimedia hub for NFT creators, builders, and artists in web3. Our vision to foster a sense of place for every creator on the internet that is uniquely theirs has been the company's goal since 2018. Pinata gives users the ability to easily upload, manage, and share content with the world. Building the largest pinning service on IPFS with over 100,000 users and serving more than 1 billion requests monthly, Pinata currently powers the top projects, marketplaces, and apps for NFTs and beyond.
About Avalanche
Avalanche is the fastest smart contracts platform in the blockchain industry, as measured by time-to-finality, and has the most validators securing its activity of any proof-of-stake protocol. Avalanche is blazingly fast, low cost, and green. Any smart contract-enabled application can outperform its competition by deploying on Avalanche. Don't believe it? Try Avalanche today.
Website | Whitepapers | Twitter | Discord | GitHub | Documentation | Forum | Avalanche-X | Telegram | Facebook | LinkedIn | Reddit | YouTube
---
Pinata Launches Limited Time Subscription Offer for Avalanche Users was originally published in Avalanche on Medium, where people are continuing the conversation by highlighting and responding to this story.