Pocket Worlds, Builder of Metaverses with 8 Years of Experience and 2M+ Monthly Users, to Launch…
Pocket Worlds, Builder of Metaverses with 8 Years of Experience and 2M+ Monthly Users, to Launch First-Ever Metaverse Subnet
The community-owned metaverse Highrise World will be supported by a subnet, bringing users a digital nation with custom land, NFT functionality, and a decentralized marketplace.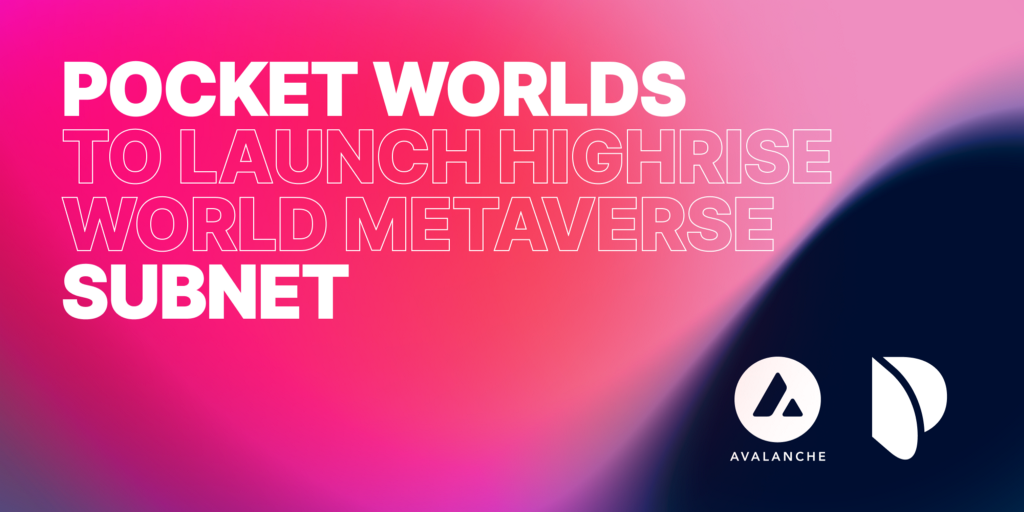 Pocket Worlds, a builder of digital worlds, will be expanding its robust metaverse ecosystem to an Avalanche subnet. Currently, Highrise has 2 million active monthly users. They create their own MMO-style avatars, clothing, and environments. Users trade more than 50,000 items per day. With so much activity, Highrise will turn to a subnet for a web3 expansion, harnessing their speed, security, scaling, and customizability.
The Highrise World will launch on a subnet this year.
"Highrise World is a true metaverse built by its users," said Anton Bernstein, co-founder and CEO of Pocket Worlds. "We see a future where every brand or community has a Reddit, a Discord, and a Highrise. This Highrise will be their own interactive virtual world with virtual goods and a rich economy, all operating on an Avalanche subnet we're calling the Highrise Blockchain."
The Highrise World allows anyone to build their own metaverse communities. Long-term, the world will be composed of ~160,000 land parcels, each entitling landowners to build their own Highrises. In these Highrises, landowners can develop metaverse experiences using the Highrise World Builder.
Subnets give Pocket Worlds the architecture for evolving Highrise's in-game commerce and growing the Highrise World GDP. In the current web2 version of Highrise, users effectively buy items from the game. In the forthcoming Highrise World, users will own the game. They will also be able to deploy their own NFTs and use them in experiences they and other players create.
"We're thrilled that Pocket Worlds will be building on an Avalanche subnet and bringing their background in creating social experiences in mobile to web3," said Ed Chang, Head of Gaming at Ava Labs. "With the speed and customizability of subnets, Pocket Worlds will be able to take full advantage of these elements and deliver not only a great game, but a next-level metaverse experience."
Pocket Worlds believes that an Avalanche subnet provides the best metaverse experience for users, citing speed, security, uptime, and EVM compatibility as reasons for choosing to build on a subnet. An Avalanche subnet also lets Pocket Worlds use its own token, $RISE, for gas fees. Additionally, subnets offer unparalleled scalability, which gives Pocket Worlds the potential to keep growing its user base.
That user base is already extensive. Highrise has more than 17 million accounts, 2 million active monthly users, and 200,000 active daily users. Across its two primary games, Highrise and Everskies, Pocket Worlds' users are 70% to 75% women.
Expanding to web3 means Highrise World can have tokens. These tokens will have many use cases, including staking, governance and purchasing in-game items. Once its subnet launches later this year, Pocket Worlds hopes for Highrise World to grow into a community platform that will be a "go-to for all Metaverse interactions."
This post is based on materials provided by Pocket Worlds. For more information, visit Pocket Worlds's website. Also, please read this important notice.
About Pocket Worlds
Founded in 2013, Pocket Worlds is a metaverse company with over 80 employees, $30M in revenue and $10M equity capital raised that focuses on the power of play and creativity to connect people. Its deep, rich worlds are social by design and built to last for decades. Its mission is to empower creativity and connection in a digital world. Pocket Worlds' first metaverse, Highrise, launched in 2016 and the company acquired Everskies in 2021.
Website | Whitepaper | Twitter | Discord | iOS App | Android App |Instagram | LinkedIn
About Avalanche
Avalanche is the fastest smart contracts platform in the blockchain industry, as measured by time-to-finality, and has the most validators securing its activity of any proof-of-stake protocol. Avalanche is blazingly fast, low cost, and green. Any smart contract-enabled application can outperform its competition by deploying on Avalanche. Don't believe it? Try Avalanche today.
Website | Whitepapers | Twitter | Discord | GitHub | Documentation | Forum | Avalanche-X | Telegram | Facebook | LinkedIn | Reddit | YouTube
---
Pocket Worlds, Builder of Metaverses with 8 Years of Experience and 2M+ Monthly Users, to Launch… was originally published in Avalanche on Medium, where people are continuing the conversation by highlighting and responding to this story.