Pre-Apricot (Phase Zero): Critical Node Upgrade Required by December 7th, 2020
Avalanche validators must update to ensure continuity of their nodes on the network.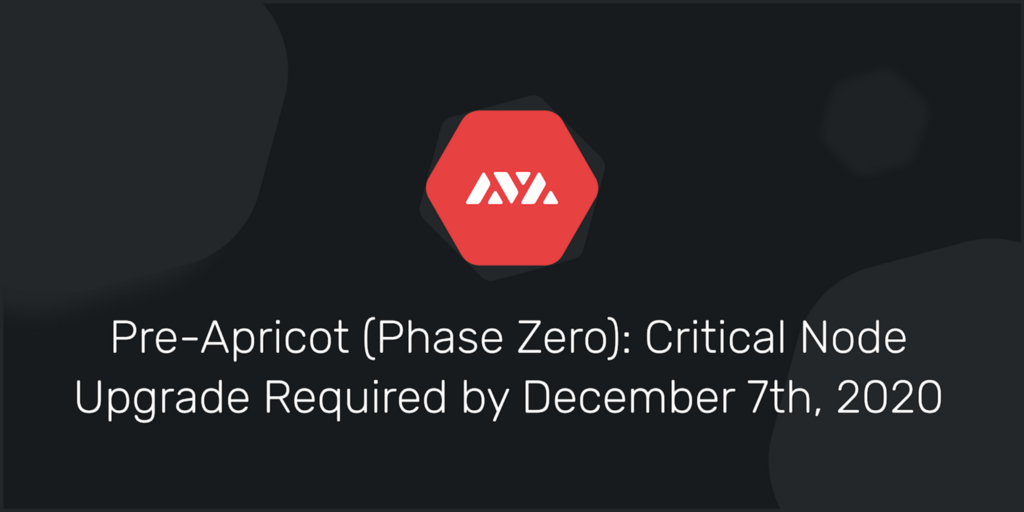 Today, we're releasing Phase Zero of the pre-Apricot upgrade, which is a required upgrade prior to the next AVAX token unlocking period. While we were originally planning this release for mid-December, we are expediting it to immediately roll-out a bug fix related to the unlocking of stake-able locked funds.
We're urging the validator community to upgrade their nodes as soon as possible, and by Monday, December 7th at 11 p.m. UTC (6 p.m. EST) at the latest, to ensure continuity of your node on the network.
If you do not complete the upgrade by the deadline, your node may be unable to accept new transactions. While it will not be able to accept new transactions, your node will still remain connected to the network. Therefore, we strongly urge everyone to upgrade the node immediately to the latest version prior to the December 7th deadline.
There are two primary components to this upgrade:
General preparations for our upcoming Apricot network upgrade called the Apricot Phase Zero Upgrade
Fixing an issue that prevented stake-able locked outputs from being unlocked after their lock time had passed. See repo release for details.
If you are running a node, review the resources below:
The Phase Zero Upgrade code can be found here.
A tutorial for upgrading your node is available here.
If you have any questions, please connect with our developer team here.
https://medium.com/media/b8a596544f943e3618682869c7e2f97a/href
About Avalanche
Avalanche is an open-source platform for launching decentralized finance applications and enterprise blockchain deployments in one interoperable, highly scalable ecosystem. Developers who build on Avalanche can easily create powerful, reliable, and secure applications and custom blockchain networks with complex rulesets or build on existing private or public subnets.
Website | Whitepapers | Twitter | Discord | GitHub | Documentation | Explorer | Avalanche-X | Telegram | Facebook | LinkedIn | Reddit | YouTube

---
Pre-Apricot (Phase Zero): Critical Node Upgrade Required by December 7th, 2020 was originally published in Ava Labs on Medium, where people are continuing the conversation by highlighting and responding to this story.