Re Is Building a Global Decentralized Insurance Marketplace on Avalanche
The integration will tokenize reinsurance, making it more widely available beyond its historical class of institutional participants.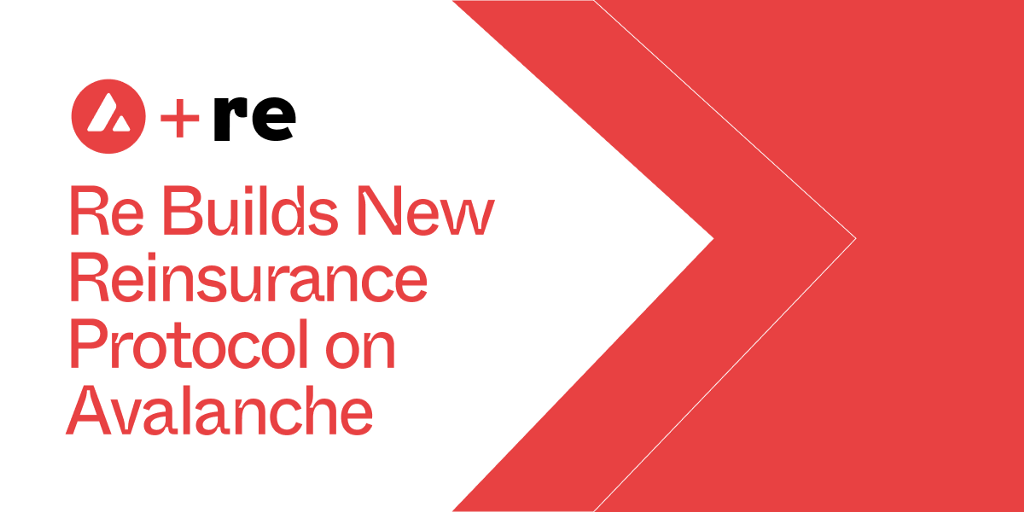 Re, a blockchain-powered reinsurer that has just left stealth mode after securing funding, is building a decentralized reinsurance marketplace on Avalanche. This marketplace will be global. It will aim to increase transparency through proof of reserves and transactions for all stakeholders into the traditionally opaque field of reinsurance, as well as expand reinsurance participant opportunities.
Re is a platform allowing accredited investors to provide the backing for real-world insurance policies and companies. It plans to build its decentralized reinsurance marketplace on both Avalanche's C-Chain and a Subnet. Re will build on Avalanche's Primary Network and a Subnet. The main dapp will live on the Primary Network, and private information will be warehoused on a Subnet. This approach intends to create greater transparency and flexibility, and to take advantage of the speed, customizability, security, and other leading features of Avalanche.
In essence, reinsurance is insurance for insurers. It is purchased by insurance companies as a way to distribute and mitigate risk.
Re's forthcoming marketplace will challenge the status quo, opening reinsurance investment to accredited investors. Using Securitize ID, these investors will provide liquidity through Re's platform, creating a pool of capital to be used as reinsurance pools by insurance companies and managing general agents that sell a wide array of insurance policies.
"Avalanche's investment into Subnets provides the foundation to bridging traditional finance to blockchain," said Karn Saroya, CEO of Re. "Through the use of Subnets we're able to do many new things, including separate public and private information. This gives Re the opportunity to fully utilize blockchain while respecting the privacy concerns of all parties involved."
This post is based on materials provided by Re. For more information, visit Re's website. Also, please read this important notice.
About RE
Re is a fully-collateralized reinsurer subject to regulatory oversight and approval that connects alternative capital providers to a nearly $1T reinsurance market, providing investor access to an otherwise opaque asset class. The Re protocol is a web3 application that drives a level of transparency around capital position and performance that is unrivaled by traditional reinsurers to the benefit of partners, investors and regulators.
About Avalanche
Avalanche is the fastest smart contracts platform in the blockchain industry, as measured by time-to-finality, and has the most validators securing its activity of any proof-of-stake protocol. Avalanche is blazingly fast, low cost, and green. Any smart contract-enabled application can outperform its competition by deploying on Avalanche. Don't believe it? Try Avalanche today.
Website | Whitepapers | Twitter | Discord | GitHub | Documentation | Telegram | Facebook | LinkedIn | Reddit | YouTube
---
Re Is Building a Global Decentralized Insurance Marketplace on Avalanche was originally published in Avalanche on Medium, where people are continuing the conversation by highlighting and responding to this story.