Ready Player DAO Levels Up Avalanche Games with Content Creation
The Web3 gaming guild is driving written, video, and influencer content for Avalanche games and deploying its own node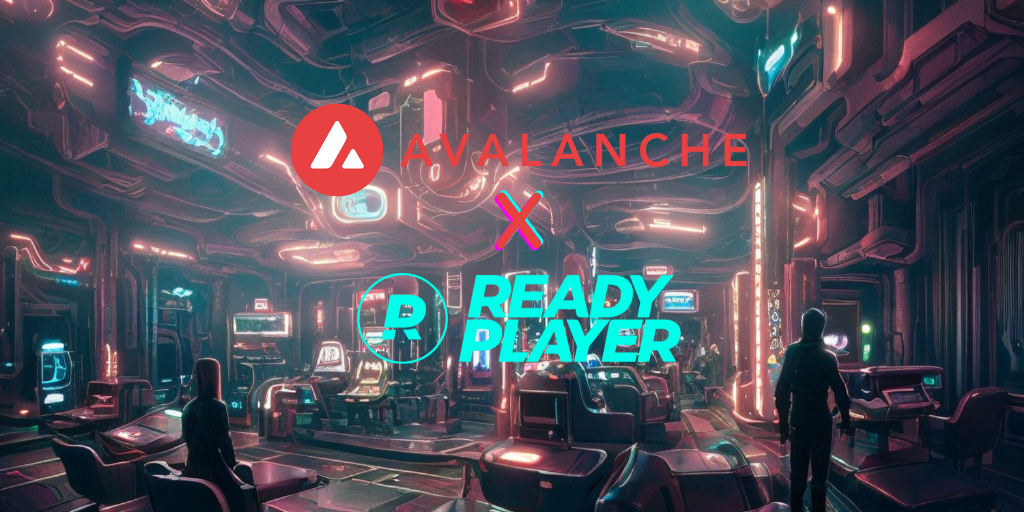 Ready Player DAO, a top Web3 gaming guild, is making a major push into Avalanche gaming. The DAO is lending content creator and streamer muscle to Avalanche games, pushing articles, social media posts, and live video content. Ava Labs is supporting these efforts. The goal: to tell the world about the amazing games being built on Avalanche and onboard new and existing users into the world of Web3 gaming.
Ready Player DAO's alliance comes at a key time for Avalanche gaming. With Avalanche's many successful live games and a deep roster of highly anticipated titles coming this year from top publishers, Avalanche has become the gaming chain. Game developers choose Avalanche for its speed, security, scalability, and Subnets. The Avalanche gaming ecosystem is growing rapidly, with incredible titles like Shrapnel, Pulsar, and many others coming to the ecosystem.
Ready Player DAO is a true value add for new and existing Avalanche game developers, who now have access to an entire network of top tier Web2 and Web3 content creators. In addition to content creation, Ready Player DAO is also helping organize Avalanche gaming events, including several tournaments.
The collaboration between Ready Player DAO and Ava Labs goes deeper. Ready Player DAO is launching an Avalanche validator using Alibaba's node-as-a-service offering, joining GREE as a gaming innovator purchasing $AVAX and actively participating in the Avalanche Network. Running a validator reflects a long-term commitment to Avalanche.
"We're excited to partner with Ava Labs to help grow the future of Web 3 gaming. This partnership really demonstrates the commitment that both Ava Labs and ReadyPlayerDAO have to support game developers and gamers," said Rich Cabrera, Co-Founder of ReadyPlayerDAO.
"Our support of Ready Player DAO is an investment in our current and future game developers," said Ed Chang, Head of Gaming at Ava Labs. "We're building the future of Web3 gaming with our countless ecosystem partners, and that includes leveling up the way we accelerate the growth of the projects building on Avalanche."
Ready Player DAO aims to be the go-to source for Web3 gaming content creation. Supporting Avalanche games marks a major step toward this goal, and the rise of a new crypto-native marketing engine for the Avalanche gaming community.
This post is based on materials provided by Ready Player DAO. For more information, visit Ready Player DAO's website. Also, please read this important notice.
About Ready Player DAO
Ready Player DAO is a decentralized autonomous organization committed to harnessing the collective power of play to create equity for all. Our mission is to even the playing field between the studios and the larger global gaming community by supporting the web3 gaming economy with the goal of contributing to its growth toward the dominant model of gaming.
We believe web3 gaming, empowered by blockchain technology, is the next revolution in gaming, enabling transactable in-game assets at scale along with compostability and transferability between games.
Ready Player DAO is built on three pillars, each intended to drive value to the ecosystem in different ways: investment, marketing support, and community building. We support the projects we believe in from all angles to encourage growth in the web3 gaming sector.
Website | Twitter | Discord | YouTube | Twitch
About Avalanche
Avalanche is the fastest, most reliable smart contracts platform in the world. Its revolutionary consensus protocol and novel Subnets enable Web3 developers to easily launch highly-scalable solutions. Deploy on the EVM, or use your own custom VM. Build anything you want, any way you want, on the eco-friendly blockchain designed for Web3 devs.
Website | Whitepapers | Twitter | Discord | GitHub | Documentation | Forum | Telegram | Facebook | LinkedIn | Reddit | YouTube
---
Ready Player DAO Levels Up Avalanche Games with Content Creation was originally published in Avalanche on Medium, where people are continuing the conversation by highlighting and responding to this story.