RenVM, a Permissionless, Decentralized Virtual Machine Protocol, Integrates Avalanche
A trustless token bridge for BTC, BCH, DOGE, FIL, and more is live on Avalanche.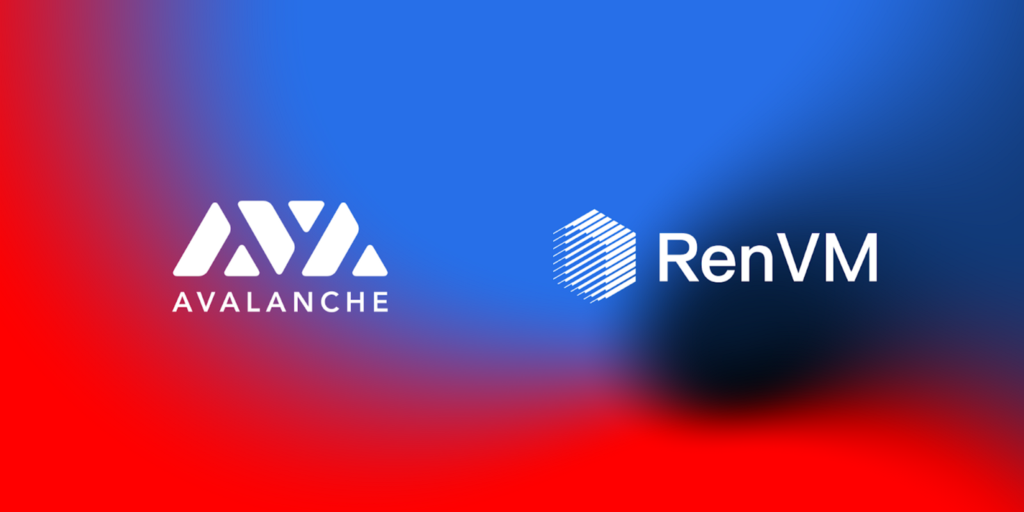 RenVM, a decentralized, trustless, permissionless custodian developed by Ren, is now live on Avalanche. With RenVM Bridge support, anyone can mint and burn the below assets on Avalanche. This is a direct bridge integration allowing for deposits/withdrawals to and from Avalanche with minimal gas fees.
The integration of RenVM brings the following assets to Avalanche:
renBTC | Bitcoin (BTC) on Avalanche
renBCH | Bitcoin Cash (BCH) on Avalanche
renDGB | DigiByte (DGB) on Avalanche
renDOGE | Dogecoin (DOGE) on Avalanche
renFIL | Filecoin (FIL) on Avalanche
renLUNA | Terra (LUNA) on Avalanche
renZEC | Zcash (ZEC) on Avalanche
How Does RenVM Work?
A simple way to understand RenVM is to think of it as a custodial that holds your digital assets as they move between blockchains. "Trusted" bridges require individuals or entities to process and validate the transactions. RenVM is trustless and therefore, is able to validate transactions without the need to trust a single individual or entity; instead, the trust is distributed. RenVM distributes the trust across a network of decentralized nodes called Darknodes.
When RenVM receives BTC, it immediately mints a 1:1 ARC-20 (an ERC-20 token that wraps an underlying Avalanche Native Token) representation on Avalanche. If a user wants to transfer in between other RenVM supported blockchains, it can be done easily as RenVM ensures that each bridged token conforms to the standard of destination blockchain.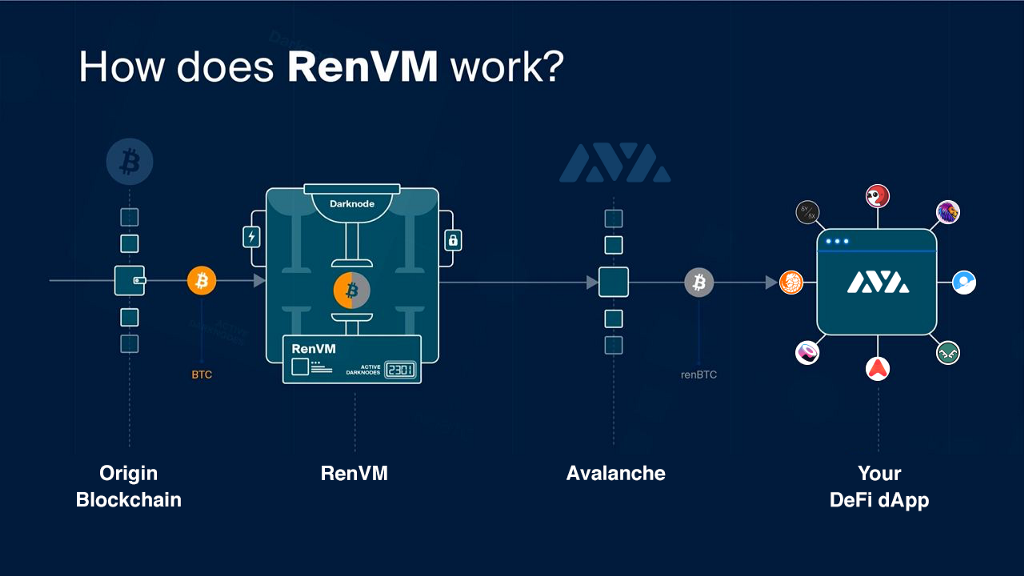 Putting Ren-Assets to Work on Avalanche
Both teams will be pursuing the addition of Ren-based assets on various AMMs and lending platforms such as Pangolin, SushiSwap, Prosper, FRAX, BenQi, and more.
The above are just a few but many more will be added over the summer. As always, any grassroots community support for Ren-based assets is very useful. So to help out, please lobby for Ren-assets to be adopted throughout all various dApps on Avalanche. When each platform goes live, we'll have corresponding announcements.
To use RenVM on Avalanche, use MetaMask, and connect it to Avalanche.
Building Cross-Chain dApps on Avalanche with RenJS
Third-party developers can now build Cross-Chain dApps on Avalanche with the RenJS SDK. This will be updated over the coming weeks with tutorials to make the process as smooth as possible for developers.
Get started here
"With the addition of Avalanche to RenVM all stakeholders involved will benefit by providing more utility to the Avalanche ecosystem, and even more velocity through RenVM. We are excited to see this go live as it'll continue bolster the cross-chain narrative and advantages throughout DeFi"— Michael Burgess, COO at Ren
"Interoperability is key in compounding the growth of decentralized finance. More and more smart contract-enabled blockchains will launch, and it will be up to the users to decide, which platform works best for them. RenVM's seamless, trustless bridge will make this decision substantially easier. I'm excited to see what assets DeFi users choose to bring over to Avalanche." — Jay Kurahashi-Sofue, VP of Marketing at Ava Labs
https://medium.com/media/b8a596544f943e3618682869c7e2f97a/href
About‌ ‌Ren‌ ‌
Ren‌ ‌is‌ ‌an‌ ‌open‌ ‌protocol‌ ‌that‌ ‌enables‌ ‌the‌ ‌movement‌ ‌of‌ ‌value‌ ‌between‌ ‌blockchains.‌ ‌
Website‌‌ ‌|‌‌ Docs‌‌ ‌|‌‌ Telegram‌‌ ‌|‌‌ Announcements‌‌ ‌|‌‌ Twitter‌‌ ‌|‌‌ Reddit‌‌ ‌|‌‌ GitHub‌ ‌
About Avalanche
Avalanche is an open-source platform for launching decentralized applications and enterprise blockchain deployments in one interoperable, highly scalable ecosystem. Avalanche is the first decentralized smart contracts platform built for the scale of global finance, with near-instant transaction finality. Ethereum developers can quickly build on Avalanche as Solidity works out-of-the-box.
Website | Whitepapers | Twitter | Discord | GitHub | Documentation | Forum | Avalanche-X | Telegram | Facebook | LinkedIn | Reddit | YouTube

---
RenVM, a Permissionless, Decentralized Virtual Machine Protocol, Integrates Avalanche was originally published in Avalanche on Medium, where people are continuing the conversation by highlighting and responding to this story.