Robinhood to Educate Millions of Users on All Things Avalanche
Robinhood Crypto chooses Avalanche as its first blockchain partner for learn-and-earn campaign, giving users an opportunity to earn $AVAX while exploring Avalanche.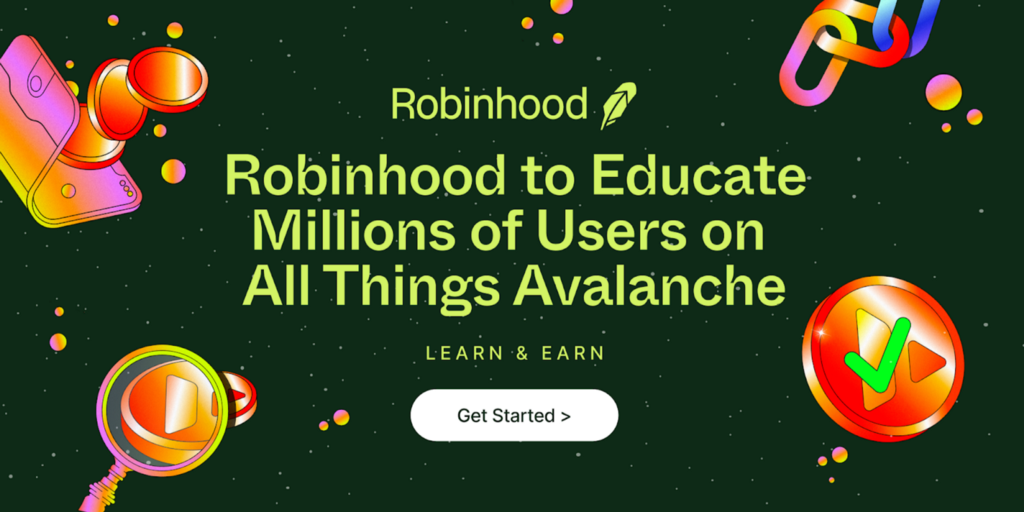 Starting today, millions of Robinhood ($HOOD) users can earn $AVAX by learning about Avalanche as part of Robinhood's first blockchain learn-and-earn campaign. Robinhood first made AVAX available for trading, deposit & withdrawal in August this year.
Robinhood has helped onboard a whole new generation into financial services and equities with its zero commission fees and clean user experience. The firm is now looking to do the same with crypto and usher in a new wave of adoption. Its rise reflects the growth of Web3, with some one-third of Millenials and Gen Z purchasing crypto compared to just 4% of Boomers, according to research by Charles Schwab. Further, this same report shows that 22% of Gen Z and 15% of Millennials have made their first investments on an app like Robinhood.
The Avalanche module helps participants quickly learn what sets Avalanche apart from other blockchains, including Avalanche's:
Near-instant transaction finality, which is the fastest among all blockchains
Unique approach to infinitely scaling the platform to empower mass adoption
Novel Subnet architecture that is enabling individuals and enterprises like Deloitte and Lemonade to build custom, application-specific blockchains
Superior interoperability with the core building blocks of DeFi and digital collectibles today, as well as its ability to expand support for any emergent language or ecosystem
Robinhood notes that the Avalanche campaign comes at an "extremely important time" for crypto, which has propelled Robinhood Crypto to empower new and existing users with more educational resources that both get back to the basics and showcase world-changing innovations.
"It is excellent to see an industry leader like Robinhood taking charge to put education at the forefront of its user experience, so that their customers can become more educated investors, and users of AVAX," said John Nahas, VP of Business Development at Ava Labs. "We're excited to be the first feature of Robinhood's learn-and-earn program, which will help to make crypto more accessible and onboard new users into the growing Avalanche community."
This post is based on materials provided by Robinhood. For more information, visit Robinhood's website. Also, please read this important notice.
About Robinhood
Robinhood Markets is on a mission to democratize finance for all. With Robinhood, people can invest with no account minimums through Robinhood Financial LLC, buy and sell crypto through Robinhood Crypto, LLC, spend, save, and earn rewards through Robinhood Money, LLC, and learn about investing through easy-to understand educational content.
Robinhood uses the "Overview" tab of its Investor Relations website (accessible at investors.robinhood.com/overview) and its blog, Under the Hood (accessible at blog.robinhood.com), as means of disclosing information to the public for purposes of the SEC's Regulation Fair Disclosure (Reg. FD). Investors should routinely monitor those web pages, in addition to Robinhood's press releases, SEC filings, and public conference calls and webcasts, as information posted on them could be deemed to be material information.
"Robinhood" and the Robinhood feather logo are registered trademarks of Robinhood Markets, Inc.
About Avalanche
Avalanche is the fastest smart contracts platform in the blockchain industry, as measured by time-to-finality, and has the most validators securing its activity of any proof-of-stake protocol. Avalanche is blazingly fast, low cost, and green. Any smart contract-enabled application can outperform its competition by deploying on Avalanche. Don't believe it? Try Avalanche today.
Website | Whitepapers | Twitter | Discord | GitHub | Documentation | Telegram | Facebook | LinkedIn | Reddit | YouTube
---
Robinhood to Educate Millions of Users on All Things Avalanche was originally published in Avalanche on Medium, where people are continuing the conversation by highlighting and responding to this story.