Rune Seeker Builds Next Generation Strategy Card Game on Avalanche
Monster Studios, the studio behind Rune Seekers, #ChoseAvalanche to launch their flagship strategy game.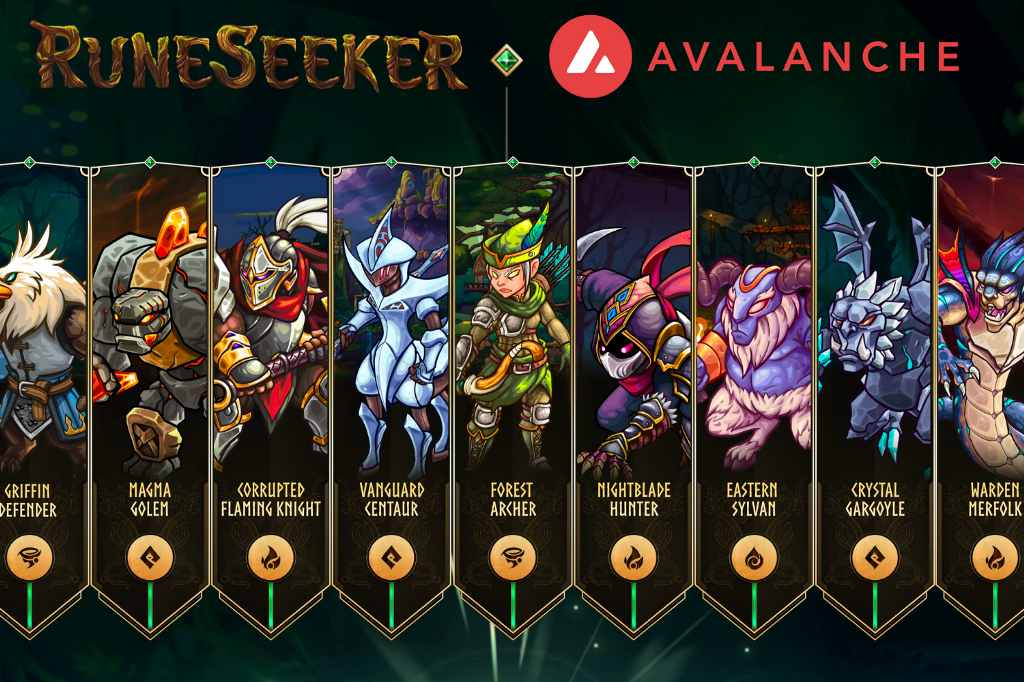 Explore the world of Norse Mythology, rediscover the power of runes and an entirely new storyline from Rune Seeker. The next-gen strategy card game just announced plans to launch on Avalanche.
As a simultaneous, turn-based strategy card game, Rune Seeker combines the tactical depth of card games with the ownership potential of games built on blockchain.
Card games represent an enormous opportunity for blockchain integration as one of the most popular game styles in the world, with an estimated $750 million in revenue in 2023. Trading card games have a real opportunity to return value to their players. Prior to the world's digital transition, trading card players owned their cards, free to trade and sell collections over time, building value along with their enjoyment of the game.
Web2 games like Hearthstone brought about a new life for trading card games in the digital era, but left ownership behind and players want it back. Ava Labs is extremely excited to be helping games like Rune Seeker, who chose Avalanche to provide the speed and scaling solutions required to bring their game to millions of concurrent users.
Rune Seeker goes beyond innovation on ownership with new gameplay factors like terrain and runes that combine into an incredibly wide variety of gameplay.
For the full cinematic and gameplay trailers, and to read more about the game, visit Rune Seeker's website or follow the project on Twitter.
The team behind Rune Seeker said this about their experience collaborating with Ava Labs so far:
"Working with the Ava Labs team has been a fantastic experience for our NFT project, Rune Seeker," said Vu Nguyen, Head of Marketing & Communication at Rune Seeker. "They have been extremely supportive and professional, making the process seamless. The level of expertise and dedication from their team has made us even more confident in their network and products. It was an easy decision for us to choose Avalanche for Rune Seeker."
Provided for informational purposes only, without representation, warranty or guarantee of any kind. None of this is as an endorsement by the Avalanche Foundation Limited, Ava Labs, Inc. or any of their respective subsidiaries or affiliates, nor is any of this investment or financial advice. Please review this Notice and conduct your own research to properly evaluate the risks and benefits of any project.
About Rune Seeker
Rune Seeker is a next-gen simultaneous turn-based strategy game, designed to combine the tactical depth of traditional card games with effective blockchain's features. On top of compelling gameplay with rich content, complex tactical layers, and dazzling graphics, the game is empowered with well-crafted tokenomics that directly impacts in-game economy. With anti-inflationary and anti-dumping mechanisms at its heart, Rune Seeker's blockchain use cases genuinely compliment gamers' experiences, providing a seamless and enjoyable onboarding land for Web2 gamers with robust wallet & on/off ramp solutions, paired with satisfying IAP and marketplace trading activities.
About Monster Box: Based in HCMC, Vietnam, the team has been working together for 5 years, contributing to the development of numerous graphic and game projects, both traditional and on blockchain.
About Avalanche
Avalanche is the fastest, most reliable smart contracts platform in the world. Its revolutionary consensus protocol and novel Subnets enable Web3 developers to easily launch highly-scalable solutions. Deploy on the EVM, or use your own custom VM. Build anything you want, any way you want, on the eco-friendly blockchain designed for Web3 devs.
Website | Whitepapers | Twitter | Discord | GitHub | Documentation | Forum | Telegram | Facebook | LinkedIn | Reddit | YouTube
---
Rune Seeker Builds Next Generation Strategy Card Game on Avalanche was originally published in Avalanche on Medium, where people are continuing the conversation by highlighting and responding to this story.