Simon Fuller and Now United to Release Interactive Film/Album on Avalanche
Fans can experience the drop first and access other exclusive digital and IRL perks through the OP3N app and Avalanche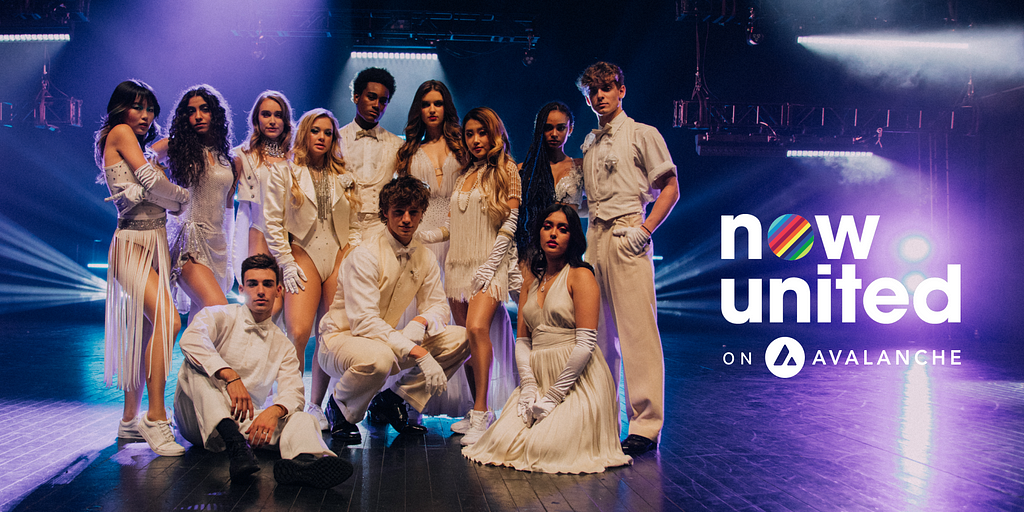 On March 22, Simon Fuller and his pop group, Now United, are releasing a Hollywood-Web3 crossover album/film built on Avalanche. Fans can watch or listen by buying tickets through OP3N, an app blending Web2 and Web3 to curate novel experiences for fans in arts and entertainment. The release has three tiers of tickets. Each comes with perks, including digital collectibles, access to the artists and bonus content, and even a chance to participate in a live dance session with Now United members.
"The Musical" is a live-action musical film following Rodney, a Hollywood director, who puts his next movie on hold to indulge his passion project: directing a Broadway musical.
Now United — a group featuring singers and dancers from 18 different countries — bring the story to life for their fans. Thanks to the unique digital features enabled by Avalanche and OP3N, the group can share their music and dance talent with their passionate fans on film and interactively.
How? Ultimately, Fuller intends to inspire schools to create their own versions of performances from the musical and compete for honors within the OP3N platform through community voting and other "artist-to-fan" and "fan-to-fan" interactive elements.
"This project allows me to redefine how an audience can engage with content. Not only can it be enjoyed simply as entertainment, but fans can now actually participate, initially through learning and then by creating their own version of the musical with their friends or school," said XIX's Simon Fuller. "It is a celebration of the art of musical theater and the passion for self-expression and new technology that enables people to get involved and engage in ways never before imagined."
"OP3N's direct-to-audience Web3 platform is powering a new paradigm in music and entertainment, enabling the biggest and most innovative artists and creators to connect directly with their fans and create 360-degree engagement and experiences never before possible," said OP3N co-founders Jaeson Ma and Eric Tu. "In Avalanche, we've found the best possible answer to enable the overall opportunity at a level never previously done."
OP3N previously partnered with the Avalanche Foundation to launch and co-finance the Culture Catalyst program — a $100 million initiative to redefine the entertainment business model.
"We are thrilled that Avalanche will power one of the first major Hollywood-Web3 crossover releases," said John Nahas, VP of Business Development at Ava Labs. "Now United is breaking exciting ground by bringing a new kind of entertainment to fans across the globe, and OP3N is primed to help bring Web3 culture to the masses."
About Simon Fuller's XIX Entertainment
Simon Fuller is a renowned entertainment industry creator, producer and entrepreneur. He has imagined, developed and executed some of the biggest entertainment properties of all time, engaging audiences across the world and generating $billion revenues in the process. For more than three decades Fuller has positively impacted popular culture worldwide, through properties and businesses that have disrupted convention, defined the times and empowered iconic artists to achieve their creative and commercial ambitions. He was the inspiration behind the Spice Girls, the creator of the Pop Idol global TV franchise, the partner of David and Victoria Beckham and the guidance behind the careers of sporting legends Andy Murray and Lewis Hamilton, extraordinary singers Annie Lennox and Amy Winehouse and award winning projects with entertainment icons Jennifer Lopez and Michael Caine. Today, his company XIX Entertainment is an ever-evolving force of creativity and innovation in music, television, film, and fashion.
About OP3N
Founded in 2021 as a subsidiary of EST Media Holdings, OP3N is a global Web3 SuperApp that combines the best of Web2 and Web3 where chat, commerce, community and unique and memorable experiences are at the forefront. OP3N empowers artists to directly publish to, and engage with, their fans via exclusive token-gated access and experiences. OP3N imagines a world where Communities can come together to create, own, and bring their ideas to the world. OP3N's mission is to be a launchpad for ideas and communities to create meaningful experiences together.
OP3N is co-led by media executive, artist, and serial entrepreneur Jaeson Ma, who has a successful track record launching companies including EST Studios, Stampede Ventures, East West Ventures, and 88rising, and who's raised capital and advised on transactions totaling over $1 billion; and Eric Tu, an award-winning development executive who's worked with major brands including Nike, Beats by Dre and Google, and as an Executive Producer with Bjork, Radiohead, Kendrick Lamar and more. The company is headquartered in Los Angeles. For more information, please visit: https://op3n.world/
About Avalanche
Avalanche is a smart contracts platform that scales infinitely and regularly finalizes transactions in less than one second. Its novel consensus protocol, Subnet infrastructure, and HyperSDK toolkit enable Web3 developers to easily launch powerful, custom blockchain solutions. Build anything you want, any way you want, on the eco-friendly blockchain designed for Web3 devs.
Website | Whitepapers | Twitter | Discord | GitHub | Documentation | Telegram | Facebook | LinkedIn | Reddit | YouTube
---
Simon Fuller and Now United to Release Interactive Film/Album on Avalanche was originally published in Avalanche on Medium, where people are continuing the conversation by highlighting and responding to this story.