SK Planet Announces UPTN, South Korea's Long-Awaited Web3 Ecosystem Built on Avalanche
UPTN to be Integrated with the Largest Loyalty Program in South Korea using the Avalanche Protocol.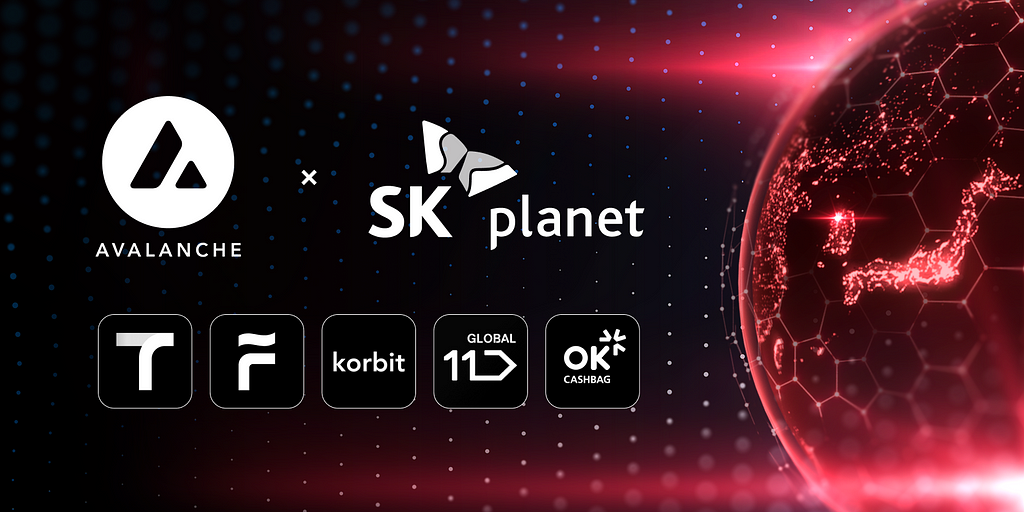 SK Planet, one of South Korea's largest information and communications technology platforms, will be launching a dedicated Avalanche Subnet, UPTN, which will act as a Web3 portal for SK Planet's millions of users. The UPTN Subnet will serve as a foundation for digital collectibles, Web3 wallets, decentralized communities, and much more.
"Ava Labs is fully committed to supporting South Korea's buyers and merchants as they explore the unique benefits of the Avalanche ecosystem," said Emin Gün Sirer, CEO, Ava Labs. "We see this new partnership between Ava Labs, the Avalanche Foundation, and SK Planet as an incredible opportunity to not only meet South Korea's enormous appetite for Web3 experiences, but expand what's possible in 21st century e-commerce."
UPTN will be integrated into SK Planet's many popular services and apps, such as OKcashbag (OCB). OCB is the largest e-commerce loyalty program in Korea, membership of which comprises almost half of the South Korean population. OCB's community will gain access to NFTs, unique community features, and dynamic membership benefits powered by the Avalanche protocol.
Ava Labs has been active in South Korea's critical Web3 market for years, and the Avalanche blockchain's explosive growth in the region has been fueled by partnerships — such as with SK Planet — as well as the country's Web3-savvy population. According to research by Ava Labs, Avalanche's brand recognition in the country skyrocketed 139% QoQ in Q4 '22.
SK Planet, a subsidiary of SK Square, offers e-commerce and digital marketing solutions, including some of South Korea's most popular loyalty programs. Through collaborations with global partners like Ava Labs, SK Planet is committed to expanding its platforms not just in Asia, but other strategic markets globally.
"SK Planet plans to expand into new businesses and fields, and will be reborn as a global company that provides innovative information and communications technology powered by the Avalanche blockchain," said Lee Han-Sang, CEO, SK Planet. "SK Planet will work closely with Avalanche to unlock synergies and offer differentiated benefits to our customers."
Avalanche Subnets empower everyone from individuals to enterprises to build custom, app-specific blockchains optimized for their specific use case. Subnets are seamlessly interoperable with the broader Avalanche network, but isolate traffic to dedicated infrastructure securing the chain, enabling Avalanche to scale without limits.
About Avalanche
Avalanche is a smart contracts platform built to scale infinitely and finalize transactions in under a second. Its novel consensus protocol, Subnet infrastructure, and HyperSDK toolkit enable businesses to easily launch powerful, custom blockchain solutions. Build anything you want, any way you want, on the eco-friendly blockchain designed for both Web3 devs and businesses.
Website | Whitepapers | Twitter | Discord | GitHub | Documentation | Forum | Telegram | Facebook | LinkedIn | Reddit | YouTube
About SK Planet Co., Ltd.
Based in Seoul, Korea, SK Planet is a leading technology company that creates new value for businesses by leveraging data. On top of its expertise in marketing platforms and business solutions, the company offers differentiated value by collecting and analyzing over 130 million pieces of data from major services across SK Group. SK Planet enhances the productivity of operations in corporate clients with its marketing platforms — which include "OK Cashbag", Korea's largest integrated mileage service, and "Syrup", an asset-management platform — as well as business solutions in a wide variety of areas, including IoT, media, and AI. For more information about SK Planet, visit www.skplanet.com/eng.
---
SK Planet Announces UPTN, South Korea's Long-Awaited Web3 Ecosystem Built on Avalanche was originally published in Avalanche on Medium, where people are continuing the conversation by highlighting and responding to this story.