SnowTrace: Bringing Etherscan to the Avalanche Community
Etherscan overhauls and expands core explorer functionality for Avalanche DeFi ecosystem.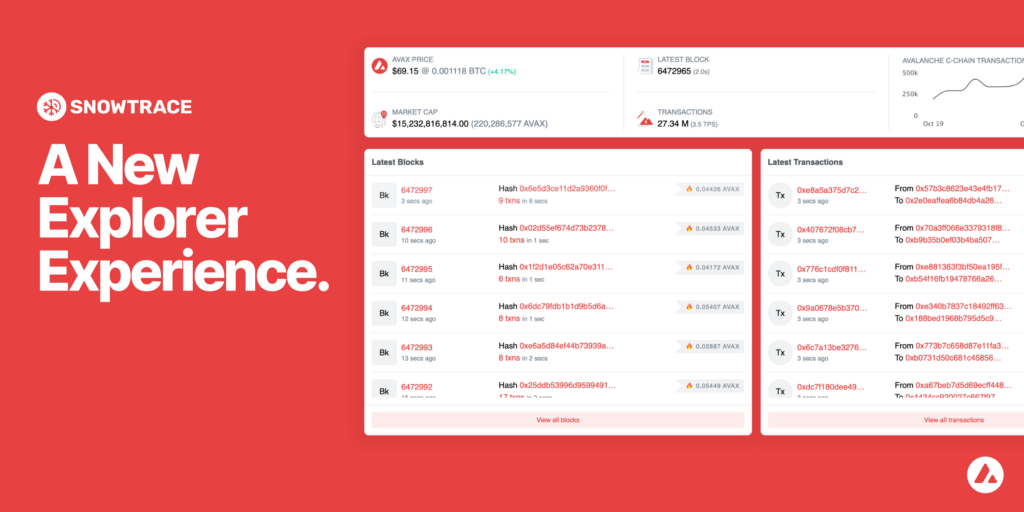 Today, a new tool joins the suite of Avalanche infrastructure with SnowTrace, an implementation of Etherscan custom-built for the Avalanche blockchain.
Etherscan is Ethereum's most popular blockchain explorer, helping users not only track and understand block-level activity on the network, but also access advanced, value-adding features such as a transaction history API, effortless smart contract verification, and aggregated network statistics.
Avalanche is growing at a rapid pace, hitting new all-time highs in user activity, including transaction volume, unique addresses (now over 584,000), and assets transferred from Ethereum to Avalanche over the Avalanche Bridge ($5.3B). Total Value Locked (TVL) has increased from $300M in August to over $8.4B today, according to data from DeFi Llama.
SnowTrace replaces the existing Avalanche C-Chain Explorer to deliver a more highly-performant, feature-filled experience for the global community of Avalanche developers and users. It joins Avascan and Avalanche Stats as premiere explorers helping enrich the Avalanche community experience.
It will also be a core resource for developers to verify smart contracts on Avalanche, bringing greater assurances for users interested in accessing their applications.
https://medium.com/media/b8a596544f943e3618682869c7e2f97a/href
About Avalanche
Avalanche is the fastest smart contracts platform in the blockchain industry, as measured by time-to-finality, and has the most validators securing its activity of any proof-of-stake protocol. Avalanche is blazingly fast, low cost, and green. Any smart contract-enabled application can outperform its competition by deploying on Avalanche. Don't believe it? Try Avalanche today.
Website | Whitepapers | Twitter | Discord | GitHub | Documentation | Forum | Avalanche-X | Telegram | Facebook | LinkedIn | Reddit | YouTube |
---
SnowTrace: Bringing Etherscan to the Avalanche Community was originally published in Avalanche on Medium, where people are continuing the conversation by highlighting and responding to this story.