SwissBorg Introduces Automated Smart Yields on AVAX Tokens for Customers in 100+ Countries
Non-U.S. users of the digital asset app can now buy AVAX, earn 3.75% on staked AVAX, and multiply these rewards depending on their membership tier.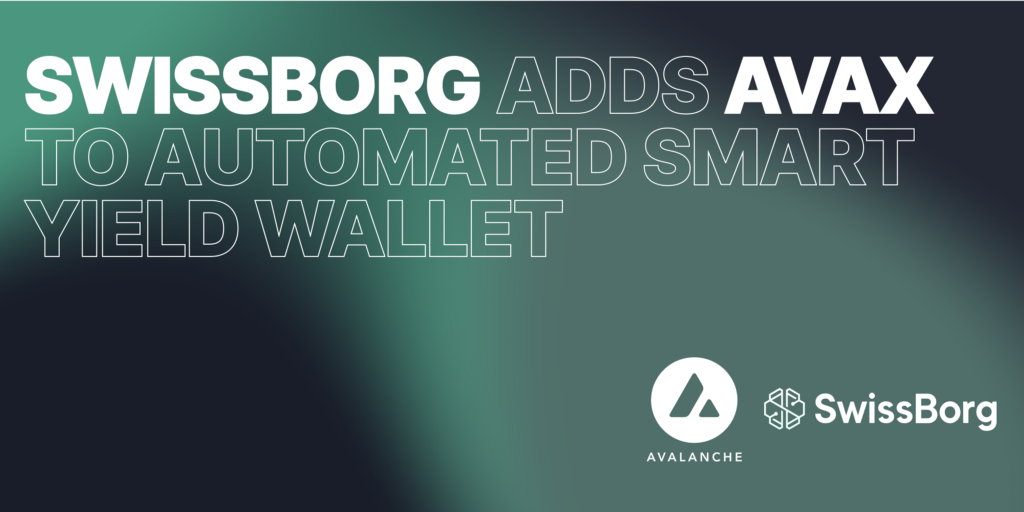 SwissBorg, an app offering buying, staking, and analysis of various crypto assets, has added Avalanche's native token (AVAX) for purchase and staking. Users who stake AVAX can earn 3.75% APR, with the option to further increase ("boost") yields to as high as 7.5%. Yields are compounded daily.
"As part of our mission to democratize wealth management, we're excited to partner with Ava Labs and offer the AVAX token to the SwissBorg community," said Nicolas Rémond, CTO at SwissBorg. "AVAX was very highly requested, and we're proud to have made the token available for investment to the 600k+ users of our app, as well as giving them the opportunity to earn a competitive yield."
The integration is already live, meaning SwissBorg's users can add AVAX to their portfolios now. Though unavailable to U.S. investors, the app can be downloaded in more than 100 countries.
To earn yield, users stake tokens in SwissBorg's Smart Yield wallet. SwissBorg aims to reduce the complexities of yield farming to a simple, passive process, providing a hands off experience. The app generates yield by employing an oracle to scan for and take advantage of investment opportunities. For transparency into the automated wallet's performance, SwissBorg releases monthly Smart Yield reports.
SwissBorg's Smart Yield wallet has four tiers of staking. The standard tier offers 3.75% APR. The next three tiers — Community Premium, Generation Premium, and Genesis Premium — have year-long lockups and escalating requirements for staking SwissBorg's native token, CHSB. Community Premium offers 5.63% APY on AVAX, Generation Premium 6.56%, and Genesis Premium the maximum 7.5%. Premium users also receive discounts on exchanges.
Users can deposit and stake AVAX in just a few steps:
Update the SwissBorg app to the latest version
Deposit, buy, or exchange to AVAX
On the Portfolio screen, tap AVAX
Scroll down and tap the Yield Wallet card
Tap Top Up
Choose how much to add to your yield wallet
Follow the prompts to start earning a daily yield.
SwissBorg offers 30+ crypto assets and has 16 fiat onramps/offramps. It also utilizes links to major exchanges, such as Binance, Bitfinex, and Kraken, which allow users to exchange directly between every asset in the app without having to take multiple steps.
This post is based on materials provided by SwissBorg. For more information, visit SwissBorg's website. Also, please read this important notice.
About SwissBorg
SwissBorg is democratizing wealth management by making it fun, fair, and community-centric. Their showcase product, the SwissBorg app, is empowering over 600,000 users to buy, sell and exchange 35+ digital assets, with features like AI-powered asset analysis and Portfolio Analytics to help them make smart investment decisions. Upcoming features on the roadmap include free P2P transfers between users of the app, as well as thematics, which will allow users to invest in bundles of themed assets.
Website | Twitter | Discord | Telegram | Facebook | LinkedIn | Reddit | YouTube
About Avalanche
Avalanche is the fastest smart contracts platform in the blockchain industry, as measured by time-to-finality, and has the most validators securing its activity of any proof-of-stake protocol. Avalanche is blazingly fast, low cost, and green. Any smart contract-enabled application can outperform its competition by deploying on Avalanche. Don't believe it? Try Avalanche today.
Website | Whitepapers | Twitter | Discord | GitHub | Documentation | Forum | Avalanche-X | Telegram | Facebook | LinkedIn | Reddit | YouTube
---
SwissBorg Introduces Automated Smart Yields on AVAX Tokens for Customers in 100+ Countries was originally published in Avalanche on Medium, where people are continuing the conversation by highlighting and responding to this story.