Tether Tokens (USDt) to Launch on Avalanche
Largest stablecoin by market cap will launch natively for Avalanche's DeFi ecosystem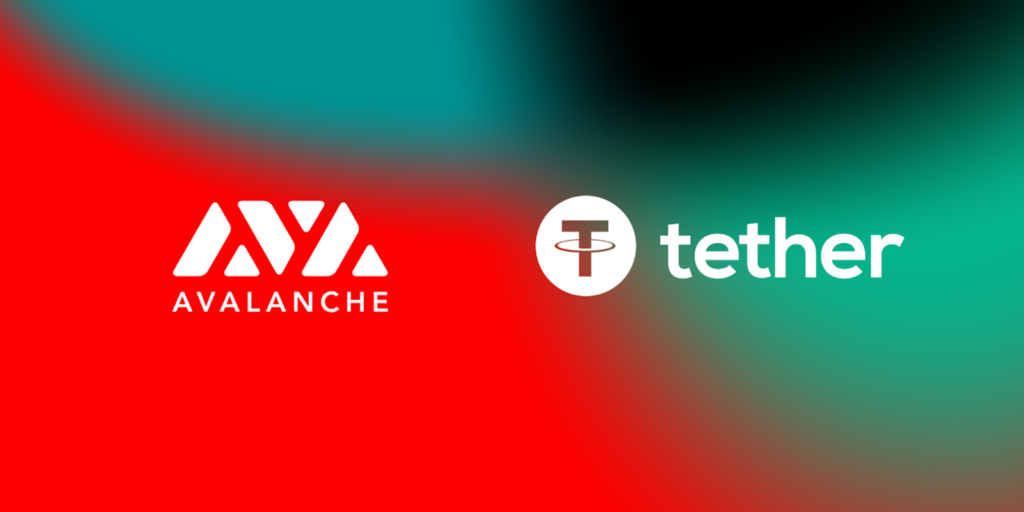 Tether Operations Limited ("Tether"), the company operating the blockchain-enabled platform tether.to that powers the largest stablecoin by market capitalization, will launch Tether tokens ("USDt") on Avalanche, an open-source platform for launching highly decentralized applications, new financial primitives and interoperable blockchains.
Avalanche is a decentralized smart contracts platform built for the scale of global finance. The protocol is designed as a highly scalable ecosystem with the aim of delivering near-instant transaction finality while levying low transaction fees that are fractions of a cent.
Avalanche is compatible with Solidity, a high-level object-oriented programming language, primarily used on Ethereum. This enables Ethereum developers to quickly build decentralized apps (DApps).
"We are delighted to initiate USDt's launch on Avalanche," said Paolo Ardoino, CTO at Tether. "The launch of USDt on Avalanche will provide traders with a fast, cost-effective way to transfer USDt across different exchanges. Avalanche's vision for a highly scalable blockchain with low transaction fees and interoperability has been endorsed by some of the brightest minds in the space."
USDt is the largest stablecoin with a market capitalization of US $58 billion, having added US$37 billion since January 1, 2021, a gain that is greater than the combined market capitalization of all rival stablecoins, combined.
"You can count on one hand how many projects have been vital to the growth of crypto thus far, and Tether is absolutely in that rare tier," said Emin Gün Sirer, Director of the Avalanche Foundation. "Having USDt launch natively in Avalanche adds another core infrastructure to the rapidly expanding DeFi ecosystem on the platform. It will be a welcome addition to users and developers propelling this continued growth."
Decentralized finance (DeFi) activity on Avalanche has boomed since the launch of the Avalanche-Ethereum Bridge (AEB) in February. Since the launch, users have executed more than 2 million smart contract transactions and created 100,000 unique addresses.
https://medium.com/media/b8a596544f943e3618682869c7e2f97a/href
About Tether
Tether is the preeminent stablecoin with the biggest market capitalization, surpassing that of all rival offerings combined. Created in October 2014, Tether has grown to become the most traded cryptocurrency. Tether is disrupting the legacy financial system by offering a more modern approach to money. By introducing fiat currency-digital cash to the bitcoin, Ethereum, EOS, Liquid Network, Omni, Tron, Algorand and Solana blockchains, Tether makes a significant contribution to a more connected ecosystem. Tether combines digital currency benefits, such as instant global transactions, with traditional currency benefits, such as price stability. With a commitment to transparency and compliance, Tether is a fast and low-cost way to transact with money.
About Avalanche
Avalanche is an open-source platform for launching decentralized applications and enterprise blockchain deployments in one interoperable, highly scalable ecosystem. Avalanche is the first decentralized smart contracts platform built for the scale of global finance, with near-instant transaction finality. Ethereum developers can quickly build on Avalanche as Solidity works out-of-the-box.
AVAX is the native token of Avalanche. It's a hard-capped, scarce asset that is used to pay for fees, secure the platform through staking, and provide a basic unit of account between the multiple subnets created on Avalanche.
Website | Whitepapers | Twitter | Discord | GitHub | Documentation | Forum | Avalanche-X | Telegram | Facebook | LinkedIn | Reddit | YouTube

---
Tether Tokens (USDt) to Launch on Avalanche was originally published in Avalanche on Medium, where people are continuing the conversation by highlighting and responding to this story.