The International Chess Federation Brings Chess into Web3 on Avalanche
FIDE is developing Web3 products on Avalanche for over 500M chess players globally.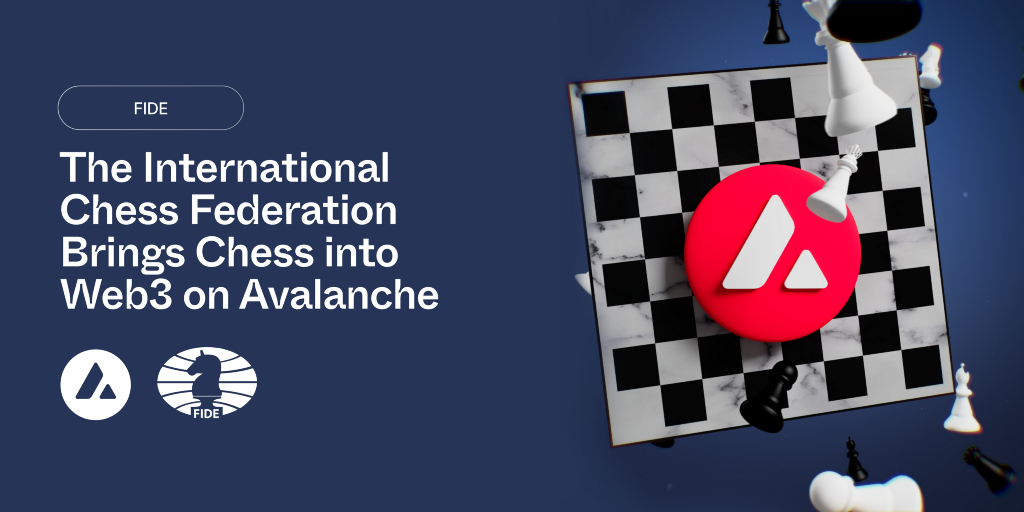 FIDE, the governing body of competitive international chess, is developing Web3 products on Avalanche. Chess has over 500M players globally, and FIDE's tournaments, including the World Chess Championship and Chess Olympiad, command hundreds of millions of impressions. As part of this partnership, Avalanche and Core will be featured as sponsors at FIDE tournaments, including the upcoming 2022 World Rapid and Blitz Championships, and invest in FIDE's product development to bring chess into Web3.
Ava Labs will work closely with FIDE to use blockchain to tackle challenges in chess and create operational efficiencies for players and federations, improve game integrity, onboard new generations of players, and power innovation. Some of these opportunities on Avalanche include:
Calculating official player ratings on-chain
Publishing tournament data on-chain
Adding personalized experience on-chain
Releasing a FIDE game explorer, powered by on-chain game data
Issuing tournament prize pools on Avalanche
Founded nearly 100 years ago, FIDE now links 200 national associations into one international body. The federation oversees the World Chess Championships and the biggest matches played by the most legendary grandmasters, such as Fischer, Kasparov, and Carlsen.
In recent decades, the ancient board game has gone modern. Over 100M people play online chess regularly, competing in 25M+ digital chess matches every day.
Now, chess is set to evolve again on Avalanche.
"We are excited to get into this project. Ava Labs is one of the leaders or rather driving forces behind on-chain technologies, while FIDE is constantly working on improving players' engagement and experience. Chess is a unique sport, and this cooperation will allow us to unify our community and strengthen the ties between players, clubs, federations and FIDE." said Emil Sutovsky, CEO of FIDE.
"The possibilities created by bringing chess on-chain are about as limitless as the game of chess itself," said Emin Gün Sirer, CEO of Ava Labs. "We are thrilled to welcome FIDE to the Avalanche community and ushering chess into a new era together. On Avalanche, players all over the world will experience chess like never before."
The partnership kicks off at the 2022 World Rapid and Blitz Championship, one of FIDE's flagship events, in Almaty, Kazakhstan between December 25–30, 2022.
Fans watching online and in-person will see promotion for both Avalanche (AVAX) and Core, a free, self-custody wallet engineered for users to seamlessly and securely use Web3 dApps.
This post is based on materials provided by FIDE. For more information, visit FIDE'S website. Also, please read this important notice.
About FIDE
The International Chess Federation (FIDE) is the governing body of the sport of chess, and it regulates all international chess competitions. Constituted as a non-governmental institution, it was recognized by the International Olympic Committee as a Global Sporting Organization in 1999.
FIDE currently has its headquarters in Lausanne, but it was initially founded in 1924 in Paris under the motto "Gens una Sumus" (Latin for "We are one Family"). It was one of the very first International Sports Federations, alongside the governing bodies of the sports of Football, Cricket, Swimming, and Auto Racing. It is now one of the largest, encompassing 199 countries as affiliate members, in the form of National Chess Federations.
Chess is nowadays a truly global sport, with dozens of millions of players in all the continents, and more than 60 million games on average played every day.
Contact: press@fide.com
About Avalanche
Avalanche is the fastest, most reliable smart contracts platform in the world. Its revolutionary consensus protocol and novel Subnets enable Web3 developers to easily launch highly-scalable solutions. Deploy on the EVM, or use your own custom VM. Build anything you want, any way you want, on the eco-friendly blockchain designed for Web3 devs.
Website | Whitepapers | Twitter | Discord | GitHub | Documentation | Forum | Avalanche-X | Telegram | Facebook | LinkedIn | Reddit | YouTube
---
The International Chess Federation Brings Chess into Web3 on Avalanche was originally published in Avalanche on Medium, where people are continuing the conversation by highlighting and responding to this story.