Toonstar's Web3 Animated Show The Gimmicks Launches New Season on Avalanche Blockchain
Toonstar and Avalanche Partner to Build the Future of Web 3 Entertainment. Mark Consuelos Joins as Executive Producer and Talent.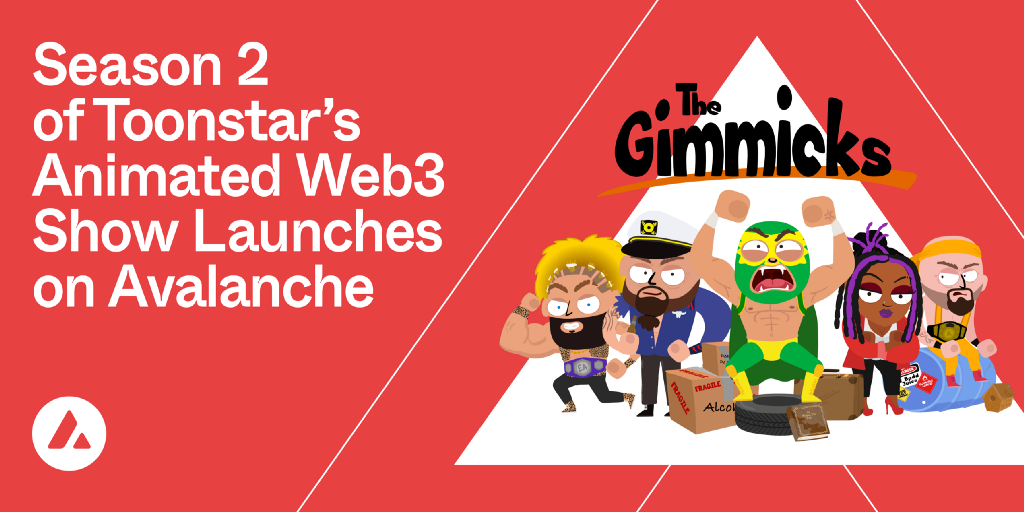 Toonstar, a Web3 animation studio, today announced its breakout adult, animated series, The Gimmicks, will launch a second season to be powered on the Avalanche blockchain. The new season will premiere on Thursday, October 27th at Avalanche Creates, a Bay Area event hosted by Ava Labs, a software company supporting the Avalanche ecosystem. Mark Consuelos (Riverdale) will join The Gimmicks team as Executive Producer and voice talent.
Hollywood veteran writers "The Daves," Dave Ihlenfeld and David Wright (Family Guy, Star Trek: Lower Decks ), will continue on as executive producers of the season, "House of Chico," which follows breakout star, Rocky Romero (aka Chico el Luchador), back to his Lucha origins in Mexico. And true to Toonstar's commitment to bring diverse voices to animation, new voices Mike Tenango will join the writing team and Alberto Portillo will join as a producer. The new season will also feature top Latino influencers and talent including:
Jairo Orozco + Bryan Rojo (Mexican Gueys)
Eric Ochoa (Supereeego)
Jesus Sepulveda (HBO Comedy Special, "Mr. Tough Life")
Laura DiLorenzo (Netflix, Selena: The Series)
Fabian Alomar (FX, Mayans MC)
"There's a well documented lack of diverse voices, especially Latino, in Hollywood," said Rocky Romero. "I'm thrilled to be part of this team, showcasing emerging Latino talent and embracing new technology that will enable even more voices to be heard."
The Gimmicks embraced Web3 early on, giving NFT holders the ability to impact storylines and character arcs. The model proved to be incredibly successful with audience engagement and retention levels remaining high throughout the season, bucking the industry trend. Toonstar's proprietary technologies enabled NFT holders to interact on-chain, logging more than 70 thousand recurring weekly on-chain actions and more than 1 Million DIC punches (voting and messaging) in just three months. In the new season Toonstar will expand opportunities for The Gimmicks community to interact on-chain with Upvoting, a Reddit-like forum; and "Hot or Not," a Rotten Tomatoes-like rating board.
Avalanche launched in September 2020, ushering in a new era for blockchains with near-instant transaction finality. Today, Avalanche supports 500+ dApps and secures billions of dollars in value, all while having minimal climate impact. Avalanche's proven speed, reliability and eco-friendliness are a natural fit as the series adds even more NFTs and interactive capabilities. These properties allow Avalanche to provide the seamless Web3 support required to balance creative storytelling with engaging community participation, which is key to the success of Web3 in Hollywood (Hollywood 3.0).
"Audience engagement and retention is suffering across all platforms with traditional Hollywood content, but our model is bucking the trend," said John Attanasio, CEO and Co-founder of Toonstar. "As soon as we started talking with the team from Avalanche, we knew they really understood Hollywood 3.0 and could provide the best technology and support to help us lead the market."
"Toonstar is transforming entertainment, deploying Web3 elements in ways central to both storyline and fan experience," said John Nahas, VP of Business Development at Ava Labs. "They're blurring old lines in creative new ways and paving the way for Hollywood to move into Web3. We're excited for Avalanche to power their journey."
Avalanche will host the Season 2 premiere event at their Ciel Creatives Studios, to be followed by a Q&A with Toonstar and Avalanche executives. Toonstar will release additional NFTs available to the fans throughout the season that will continue to push the boundaries of participatory storytelling and community utility.
About Toonstar
Toonstar is the Web3 entertainment studio behind The Gimmicks, one of the first community-driven animated NFT series + home of the DIC ? on-chain social layer. We're a nimble team of creators, builders and technologists hailing from Disney, Warner Bros + DreamWorks with proprietary animation tech, blockchain dev tech and deep direct-to-community building expertise that's cultivated some of the largest + most engaged communities on the internet. And we're on a mission to help build the future of Web3 entertainment + unlock animation for creators around the world.
About Avalanche
Avalanche is the fastest smart contracts platform in the blockchain industry, as measured by time-to-finality, and has the most validators securing its activity of any proof-of-stake protocol. Avalanche is blazingly fast, low cost, and green. Any smart contract-enabled application can outperform its competition by deploying on Avalanche. Don't believe it? Try Avalanche today.
Website | Whitepapers | Twitter | Discord | GitHub | Documentation | Telegram | Facebook | LinkedIn | Reddit | YouTube
---
Toonstar's Web3 Animated Show The Gimmicks Launches New Season on Avalanche Blockchain was originally published in Avalanche on Medium, where people are continuing the conversation by highlighting and responding to this story.