Topps and Bundesliga to Release 2020–2021 Season Celebration NFT Collection on Avalanche
Top Plays, Young Stars, and Marquee Players Highlight Memorable Moments in Topps' First Bundesliga NFT Collection.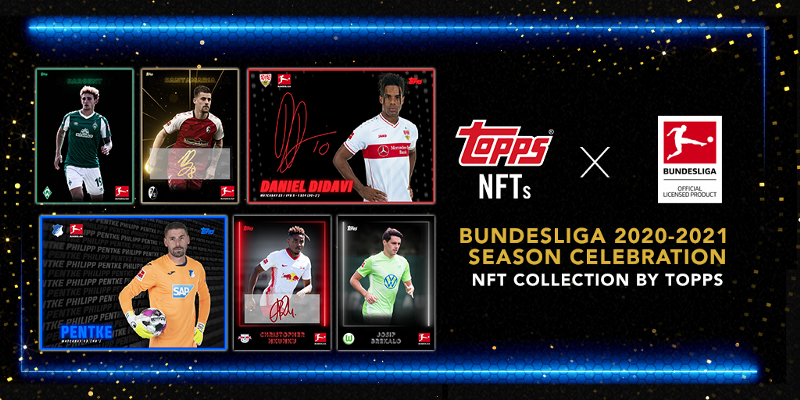 Topps today announced the upcoming release of the first ever Bundesliga NFT trading cards by Topps with the Bundesliga 2020–2021 Season Celebration NFT Collection, available exclusively on ToppsNFTs.com. The Bundesliga 2020–2021 Season Celebration NFT Collection by Topps, powered by the Avalanche blockchain platform, will feature top players, rising stars, memorable moments and more, all from the unforgettable 2020–2021 season.
Topps has partnered with Ava Labs to develop ToppsNFTs.com — an easy-to-use application powered by Avalanche (AVAX), a fast, low cost, and eco-friendly public blockchain. ToppsNFTs.com removes the need for special wallets or token apps and provides a streamlined way to buy, sell and explore officially licensed Topps NFT collections. The site unites the familiar, user-friendly experiences of traditional ecommerce applications with the power of blockchain infrastructure.
"Our vision is to create a fun, easy-to-use collecting experience on the Blockchain that appeals to all fans whether they have experience with NFTs or not. It's an extension of the pioneering vision we've had for digital collectibles since our mobile apps launched in 2012," said Tobin Lent, VP & General Manager of Topps Digital Sports & Entertainment at The Topps Company. "We can't wait to introduce this new collecting experience to Bundesliga fans around the world. Whether you support clubs like RB Leipzig, Borussia Dortmund, VfL Wolfsburg or Eintracht Frankfurt or a fan of a particular player, the Bundesliga community will have the opportunity to collect their favorite stars as well as their favorite moments from the 2020–21 season, all in one collection."
Standard and Premium Packs of the Bundesliga 2020–2021 Season Celebration NFT Collection by Topps will be available for purchase via credit card on Tuesday, August 10th at 1pm ET / 7pm CEST, with card rarities ranging from Common to Legendary. Collectors will be delighted to discover and exchange all types of NFT trading cards in this release, including video highlight and animated motion effect cards, iconic Bundesliga card designs, facsimile signatures, and more.
"Each season of the Bundesliga, there are moments and players that take our collective breath away, worthy of preservation and admiration," said Bundesliga International CEO Robert Klein. "We are proud to support our partner Topps in bringing the best of the Bundesliga 2020–2021 season to life as NFT digital trading cards for the first time, allowing fans to relive top plays and own NFTs with their favorite moments from a legendary season that saw Bayern Munich earn their fifth star."
The Bundesliga 2020–2021 Season Celebration NFT Collection by Topps is the latest NFT release in the Topps NFT portfolio. Topps Digital Sports & Entertainment has pioneered digital collectibles through its mobile apps since 2012 and is among the first to fully embrace the potential of NFT digital collectibles. The company continues to further innovate in the digital space through new releases, technologies and partnerships, delivering the best possible experience to the rapidly growing NFT digital collectibles community.
For more information on Topps and future NFT announcements, follow us on Twitter, Instagram and Discord.
https://medium.com/media/b8a596544f943e3618682869c7e2f97a/href
About Topps
Founded in 1938, The Topps Company, Inc. is a global consumer products company that entertains and delights consumers through a diversified, engaging, multi-platform product portfolio that includes physical and digital collectibles, trading cards, trading card games, sticker and album collections, memorabilia, curated experiential events, gift cards and novelty confections. Topps Physical Sports & Entertainment products include Major League Baseball, Major League Soccer, UEFA Champions League, Bundesliga, National Hockey League, Formula 1, Star Wars, WWE, Wacky Packages®, Garbage Pail Kids®, Mars Attacks® and more. Topps Digital Sports & Entertainment has connected with people around the world who have downloaded our apps including Topps® BUNT®, TOPPS® KICK®, Star Wars™: Card Trader by Topps®, Topps® WWE SLAM™, Topps® NHL SKATE™, Marvel Collect! by Topps® and Disney Collect! by Topps®. Topps Digital Services is a leading processor, distributor and program manager of prepaid gift cards and provider of cloud-based financial services and white label e-gift solutions for widely recognized digital businesses that include Airbnb, Deliveroo, DoorDash, Hulu, Instacart, Netflix, Nike, Twitch and Uber. Topps Confections, Bazooka Candy Brands, produces, markets and distributes confections brands including Ring Pop®, Push Pop®, Baby Bottle Pop®, Juicy Drop®, Finders Keepers®, and Bazooka® bubble gum. For additional information visit topps.com, play.toppsapps.com, toppsdigitalservices.com, Candymania.com.
About Avalanche
Avalanche is the fastest smart contracts platform in the blockchain industry, as measured by time-to-finality, and has the most validators securing its activity of any proof-of-stake protocol. Avalanche is blazingly fast, low cost, and eco-friendly. Any smart contract-enabled application can outperform its competition by deploying on Avalanche. Don't believe it? Try an app on Avalanche today.
Website | Whitepapers | Twitter | Discord | GitHub | Documentation | Forum | Avalanche-X | Telegram | Clubhouse | Facebook | LinkedIn | Reddit | YouTube

---
Topps and Bundesliga to Release 2020–2021 Season Celebration NFT Collection on Avalanche was originally published in Avalanche on Medium, where people are continuing the conversation by highlighting and responding to this story.