Topps NFTs x Bundesliga Collection is Live on Avalanche
NFTs and digital collectibles are finding a new home on Avalanche, the fastest smart contracts platform in the blockchain industry.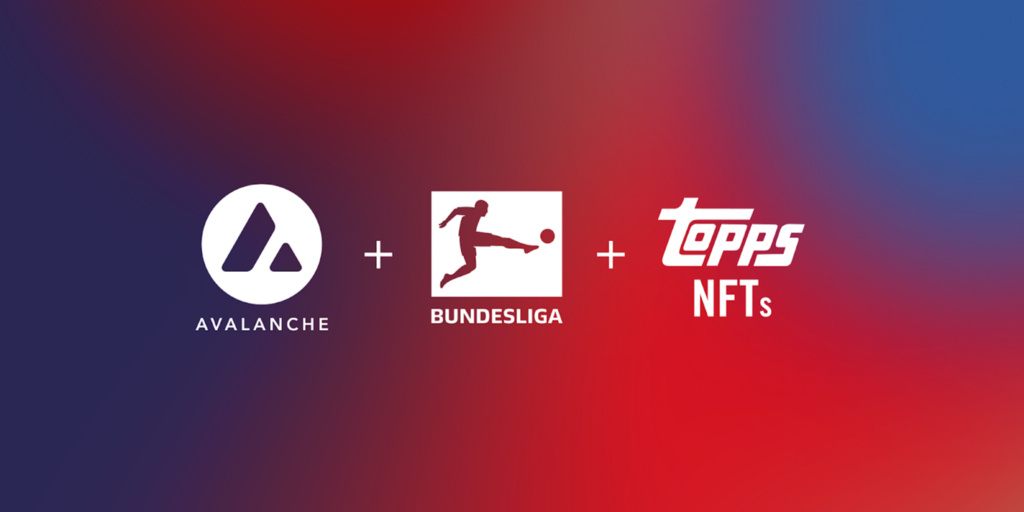 Today, the Bundesliga 2020–2021 Season Celebration NFT Collection is ON SALE on the brand new Topps NFT marketplace, giving fans access to their favorite players and moments from the 2020–2021 Bundesliga season!
Ava Labs and Topps built this one-of-a-kind marketplace for NFTs and digital collectibles that is a first of its kind. With the familiar interface of a web 2.0 e-commerce site, built on web 3.0 blockchain infrastructure, the user experience and technology is like no other in the industry.
This digital collectibles marketplace is designed for the scale and speed of worldwide sports, powered by Avalanche (AVAX), a fast, low-cost, and eco-friendly public blockchain. ToppsNFTs.com makes digital collectibles a fully global market, with the security certainty of the premier platform for issuing new assets without a central authority. The site removes the need for special wallets or token apps, and provides a centralized location to buy, sell and explore officially licensed Topps NFT collections.
The Bundesliga 2020–2021 Season Celebration NFT Collection contains 630 unique digital trading cards, featuring match footage + 180 Bundesliga stars. These officially licensed video highlights also come complete with full game commentary. Less than 60 rare trading cards in the set contain match footage, which includes some of the top goals and saves from this past season. Purchase 5-card Standard Packs & 35-card Premium Packs via credit card, ACH, or with your balance.
Head over to the new ToppsNFTS.com to start exploring, find your favorite Bundesliga moments, and get your new digital collectibles today!
https://medium.com/media/b8a596544f943e3618682869c7e2f97a/href
About Avalanche
Avalanche is the fastest smart contracts platform in the blockchain industry, as measured by time-to-finality, and has the most validators securing its activity of any proof-of-stake protocol. Avalanche is blazingly fast, low cost, and eco-friendly. Any smart contract-enabled application can outperform its competition by deploying on Avalanche. Don't believe it? Try an app on Avalanche today.
Website | Whitepapers | Twitter | Discord | GitHub | Documentation | Forum | Avalanche-X | Telegram | Clubhouse | Facebook | LinkedIn | Reddit | YouTube
About Topps
Founded in 1938, The Topps Company, Inc. is a global consumer products company that entertains and delights consumers through a diversified, engaging, multi-platform product portfolio that includes physical and digital collectibles, trading cards, trading card games, sticker and album collections, memorabilia, curated experiential events, gift cards and novelty confections. Topps Physical Sports & Entertainment products include Major League Baseball, Major League Soccer, UEFA Champions League, Bundesliga, National Hockey League, Formula 1, Star Wars, WWE, Wacky Packages®, Garbage Pail Kids®, Mars Attacks® and more. Topps Digital Sports & Entertainment has connected with people around the world who have downloaded our apps including Topps® BUNT®, TOPPS® KICK®, Star Wars™: Card Trader by Topps®, Topps® WWE SLAM™, Topps® NHL SKATE™, Marvel Collect! by Topps® and Disney Collect! by Topps®. Topps Digital Services is a leading processor, distributor and program manager of prepaid gift cards and provider of cloud-based financial services and white label e-gift solutions for widely recognized digital businesses that include Airbnb, Deliveroo, DoorDash, Hulu, Instacart, Netflix, Nike, Twitch and Uber. Topps Confections, Bazooka Candy Brands, produces, markets and distributes confections brands including Ring Pop®, Push Pop®, Baby Bottle Pop®, Juicy Drop®, Finders Keepers®, and Bazooka® bubble gum. For additional information visit topps.com, play.toppsapps.com, toppsdigitalservices.com, Candymania.com.

---
Topps NFTs x Bundesliga Collection is Live on Avalanche was originally published in Avalanche on Medium, where people are continuing the conversation by highlighting and responding to this story.