TYB and Shopify Bring Web3 Loyalty Platform to Major Consumer Brands, Powered by Avalanche
Millions of new brands can start using TYB's all-in-one community-management platform, empowering them to directly engage and reward fans for taking valuable actions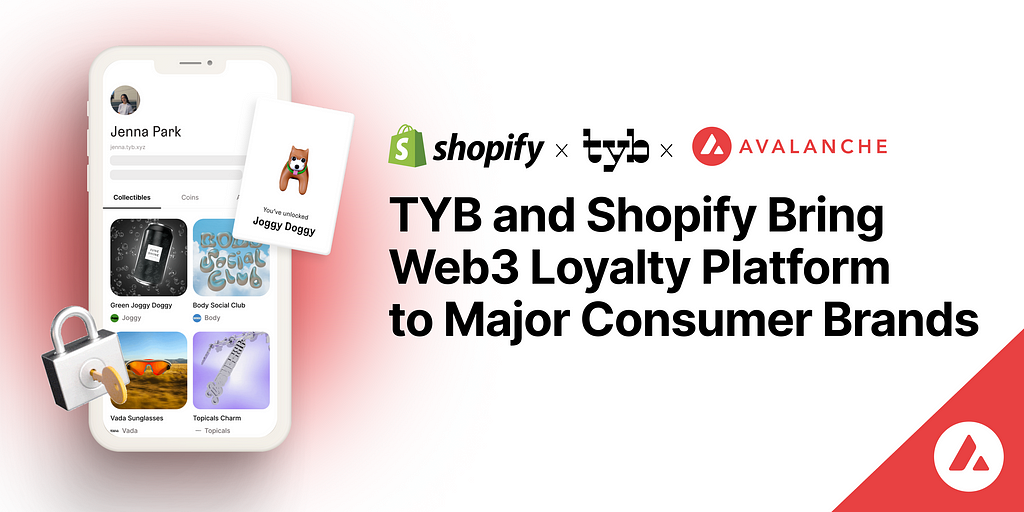 TYB is now available on the Shopify App Store, making it the first end-to-end Web3 community-powered loyalty solution available to Shopify's millions of merchants through an Avalanche-based platform. The app allows Shopify merchants to implement TYB's community-integrated-commerce tools to directly connect with and reward fans for taking valuable actions, like referring friends to the brand, writing reviews, and creating and sharing social media content.
Before the launch of the TYB Shopify App, major consumer brands had already been using TYB's existing white label solution to create a custom platform with community tools for cultivating deeper, more meaningful engagements with fans across the world. These brands include JuneShine, Figlia, Body, Loverboy (of Bravo's Summer House fame), 54 Thrones, and Topicals, Sephora's fastest-growing skincare brand.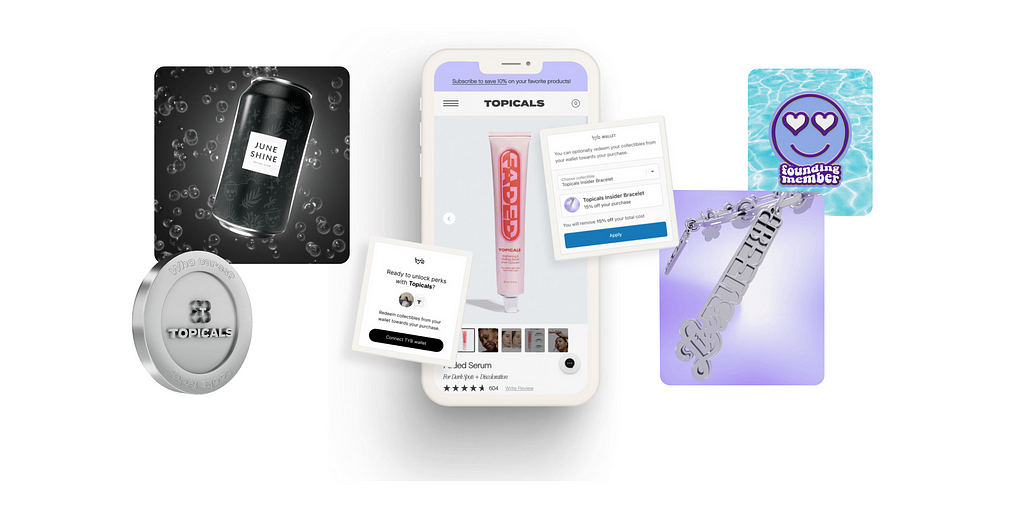 Now, with the TYB Shopify App, engaging and rewarding fans has never been easier. Brands can issue gamified challenges, co-create products, amplify their marketing campaigns, and reward fans for their engagement all via a directly-owned community channel.
Building TYB on the Avalanche blockchain enables brand fans to own their brand digital collectibles that can now be redeemed for promotions on each brand's Shopify ecommerce site. Brands can easily create, distribute, and assign exclusive holder perks to their very own digital collectibles, allowing them to connect with fans in creative new ways. For fans, TYB has enabled seamless acquisition of multiple brand collectibles in one user-facing wallet that only requires an e-mail address.
As the consumer brand landscape continues to change with increasing costs and competition for customers across multiple channels, TYB's launch on the Shopify App Store enables brands of all sizes to form a direct relationship with their biggest fans.
"After building Outdoor Voices, where community was our moat, I wanted to create a tool for brand-builders to automatically reward their customers for taking valuable actions, from sharing on social media, to co-creating products, to planning IRL events. Avalanche's blockchain eco-friendly technology enables these community members to own their efforts…and now with Shopify, their rewards," said Ty Haney, CEO of TYB.
"Tokengating is the next frontier of loyalty and buyer engagement, and we're thrilled to see TYB, founded by a team that has built multiple brands themselves, come to life for merchants everywhere," said Alex Danco, Director of Product at Shopify. "We're happy to welcome the TYB app to the Shopify App Store, bringing its insight and experience to Shopify's millions of merchants."
Avalanche helps merchants who use the app upgrade their stores and fan experiences with fast, environmentally-friendly digital collectibles. Avalanche launched in September 2020, ushering in a new era for blockchains with near-instant transaction finality. Today, Avalanche supports 1000+ dApps and secures billions of dollars in value, all while having minimal climate impact.
"We're excited that Avalanche can power the first Shopify white-label end-to-end community-powered Web3 loyalty solution available to all brand builders, regardless of their size. We look forward to Avalanche, TYB, and Shopify leading the way in the fast-growing field of blockchain-enabled rewards programs," said John Nahas, Vice President of Business Development at Ava Labs, a developer of the Avalanche blockchain.
About TYB
TYB enables brands to make Community their most valuable growth channel. TYB is an all-in-one community management platform that allows brands to directly connect with, engage, and reward fans for taking valuable actions.
Click here to join a brand community already on the TYB platform, here to watch a video of how the new Shopify integration works, or here to watch a tutorial on how to join a brand as a user.
About Avalanche
Avalanche is a smart contracts platform built to scale infinitely and finalize transactions in under a second. Its revolutionary consensus protocol and novel Subnets enable Web3 developers to easily launch highly-scalable solutions. Deploy on the EVM, or use your own custom VM. Build anything you want, any way you want, on the eco-friendly blockchain designed for Web3 devs.
Website | Whitepapers | Twitter | Discord | GitHub | Documentation | Forum | Telegram | Facebook | LinkedIn | Reddit | YouTube
Press Contact: press@tyb.xyz, press@avalabs.org
---
TYB and Shopify Bring Web3 Loyalty Platform to Major Consumer Brands, Powered by Avalanche was originally published in Avalanche on Medium, where people are continuing the conversation by highlighting and responding to this story.