Winners of the Avalanche Developer Contest
Announcing the winners that helped the next wave of Avalanche developers get their start building on the platform.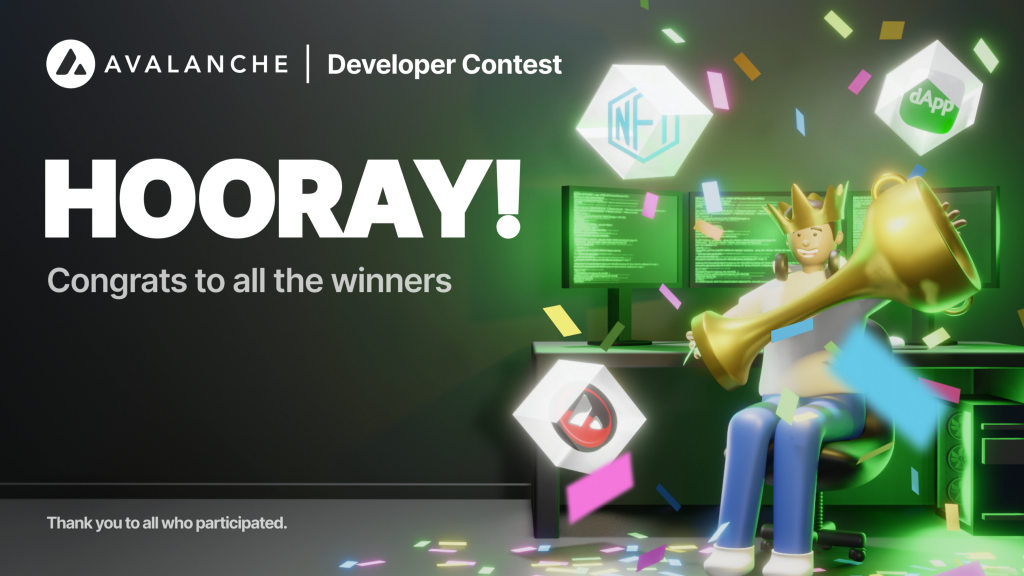 On Aug 2nd, Avalanche launched a contest for the best developer tutorials to help others build on the platform. Anyone was able to submit a tutorial, with selected tutorials eligible to win a portion of the $50,000 prize pool.
We're pleased to announce the Avalanche Developer Contest Winners:
Smart Contracts
DeFi
Additional Targets
Social DApps
NFTs
Tokenization
A big congratulations to our winners! You will be contacted shortly.
The Avalanche Foundation will have more contests in the future. Follow along across the Avalanche community channels to learn more about future events to participate in!
About Avalanche
Avalanche is the fastest smart contracts platform in the blockchain industry, as measured by time-to-finality, and has the most validators securing its activity of any proof-of-stake protocol. Avalanche is blazingly fast, low cost, and green. Any smart contract-enabled application can outperform its competition on Avalanche.
Website | Whitepapers | Twitter | Discord | GitHub | Documentation | Forum | Avalanche-X | Telegram | Facebook | LinkedIn | Reddit | YouTube

---
Winners of the Avalanche Developer Contest was originally published in Avalanche on Medium, where people are continuing the conversation by highlighting and responding to this story.