Winners of the Avalanche Subnet Tutorial Contest
Announcing the contest winners that will help the next crop of Avalanche builders launch exciting new Subnets.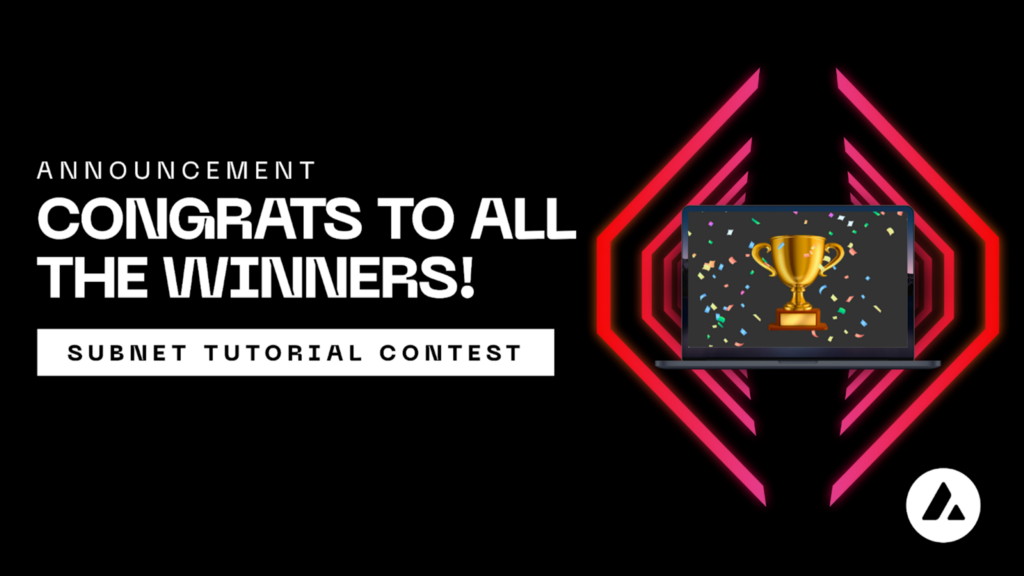 Recently, Avalanche called for developers to rise to an occasion: a contest for the best tutorials explaining to other devs how to launch Avalanche Subnets. Subnets are, of course, Avalanche's means of scaling infinitely. Any creator was able to submit a written tutorial, with selected tutorials eligible to win some of the cool $32,000 prize pool.
We're pleased to announce the winners!
Customizing Subnet-EVM Genesis File ($2,000)
Wildcard: show off what you did with subnets, creative topic ($2,000)
Environment for Local Subnet Development ($2,000)
Extend Subnet-EVM with Custom Functionality ($5,000)
Use an ERC-20 C-chain Token as the Gas Fee Token ($3,500)
A giant thank you to our winners, and another to all who participated. Winners will be contacted soon. Thank you again!
About Avalanche
Avalanche is the fastest smart contracts platform in the blockchain industry, as measured by time-to-finality, and has the most validators securing its activity of any proof-of-stake protocol. Avalanche is blazingly fast, low cost, and green. Any smart contract-enabled application can outperform its competition by deploying on Avalanche. Don't believe it? Try Avalanche today.
Website | Whitepapers | Twitter | Discord | GitHub | Documentation | Telegram | Facebook | LinkedIn | Reddit | YouTube
---
Winners of the Avalanche Subnet Tutorial Contest was originally published in Avalanche on Medium, where people are continuing the conversation by highlighting and responding to this story.