WPF Launches Tokenized Film Finance Offerings (FFO) Hosted by Republic, Tokens To Be Built and…
WPF Launches Tokenized Film Finance Offerings (FFO) Hosted by Republic, Tokens To Be Built and Distributed on Avalanche
The first tokenized FFO is now live, financing "I Am Not Satoshi," a documentary exploring the disappearance of Bitcoin's pseudonymous founder.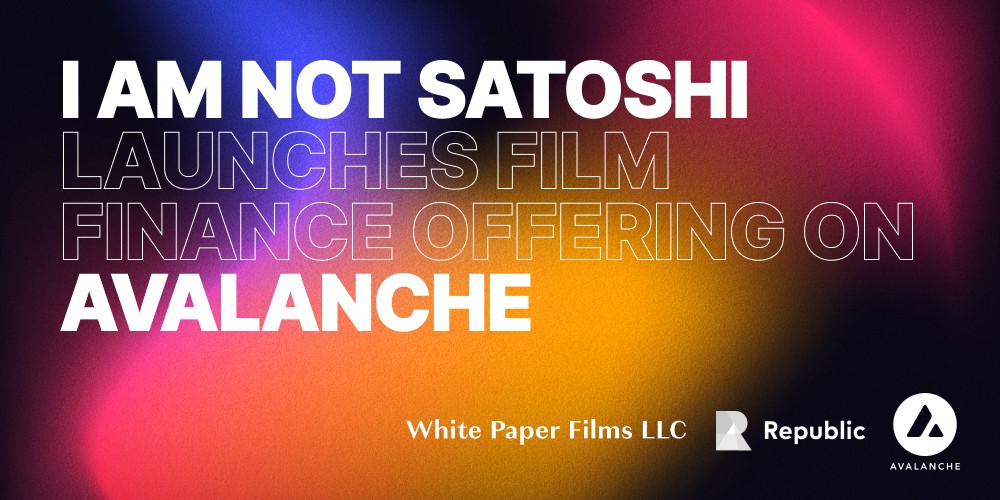 Republic, a platform that makes private investment more accessible to all, has facilitated an offering that utilizes a new digital asset: a Film Finance Offering (FFO) built on Avalanche. The first tokenized FFO began accepting investment commitments yesterday, ushering in a new era of film financing.
Filmmakers who launch FFOs may use the fundraising to finance films. Rather than targeting big studios, filmmakers can use FFOs to raise from everyday people, opening the door to new capital markets. This gives creators an avenue for making films that might not be financially possible otherwise.
Additionally, filmmakers with big followings might want to use FFOs to involve fans in new ways. Participants in FFOs gain stake in the film and rights to a return under certain circumstances. A participant's financial interest is marked by tokens, distributed after the initial fundraising.
The tokenized FFO is now live, financing "I Am Not Satoshi," a documentary exploring the disappearance of Bitcoin's pseudonymous founder. The project is led by director Chris Cannucciari, who five years ago created "Banking on Bitcoin," the landmark film to date about the emergence of Bitcoin and cryptocurrency.
"Our goal is to respect Satoshi's identity while telling the true story of Bitcoin's genesis before its history becomes myth. We are not looking to unmask Nakamoto, but create a composite of why Satoshi was created and how he was able to succeed in cryptocurrency where so many others fell short," says Cannucciari.
"I Am Not Satoshi" will examine how a worldwide technology can work in the absence of a central figure. Asking the ultimate question, are humans willing to trust their finances in an automated leaderless system, or do they crave a central figure to forge the future of money for them?
This FFO marks a beginning. We expect it will pave the way for future digital FFOs, and be the first digital asset in a broader family of newly tokenized assets supported on Avalanche.
"Culture applications have boomed across blockchains, and we're now seeing the beginnings of the film industry embracing the technology to reinvent funding and distribution models through Film Finance Offerings," said John Nahas, VP of Business Development at Ava Labs. "What better homage could be paid to a film about Satoshi than sourcing support from a decentralized community, and secured by a blockchain?"
To learn more about FFOs, please read Republic's blog post. Stay tuned to hear more about FFOs and other new digital assets on Avalanche. For more information, visit Republic's website. Also, please read this important notice.
Investments of this kind are particularly risky and may result in total loss of invested capital.
About Avalanche
Avalanche is the fastest smart contracts platform in the blockchain industry, as measured by time-to-finality, and has the most validators securing its activity of any proof-of-stake protocol. Avalanche is blazingly fast, low cost, and green. Any smart contract-enabled application can outperform its competition by deploying on Avalanche. Don't believe it? Try Avalanche today.
Website | Whitepapers | Twitter | Discord | GitHub | Documentation | Telegram | Facebook | LinkedIn | Reddit | YouTube
---
WPF Launches Tokenized Film Finance Offerings (FFO) Hosted by Republic, Tokens To Be Built and… was originally published in Avalanche on Medium, where people are continuing the conversation by highlighting and responding to this story.