Wyre Integrates US Dollars and Major Fiat Currencies Directly into Avalanche's DeFi Ecosystem
Integration will enable users in the U.S. and more than 50 countries to go from
fiat to DeFi in 30 seconds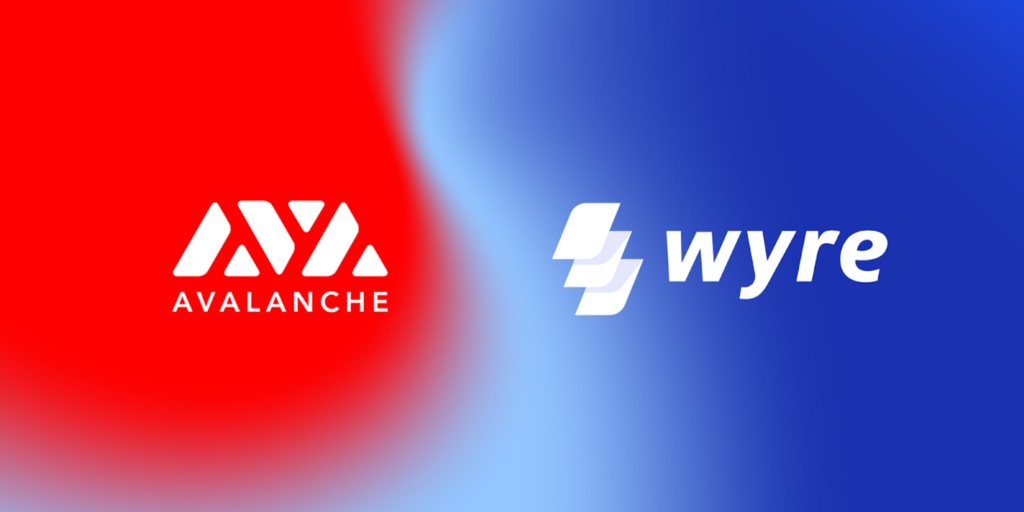 Wyre, a leading payments infrastructure provider in crypto, has integrated its payment gateways into Avalanche's DeFi ecosystem, enabling users in the U.S. and more than 50 countries to convert US Dollars and eight additional currencies into Avalanche's native token, AVAX, in as little as 30 seconds.
The integration, which is now complete, allows developers building on Avalanche to integrate Wyre's payment infrastructure into their applications. AVAX accessed through Wyre is deposited directly to users' X-chain addresses. Support for Avalanche's C-chain is coming soon to create an even better experience for DeFi users.
Since the launch of the Avalanche-Ethereum Bridge (AEB) on February 8, 2021, DeFi activity on Avalanche has boomed. Users have executed more than 2.8 million smart contract transactions and created more than 123,000 unique addresses.
Since 2013, Wyre has built a compliant and global payment infrastructure to enable developers to bring crypto to the masses. It has traded over $3.5B in cryptocurrency assets, and completed more than $750M in bank-to-bank FX payments.
In making the fiat-to-crypto transition more seamless for users of DeFi gateways like MetaMask, it has played a key role in accelerating the growth of DeFi.
"Wyre's integration into the Avalanche ecosystem dramatically improves the user experience for U.S. individuals accessing DeFi on the platform," says John Wu, President of Ava Labs. "Wyre will also play a key role in bringing Avalanche to the masses with upcoming applications and marketplaces that are likely to be users' first introductions into cryptocurrencies."
"Avalanche is an exciting network that shows that there's still so much untapped potential in DeFi. Wyre will support this passionate community with trusted payments infrastructure as it grows to new users and applications," says Ioannis Giannaros, CEO of Wyre.
For more information and to access AVAX on Wyre, please visit its Website, Twitter, and developer documentation.
https://medium.com/media/b8a596544f943e3618682869c7e2f97a/href
About Wyre
Wyre is the leading fiat-to-crypto and payment infrastructure company for the crypto ecosystem. Focusing on developers, the company provides easy-to-integrate APIs which enable thousands of developers to bring crypto to the masses. The company has "on-ramped" over 15 million end users to their partners and has processed over $10B in payments since inception. "Checkout", Wyre's flagship product, is the world's fastest fiat-to-crypto gateway and has helped hundreds of crypto applications better reach their customers. Wyre has been involved in the crypto space since 2013, supporting customers in over 100 countries worldwide, and empowering them with blockchain technology, ensuring the move to Web 3.0 is as smooth as possible. For more information, please visit www.sendwyre.com.
Website | Twitter | | Developers Documentation I Blog
About Avalanche
Avalanche is an open-source platform for launching decentralized applications and enterprise blockchain deployments in one interoperable, highly scalable ecosystem. Avalanche is able to process 4,500+ transactions/second and instantly confirm transactions. Ethereum developers can quickly build on Avalanche as Solidity works out-of-the-box.
Website | Whitepapers | Twitter | Discord | GitHub | Documentation | Forum | Avalanche-X | Telegram | Facebook | LinkedIn | Reddit | YouTube

---
Wyre Integrates US Dollars and Major Fiat Currencies
Directly into Avalanche's DeFi Ecosystem was originally published in Avalanche on Medium, where people are continuing the conversation by highlighting and responding to this story.