Yay Games Brings Decentralized Gaming to Avalanche Rush Program
The Avalanche Foundation broadens incentive program to include Play to Earn games on Avalanche.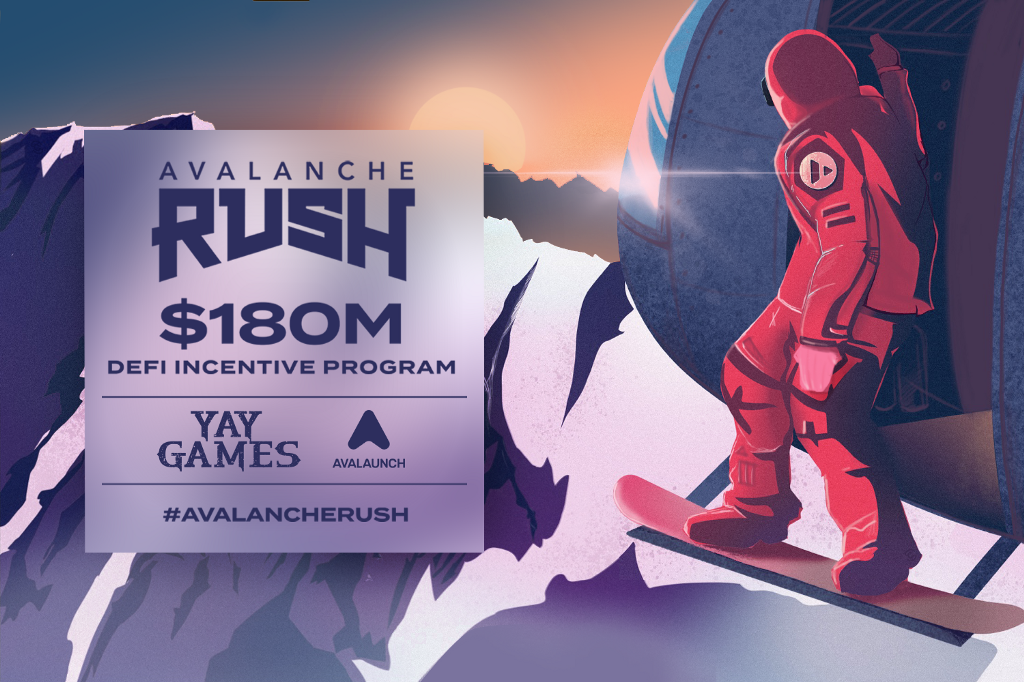 The Avalanche Foundation, in support of Avalaunch's debut IDO, has announced that Yay Games will be joining the recently launched Avalanche Rush incentive program. DeFi enthusiasts and gamers will soon have access to Yay Games "play to earn" model with the upcoming deployment on Avalanche.
Following news of the Avalanche Rush program with blue-chip DeFi projects, Sushi, Aave, and Curve, incorporating Yay Games underscores the opportunities for gaming on the blockchain. While joining Avalanche Rush will cause a brief delay for the Yay Games IDO on Avalaunch, it demonstrates Avalanche's commitment to delivering a variety of use cases on the platform for new and existing users.
"We are fortunate to support Avalanche's powerful Layer 1 solution. It is certainly an honor to see them take interest in both our first IDO and Yay Games. We're excited about the opportunity to work with Avalanche on multiple projects at Avalaunch," said Mark Stanwyck, Co-Founder and Director at Avalaunch.
With the details still to be finalized, the Avalanche Foundation will be showing support to Avalaunch and Yay Games by including them in the Avalanche Rush program. Avalanche Foundation will also be working with other native projects as it scales up entrants to the program. Starting today, new and existing native applications on Avalanche are encouraged to apply. More information on eligibility will be coming soon.
As part of the Avalanche Rush program, the Avalanche Foundation will work closely with top projects, including Aave, Curve, Sushi, Stake DAO, and BENQI for interoperable farming, mining, lending, and now gaming experiences. The recent launch of the Avalanche Bridge (AB) helps the program provide a diverse set of strong liquidity incentives, combined with a seamless user experience for DeFi protocols to join the Avalanche ecosystem.
The specific date for Yay Games on Avalaunch will be coming soon. For more information on Yay Games, please visit its Website and Twitter. To apply for the Avalanche native DApp program as part of Avalanche Rush, visit this link.
https://medium.com/media/b8a596544f943e3618682869c7e2f97a/href
About Avalanche
Avalanche is the fastest smart contracts platform in the blockchain industry, as measured by time-to-finality, and has the most validators securing its activity of any proof-of-stake protocol. Avalanche is blazingly fast, low cost, and green. Any smart contract-enabled application can outperform its competition by deploying on Avalanche. Don't believe it? Try Avalanche today.
About Avalanche Rush
Avalanche Rush is an incentive mining grant and airdrop program with up to $180M in AVAX tokens from the Avalanche Foundation that seeks to deploy decentralized finance applications on the Avalanche platform. The program objective is to empower new and existing DeFi traders with easy-to-use, fast, and cost-effective applications.

---
Yay Games Brings Decentralized Gaming to Avalanche Rush Program was originally published in Avalanche on Medium, where people are continuing the conversation by highlighting and responding to this story.