Yield Yak Continues Rapid Growth as Early DeFi Project Exclusive on Avalanche
The Avalanche Foundation will support Yield Yak as it enters its
next phase of growth within the Avalanche ecosystem.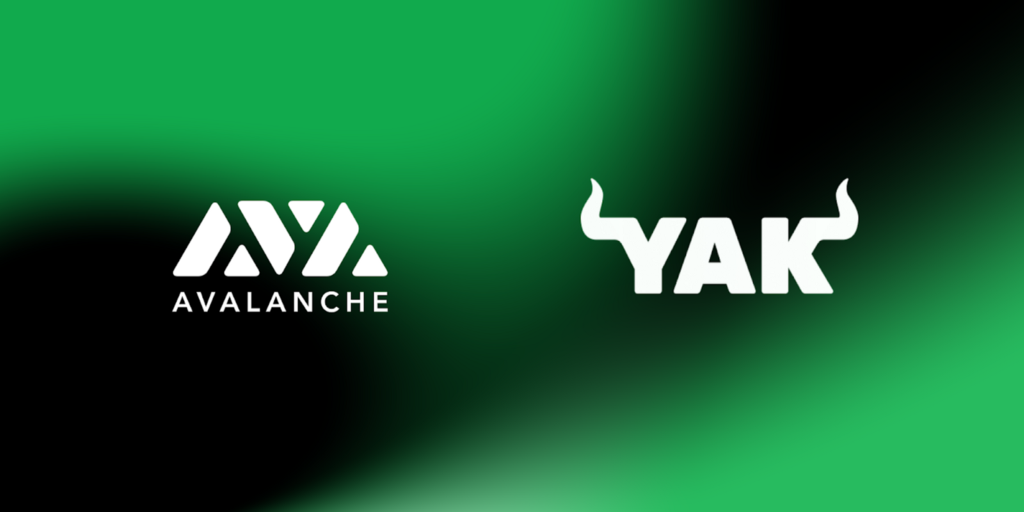 Yield Yak, an automated yield compounder built natively on the Avalanche blockchain platform, is continuing its rapid growth within the Avalanche community, already reaching a peak total value locked (TVL) of $40M in its flagship yield farming and DEX aggregator applications.
Yield Yak Farms auto-compounds Avalanche users yield farming rewards, aiming to optimize their return on liquidity mining programs. Yield Yak Compare aggregates information from the various decentralized exchanges on Avalanche, empowering users to find and seize the best price for their trades.
The application will soon introduce a native governance token (YAK), and plans to airdrop 70% of their token supply to Yield Yak and Avalanche DeFi users. The YAK tokens can then be staked on Yield Yak to earn more rewards.
The Avalanche Foundation is also pleased to announce that it has joined Yield Yak's Board of Friends, a board that's helping Yield Yak with business development, marketing, and technical services to spur the projects' mutual growth.
"Since its inception, Yield Yak has focused all of its efforts on Avalanche. There are several reasons behind this focus," says the Yield Yak Team:
– Avalanche is becoming one of the best platforms in terms of its new user onboarding experience. The Avalanche community is rapidly contributing to a user experience that can mirror the speed and simplicity of a web 2.0 experience.
– The Avalanche DeFi ecosystem is brand new, but growing fast. The Yield Yak team understands that early builders and adopters are rewarded in the long term, and has been invited to key discussions across the Avalanche community and new development.
– The Avalanche DeFi ecosystem has unparalleled growth potential due to its high performance, low transaction costs, and implementation of the Ethereum Virtual Machine (EVM). There was no need to learn a new smart contracts programming language.''
Yield Yak has identified key advantages of Avalanche and hopes to continue building the confidence around both its own suite of solutions, as well for outsiders looking to use open finance platforms like Avalanche.
To learn more on how to start staking on Yield Yak, you can watch its introductory video and read its documentation.
https://medium.com/media/b8a596544f943e3618682869c7e2f97a/href
About Yield Yak
Yield Yak providers Avalanche DeFi users with easy-to-use tools to earn more yield. Yield Yak is a product of its community, which has built and maintained the best, cheapest and most diverse autocompounder on the market.
Website | Twitter | Telegram | Medium | Docs
About Avalanche
Avalanche is an open-source platform for launching decentralized applications and enterprise blockchain deployments in one interoperable, highly scalable ecosystem. Avalanche is able to process 4,500+ transactions/second and instantly confirm transactions. Ethereum developers can quickly build on Avalanche as Solidity works out-of-the-box.
Website | Whitepapers | Twitter | Discord | GitHub | Documentation | Forum | Avalanche-X | Telegram | Facebook | LinkedIn | Reddit | YouTube

---
Yield Yak Continues Rapid Growth as Early DeFi Project Exclusive on Avalanche was originally published in Avalanche on Medium, where people are continuing the conversation by highlighting and responding to this story.