ZenLedger Simplifies Tax Reporting for Avalanche Transactions
The software helps users pull transaction data from their wallet, allowing them to automatically calculate their taxes and generate necessary tax forms.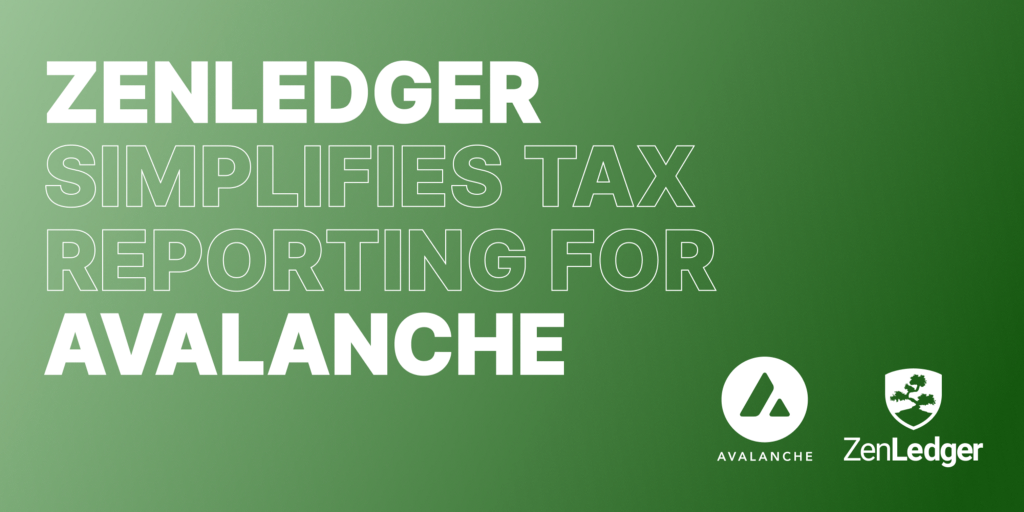 ZenLedger, a crypto tax software program that helps users determine their tax liability based on aggregate transactions, is now live on Avalanche. Avalanche users can now import their public C-Chain addresses to receive a complete crypto tax report.
In total, ZenLedger now supports 400-plus exchanges and 30-plus DeFi protocols as well as NFTs, many wallets, and several blockchains, including Avalanche. The software streamlines and simplifies tax reporting by drawing from all supported integrations, reducing taxes to three easy steps: importing your address, reviewing your transactions, and finally downloading and filing your paperwork.
"ZenLedger is thrilled to offer native support to the Avalanche blockchain," said ZenLedger CEO Pat Larsen. "The AVAX community has seen explosive growth over the past year, and we are proud to provide a useful tool and be a resource for the Avalanche ecosystem."
ZenLedger supports the following transactions on Avalanche C-Chain:
Liquidity pools
Staking
Zapping
Farming
Swapping/Trading
Lending
Repayment
Claiming Rewards
Bridging
Additionally, ZenLedger offers Tax Pro Prepared plans that connect interested users with a CPA specializing in crypto, for those who want a hands-off approach. ZenLedger's customer support team is available by chat, phone, and email seven days a week.
Visit the ZenLedger website to learn more on how to get started.
https://medium.com/media/b8a596544f943e3618682869c7e2f97a/href
About ZenLedger
Founded in 2017,and built by industry veterans in technology, finance, and accounting, ZenLedger aggregates user transaction information across thousands of exchanges, wallets, and tokens into one simple dashboard, making it easy to calculate tax liability and make financial decisions. ZenLedger helps cryptocurrency investors and tax professionals stay compliant with integration support for over 400+ exchanges, 40+ blockchains, 20+ DeFi protocols, NFTs, and all wallets. Our team of engineers is always working hard to add more native integrations and features, and our customer support specialists are online 7 days a week to walk through any issues.
About Avalanche
Avalanche is the fastest smart contracts platform in the blockchain industry, as measured by time-to-finality, and has the most validators securing its activity of any proof-of-stake protocol. Avalanche is blazingly fast, low cost, and green. Any smart contract-enabled application can outperform its competition by deploying on Avalanche. Don't believe it? Try Avalanche today.
Website | Whitepapers | Twitter | Discord | GitHub | Documentation | Forum | Avalanche-X | Telegram | Facebook | LinkedIn | Reddit | YouTube
---
ZenLedger Simplifies Tax Reporting for Avalanche Transactions was originally published in Avalanche on Medium, where people are continuing the conversation by highlighting and responding to this story.